Tom Jones review, Surrounded by Time: Covers album is a triumph of experience
With the help of producer Ethan Johns, the Welsh singer's barnacled baritone steers a steady course through Moog-soaked covers of favourite songs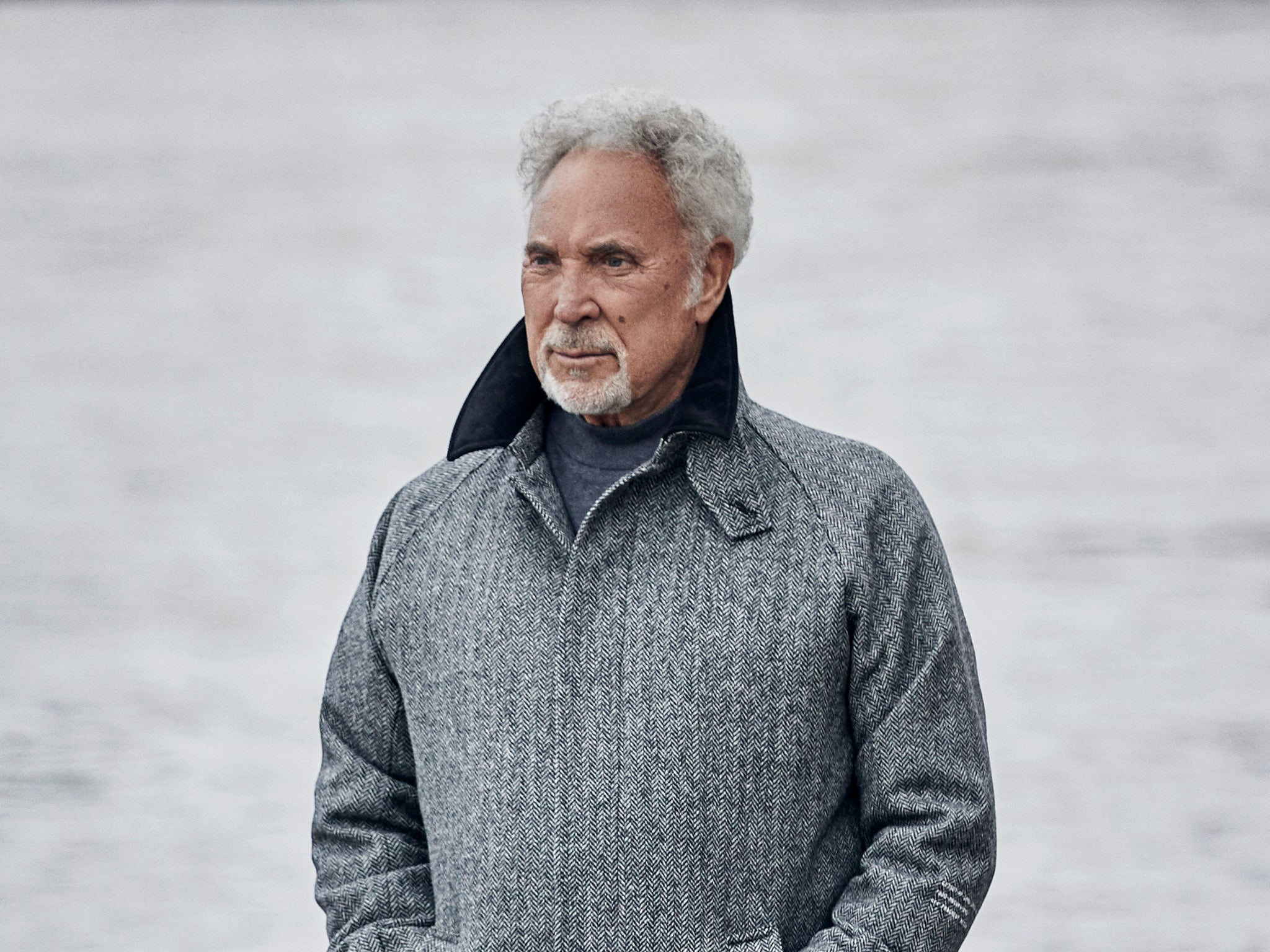 After his wife Linda died in 2016, Tom Jones feared he would never sing again. Despite his many reported infidelities, the couple stayed together for 59 years. Now, aged 81, Jones says he always brought her the best jokes home from tours. They loved to laugh together. Without Linda, Jones suspected that even his well-oiled songs would stick in his throat. But she told him he should continue singing, so he has.  
Surrounded by Time is the fourth album Jones has made with Ethan Johns, the producer who resurrected the Welshman's career with a trio of rootsy Americana records. Beginning with 2010's bluesy Praise & Blame and ending with 2015's Long Lost Suitcase, Johns (known for his work with Laura Marling, Ryan Adams and Kings of Leon) helped Jones find a mature gravitas to balance his bombast. Now Johns has set Jones afloat on a murky sea of electronica. His barnacled baritone steers a steady course through Moog-soaked covers of favourite songs, with sombre lines about dark oceans, soulless days, and skirting a skeleton coast.  
The album begins with a pared-back take on "I Won't Crumble With You if You Fall", written in 1997 by civil rights activist Bernice Johnson Reagon. Her original speaks to the fatigue caused by political struggle. But Jones sings it as a supportive survival pledge, clearly delivered in memory of Linda. I've never heard him sounds so vulnerable as when he tremulously promises: "I will wake with you in the morning/ And I'll stand beside you as long as I can/ I will hold back the evening of your sun/ But I won't crumble with you if you fall."  
From there, he launches into an existentially resigned take on the trippy "The Windmills of Your Mind", which won the 1969 Oscar for Best Song when it featured in The Thomas Crown Affair. That was four years after the working-class lad from Wales scored his first No 1 single with "It's Not Unusual" (1965) and the same year that he breached the Top 10  with "Love Me Tonight" and "Without Love (There is Nothing)".  
Jones's thrill at scaling the charts is captured in a fantastic, staccato piano take on Cat Stevens' 1970 song "Pop Star". Stevens wrote the track out of contempt for the record execs who wanted him to hit the perky mainstream. But, as a guy who would have spent his life down a coal mine if weak lungs (really!) hadn't made him look elsewhere, Jones sings from the perspective of a man who still can't believe his luck: "See me mama!" His jubilant anti-snobbery and the jazzy arrangement are a delight in equal measure. 
A bleaker success is Jones's wise, rumbling, desert blues-backed version of Todd Snider's super-sharp "Talking Reality Television Blues". I love Snider's dry acoustic version from 2019. He's a modern Dylan, tracing the arc of popular culture through from when video killed the radio star, reality killed the video star and reality TV star Donald Trump killed reality with his "alternative facts". I wasn't sure I'd appreciate Jones' take. But he growls such a conversational, experienced, Welsh truth into it that I suspect people who don't know Snider might think he'd just freestyled those cleverly turned lyrics live at the mic. No mean feat.  
It turns out some of the contempt spat into the lyrics of "Hillbilly!" is personal. Jones knew Trump from the 1980s when "he used to come to my shows in Atlantic City… He was going downhill fast, but then, of course, he got The Apprentice gig and that was what set him on his path to The White House," he explains in the press release for this album. "That's what reality television did. But of course, there's nothing real about it at all." 
A long-time fan of Bob Dylan and Tony Joe White, Jones turns in moving versions of Dylan's "One More Cup of Coffee for the Road" and Tony Joe White's "Ole Mother Earth". Johns has a blast chucking psychedelic sixties sitar at Malvina Reynolds' "Hole in My Head".  
As a fan who's never been able to join in with lock-in singalongs of Jones' 1968 hit "Delilah" (the whole woman-killing vibe just never grabbed me), I'm not quite sure why Jones and Johns have decided to retell the biblical tale of Samson and Delilah here, with the chap yet again emerging victorious. But I love the closing track, a stone cool account of Terry Callier's "Lazarus Man". It contains the obvious gag that Lazarus couldn't make a comeback without Jesus (Jones couldn't without Johns). But it's also powerfully about the miracle of the life we have when our desire and ability to sing can seem impossible. Jones is an ongoing triumph of hope and experience.  
Join our commenting forum
Join thought-provoking conversations, follow other Independent readers and see their replies