Tristan and Isolde, English National Opera, review: 'Anish Kapoor's bold designs and lighting triumph'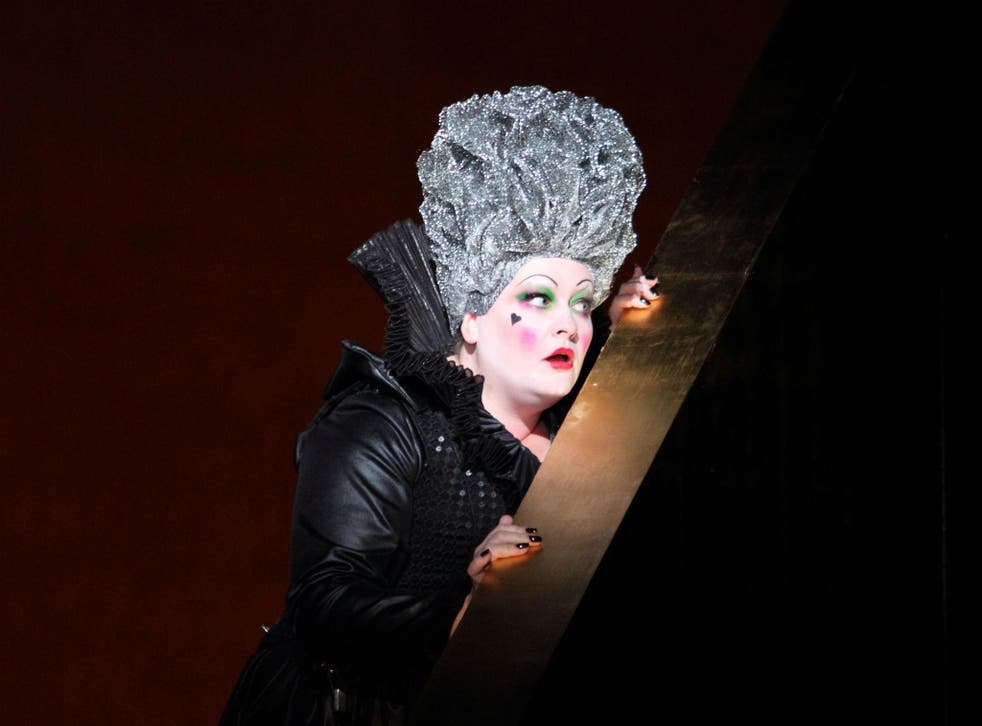 Much buzz surrounded the opening night Tristan and Isolde directed by the ENO's incoming artistic director, the irrepressibly optimistic 39-year-old American Daniel Kramer, taking over at a time of great turbulence. It's not his first production for the company, following Birtwistle's Punch and Judy in 2009 and a Josef Fritzl-imbued Duke Bluebeard's Castle which was topical, but a very particular take on Bartòk's vision. Broadly speaking, his treatment of Wagner's hymn to the apotheosis of love is a success.
Anish Kapoor's designs brilliantly negotiate abstraction and specificity. Four vast triangles segment the stage into three in the first act to suggest the sails of the ship on which Tristan is bringing a reluctant Isolde to wed King Marke, and emphasise the conflicted separation of the protagonists until the fateful love philtre is drunk – although one does wonder about the sight lines for some of the audience. Act Two's ecstatic night of illicit passion is set in a huge, round geode on a bare stage, into whose rocky interior the lovers step, lit by starbursts as they move around. At once the lovers' exclusive world, making 'one little room an everywhere', it also evokes the moon, echoing the opera's embedded themes of night versus day, interior and exterior. The lovers' realisation of the impossibility of their love in the mundane world leads them to a Schopenhauerian renunciation of self, enacted surprisingly in this version by a would-be joint suicide at the moment of their discovery.
Stuart Skelton's superbly mellifluous heroic tenor is ample reason by itself to see the show; Heidi Melton, sometimes harsh in the upper register, is by turns an imperious, vengeful and melting Isolde, successfully riding the Wagnerian swells. Matthew Rose's lovely bass makes a deeply sympathetic King Marke, well-served, as they all are, in the late Andrew Porter's excellent translation.
Welcomed back for this by an appreciative audience, ENO's previous music director Edward Gardner went all-out for the gut-shredding yearning of the prelude, generally maintaining focus while revelling in somewhat slow tempi. But Christina Cunningham's costumes occasionally present a problem: why samurai armour? Why the grand guignol costumes – Eraserhead meets Versailles with add-on Jacobean ruffs for poor Karen Cargill (a superb mezzo) as Isolde's servant Brangäne and for Craig Colclough (also singing valiantly) as Kurwenal, Tristan's trusted friend?
Kapoor's bold designs and lighting triumph in the final Liebestod, love in death. As the dying Tristan desperately awaits Isolde's arrival, a cleft in the wall reveals the world of the geode, the boundless realm of endless night and holy forgetting, the portal of their transfiguration.
Evening performances: 15, 22, 29 June; Matinées: 19, 26 June; 2, 9 July. Box Office: 020 7845 9300
Join our new commenting forum
Join thought-provoking conversations, follow other Independent readers and see their replies