Ypsigrock festival, Castelbuono, Sicily, review: You would be hard-pressed to find a festival more beautiful
Jesus and Mary Chain cap things off superbly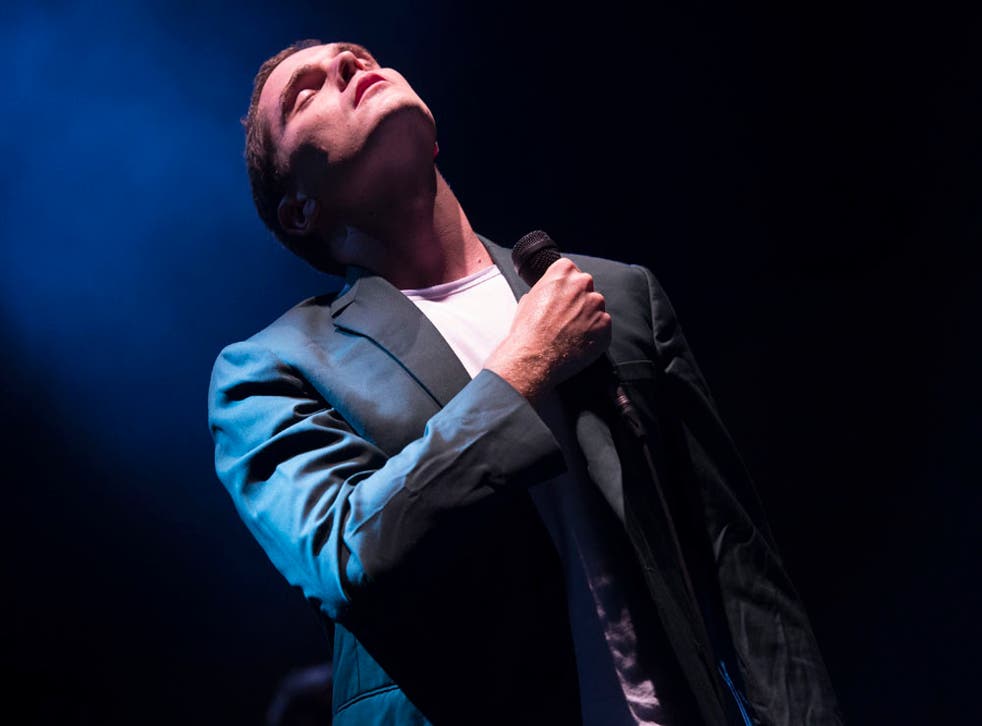 Set in the charming Sicilian town of Castelbuono, about an hour's drive from Palermo, Ypsigrock festival has one of the most spectacular settings in Europe: a hill-top town surrounded by mountains and, back towards the city, the glittering blue of the Mediterranean.
Head to the castle square and you'll find the atmospheric main stage. Stepping onto the platform, artists look awestruck as their vocals rise up and reverberate around stones that are warm from the sun. There are also performances inside the castle itself; guests are able to watch from balconies overlooking the ground floor where renowned Sicilian singer and percussionist Alfio Antico – considered one of the greatest European interpreters of the tammorra – performs traditional music and poetry of his homeland with extraordinary skill.
Kudos to the organisers for curating such an impressive line-up in this small and seemingly obscure town. As people walk beneath the castle gate they hear its opening act, French electronic artist Her (Victor Solf), who moves around the stage with a graceful fluidity as he sings a soulful rendition of "We Choose", the opening track from the band's self-titled debut album. Further into the set he pays moving tribute to his late partner Simon Carpentier, who died last year before the album was finished, and looks overwhelmed as the crowd urges him on.
Australian dance pop act Confidence Man are a riot, led by a sequence of outrageously cheesy dance routines courtesy of singers Janet Planet and Sugar Bones (pseudonyms, not child cruelty) during tracks such as "Boyfriend", and "COOL Party". There are three outfit changes, including one where they strut out dressed in white to reveal, on the chorus, a flashing LED cone bra for Janet Planet and matching shoulder pads for Sugar Bones.
British rock band The Horrors, first headliners of the weekend, are something of a comedown after this all-out dance fest, but bring home the drama of their night-time castle setting, which ties in perfectly with their looming, gothic frontman Faris Badwan. Even the most danceable tracks from their latest album, 2017's V, don't quite translate in a live setting, with those intricate layers of instrumentation sounding muddled and flat.
By the time they reach their closing number, the yearning "Something to Remember Me By", the air has finally cooled and fills with chatter as the audience makes their way back through the cobbled streets. Unlike UK music festivals, Ypsigrock begins in the evening, so there's plenty of time to head to the beach or try some of the fantastic food on offer, from pizza topped with pistachios (a Sicilian speciality) to granita, gelato, and the famously good Fiasconaro. Better still, it's about a third of the price of your bog-standard burger at Reading or Isle of Wight festival.
It's around 8.30 by the time US band Algiers arrive on stage to perform their sharp blend of punk rock with electronic and elements of gospel. They're commanding to watch, although the vocal samples of figures such as Black Panther member Fred Hampton threaten to lose their power, as the band insist on sampling something at the beginning of every track, and it leans towards gimmick.
Algiers are swiftly followed by an immersive yet forgettable set from Swedish dream pop act The Radio Dept. Solo artist Youngr, born Dario Darnell, should lighten the mood but is rather disappointing, serving as some kind of instrumental version of David Guetta by performing live drums and guitar over retro samples.
On what feels like the hottest day of the festival, British artist Gaika steps in for Kelly Lee Owens after she was forced to pull out and manages to get the crowd moving with a set comprised of material from his startling debut album Basic Volume. Backed only by a DJ, he somehow conjures up one of the most visceral performances of the weekend, thanks to hair-raising tracks such as "Crown & Key". The Brixton-based artist incorporates dancehall ("do you guys have dancehall in Italy?" he asks), electronic, trip-hop, industrial rock and even punk, as he sings in a way that suggests in his voice has a life of its own, with gutteral moans, inflections and keening howls.
Clear crowd-favourites Shame are on typically excellent, mosh pit-inducing form despite their outrageous snub from this year's Mercury Prize shortlist; their bristling, sarcastic debut album Songs of Praise was left out in favour of Noel Gallagher's bland rock. Final headline act Jesus and Mary Chain seem to appear on stage out of nowhere and launch right into a joyful set that features old and new songs. Jim Reid is brilliantly morbid as he crouches over his mic, delivering sonorous vocals on old favourites such as "Just Like Honey" off 85's Psychocandy, and "I Hate Rock 'n Roll" off 98's appallingly titled Munki.
It's a superb way to close the weekend, and revellers drift away with flushed, sun-kissed faces to hang out underneath the magnolia trees. You'd be hard pressed to find a festival more beautiful than this one.
Join our new commenting forum
Join thought-provoking conversations, follow other Independent readers and see their replies