Zola Jesus, live review, Manchester, Band on the Wall: Nothing short of an extraordinary performance
A surreal escape for anyone in the depth of grief or despair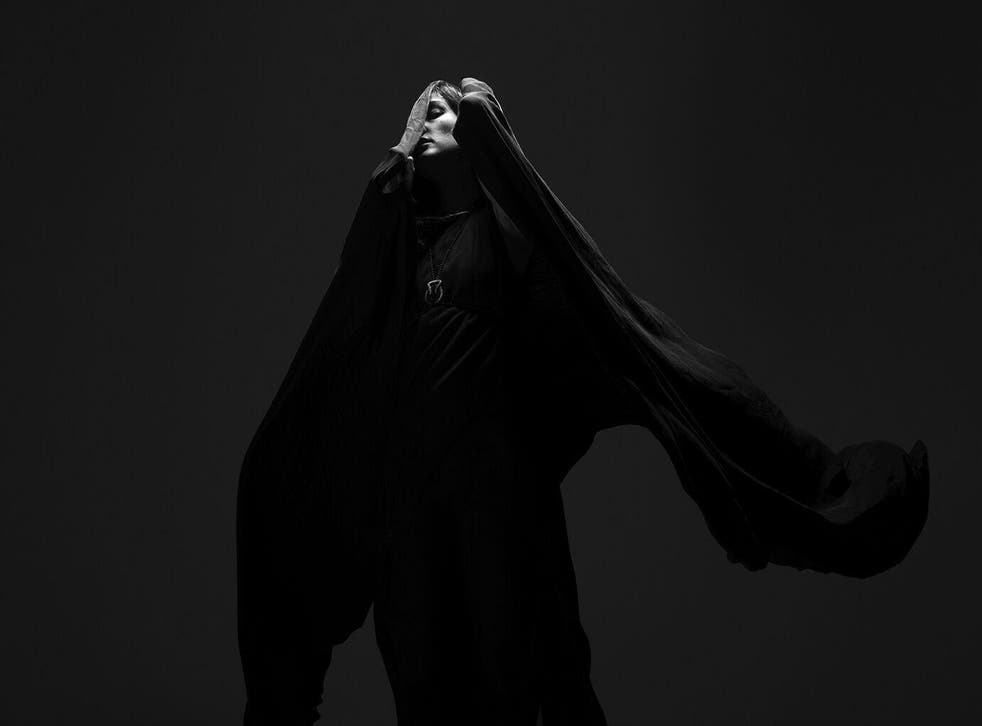 Blink and you'd have missed Nika Roza Danilova, aka Zola Jesus, making her entrance onto the stage at Manchester's Band on the Wall last week. Dressed head to toe in black against a dimly lit stage, she was almost invisible.
The audience eventually realised she had arrived and applauded, nervously, as they didn't quite know what to make of the enigmatic arrival. Muted applause over, Danilova dropped to the floor on her knees, prayer-like, as she hid behind her hair and gently swayed to the opening, hauntingly ambient bars of "Veka".
Taken from her latest album Okovi, "Veka" set the tone for a deeply personal, affecting set that explored the trauma associated with losing a loved one. A meditation on mortality, "Veka" opened ominously with low level drones and dark, ambient noise reflecting the disorientation and abyss-like depths that comes with death or seeing someone close to death.
Reflecting on questions of legacy that emerge following loss, her question "who will find you?" is sung emotively and with depth, similarly to the trip-hop like song "Soak" which followed. "I give nothing instead," she dejectedly sang, almost baritone, as she described being unable to rise from the depths of grief.
Hinting only that the album was borne out of "several personal traumas", we don't know the details of the loss that Danilova has experienced. Yet the overpowering emotion of the performance meant it's enough to silence the venue eerily in between the hugely dense, melancholic songs. The arrival of the more pop-like "Dangerous Days" provided a moment of lightness as Danilova moved to the edge of the stage, mixing and speaking to the audience for the first time.
The upbeat electronica of "Dangerous Days", a song taken from her last Mute album, Taiga, sounded a world away from her latest, a return to long-term label Sacred Bones. The soaring chorus worked powerfully as a metaphor for hope amid the darkness of loss, punctuating the songs from Okovi well. It was the first time the audience heard the full extent of Danilova's formidable voice too, as her extensive vocal range saw her soaring from dark lows to elevated highs with confident, effortless grace.
"It's such a pleasure to be back in a city with so much musical history – it's kind of intimidating. You guys know so much!" Danilova joked, before someone in the audience told her that they really didn't. "That's like the most British thing you could have said," the Wisconsin-based artist replied.
The crowd interaction was minimal and it wasn't long before the audience were taken back into the depths of grief with the industrial-tinged electronica of "Siphon". A song never originally intended for release, it described the support Danilova gave to a friend who had tried to commit suicide a number of times. "We'd rather clean the blood of a living man," she sang, to a once again silent, captivated audience. The heavy Motorik opening eventually gave way to soaring, dreamy electronica as she defiantly repeated: "I won't let you bleed out." A brave song and a soul bared, it was ultimately a song about surviving in the darkest of hours: unsurprisingly, it earned an extended applause from the audience.
Some of Danilova's earlier material had a welcome return such as "Vessel", "Night" and "Clay". The latter, with its Jesus and Mary Chain-like opening and shimmering shoegaze, proved popular but not as much as the powerful ballads from Okovi, especially that of set closer "Exhumed". Its gothic strings jolted, as did Danilova's background wails as a painful picture of a soul breaking is painted. As the wails turned to howls above screeching guitars, it became another song of defiance as Danilova sang: "in the static you are reborn ... don't let it hold you down."
Enjoy unlimited access to 70 million ad-free songs and podcasts with Amazon Music Sign up now for a 30-day free trial
Sign up
Much of the set was Lynchian in quality, as Danilova explored the very darkest and disorientating corners humans sometimes find themselves. Undoubtedly more crushing live, the songs from Okovi and their vast, layered soundscapes felt more spatial as they quickly jolted the audience from darkness to light, melancholia to hope. It was a surreal escape and support for anyone in the depth of grief or despair; it was also nothing short of an extraordinary performance.
Join our new commenting forum
Join thought-provoking conversations, follow other Independent readers and see their replies