Never too old to photobomb: Tony Luciani captures images that challenge the stereotypes of ageing
Through caring for his nonagenarian mother, photographer and painter Tony Luciani creates images that challenge the perceptions of age and reflect on the reality of living with dementia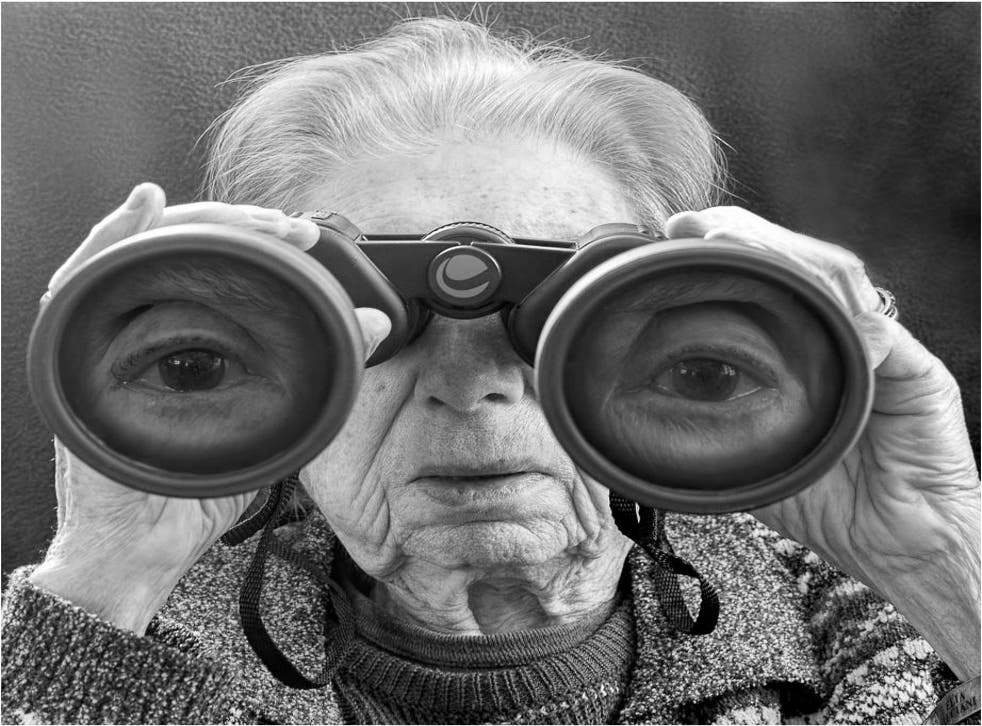 When Tony Luciani's 91-year-old mother, Elia, broke her hip, he couldn't bear to send her to live in a care home, so instead he became her full-time carer.
Playing around with a newly bought camera one day, the Canadian-Italian artist started taking shots of his mother by chance.
"I had just purchased this new camera and was testing settings," he explains. "Unfortunately, I was blocking the lone bathroom doorway with the tripod. Mum tried several times to shoo me away so she could get in, but I was too enthralled with my new toy, that she just had to wait."
"Then...that little face of hers started poking around the doorway a few times, dashing in low, then up higher. We laughed so loud that night. It was the start of something wonderful."
Tony Luciani: 'Mamma in the Meantime'

Show all 11
The result of the episode was "Photo Bombing Mamma", the first image in Luciani's project, "Mamma in the Meantime".
Originally from the tiny mountain village of Carrufo, Italy, Luciani's mother was "married off, by proxy" at just 13. She later moved to Canada, where the mother-son duo still live.
Now 93, Elia has begun to show signs of dementia, a subject close to the photographer's heart that adds a deeper poignancy to the images.
"Though looking after mum 24/7 has slowed down my social life, it has also given me more studio time and a new art medium to create with," says Luciani. "Photography, up until mom moved in with me in 2014, was used only as temporary informational references for my painting. "
"Including mum in my art has benefited both of us greatly. The modelling gives her a sense of self-worth and accomplishment."
"For me, her presence has a comfort re-lived". And, he jokes, for an artist "she's a relatively inexpensive model".
While his images are intimate, focusing a spotlight on the process of aging and lost memories, they are also playful, creatively staged portraits, rejecting any perceptions of older subjects being dull, or without worth.
"After decades of playing the 'stereo-typical, traditional mother role', I've encouraged her to express herself with playfulness and humour," adds Luciani.
While the artist says he shapes many of his initial ideas from listening to her stories, his mother will often suggest how to improve a shot, or "step outside the box".
"Mum has suppressed a lot of sentiments in her life, and this project has given her a wonderful excuse for bringing what's inside her, out."
Tony Luciani is a 60-year-old artist based in Durham, near Toronto, Canada. His book, "Mamma in the Meantime" is available to buy online.
Tony Luciani – www.YnotPhoto.com / www.tonyluciani.ca
Register for free to continue reading
Registration is a free and easy way to support our truly independent journalism
By registering, you will also enjoy limited access to Premium articles, exclusive newsletters, commenting, and virtual events with our leading journalists
Already have an account? sign in
Register for free to continue reading
Registration is a free and easy way to support our truly independent journalism
By registering, you will also enjoy limited access to Premium articles, exclusive newsletters, commenting, and virtual events with our leading journalists
Already have an account? sign in
Join our new commenting forum
Join thought-provoking conversations, follow other Independent readers and see their replies