A Pacifist's Guide to the War on Cancer, Dorfman, NT, London, review: 'Inflatable cancer cells sprout through the walls of Lucy Osborne's set'
Sound fun? This new musical demystifies cancer and is set in the oncology department of a hospital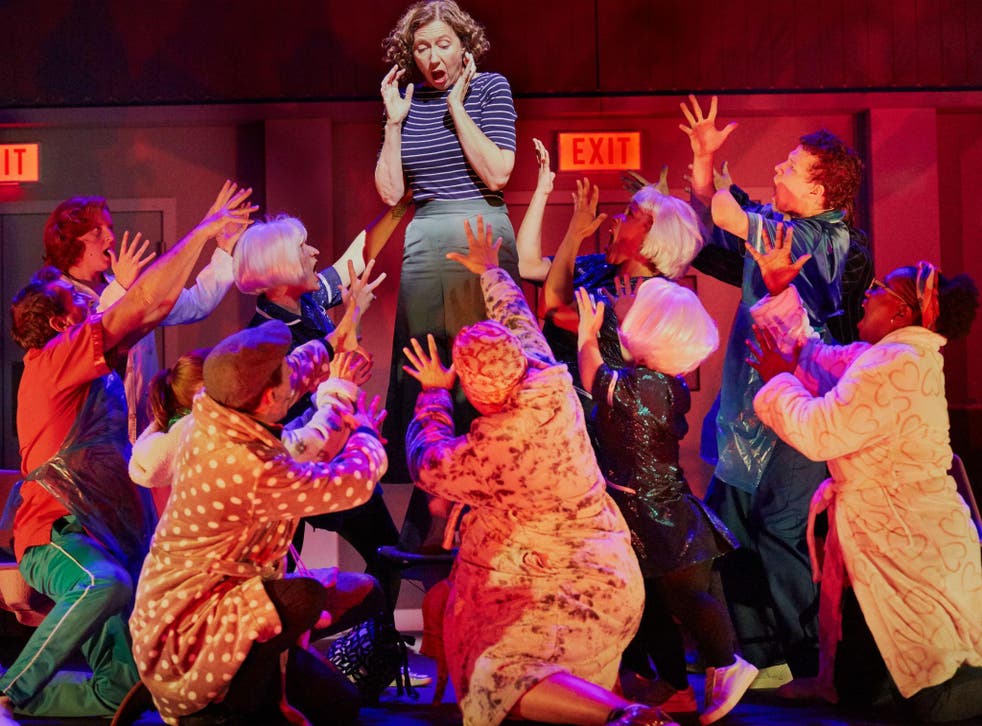 A musical on the subject of cancer – set in the oncology department of a hospital and replete with a chorus line of bulbous, sequinned cancer cells? It could be excruciating but proves here to be an audacious and bracingly effective way of demystifying a disease that kills one in three of us and touches all our lives. Written by the performance artist Bryony Kimmings and Brian Lobel, with a score by Tom Parkinson, this show jettisons the misleading cliches ("Fierce battles. Brave warriors. Inspirational survivors.") and gives us the low-down on the realities of living with a cancer diagnosis.
The main character is Emma (Amanda Hadingue) who is spending the day at the hospital while her baby boy undergoes tests. The show pulls us into her anxious sense of disorientation as her son is taken away and she encounters various other patients. These include Shannon, a pregnant eighteen year old; Stephen, who has been advised to use a sperm-bank before starting chemotherapy; Laura, who is refusing to accept her terminal diagnosis; and working class Mark who defiantly puffs on a fag through his oxygen mask and has a bitter exchange with Emma over his rights as a taxpayer to squander his share of NHS resources however he chooses. All of this representative bunch are based on real people.
Their individual fears and fantasies and their communal concerns are given heightened expression by songs written in a variety of styles to bring out the tragicomic incongruities. Though he can scarcely breathe, Mark (Hal Fowler) sings a country-and-western number of longing for his estranged daughter. Golda Rosheuvel's excellent Laura, terminally ill with ovarian cancer, is transformed into a glorious disco diva for her routine about a miracle cure. "People love to use your tragedy as a springboard for their emotions," declares Shannon, parodying the special "cancer face" adopted by certain friends, while her fellow-patients mockingly flagellate themselves with bunches of flowers to demonstrate the "aggressive sorrow" inflicted on them by others. They are not patronised like that here.
Directed with a terrific dark gusto by Kimmings, this National/Complicite Associates co-production graphically evokes how it feels to be at the mercy of a disease over which you have limited to no control. Inflatable cancer cells sprout through the walls of Lucy Osborne's set– surreal, sinister, eventually pushing everything else off stage. The piece is uneven but I was well-disposed towards it until the final sequence when the fourth wall comes down and it becomes too much like a group therapy session for my taste. The actors lip-sync to the voices of the real-life cancer patients they have played and Kimmings, in pre-recorded voice-over, reveals that Emma is based on personal experience with her baby son. One of the actual patients is brought on stage to read out a list of her hopes and then, in turn, the cast and the audience are invited to shout out the names of "anyone they have found in the Kingdom of the Sick or that have passed away". Lastly, we are encouraged to join in a song: "Fingers crossed, make a wish/For myself or those I miss". There are those who will find this moving (some of the audience did participate) and there are those who may writhe at what they perceive to be mawkish evangelism.
Join our new commenting forum
Join thought-provoking conversations, follow other Independent readers and see their replies