And what about Wendy? Introducing a feminist return to Peter Pan's roots
A new, feminist take on "Peter Pan" puts the girl who would grow up in the spotlight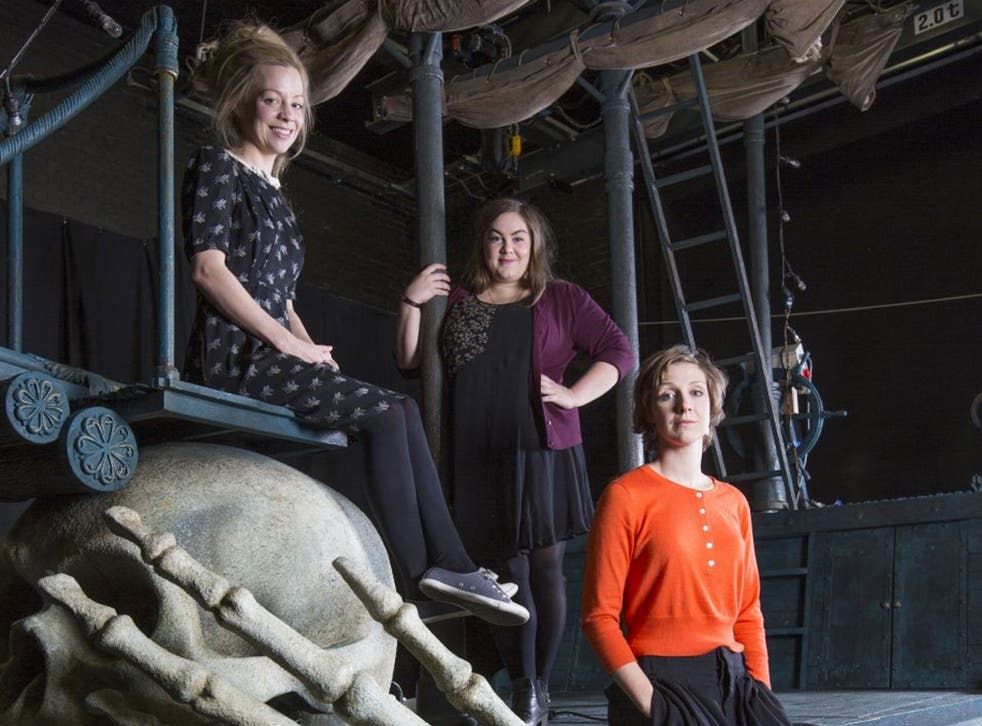 Your starter for 10: what famous children's novel was written by JM Barrie? If you answered "Peter Pan", you are, unfortunately, wrong. While that was the name of Barrie's 1904 play, his 1911 book version gave another character equal weighting: it was published as "Peter and Wendy", a title rarely used today, when everything from picture books to pantomimes prefer to focus on the boy who never grew up.
Hurrah, then, for playwright Ella Hickson, who is putting the girl who did grow up back in the spotlight in this year's RSC Christmas show. Wendy and Peter Pan is her female-focused take on the classic story which makes a complex heroine of Wendy Darling. Forget Wendy the happy homemaker, demurely prepared to be mother while the Lost Boys get to be eternally, irresponsibly youthful, or Wendy the damsel in distress, waiting for the plucky boy to save her: Hickson's Wendy is multi-dimensional, allowed to play house, but perfectly capable of fighting her own battles too. "I am Wendy Darling, I am brave and I am strong and I am going on an adventure!" is both her "happy thought" and her rallying cry.
Paradoxically, Hickson was given the Peter Pan commission because the RSC knew she could "write boys" – the 28-year-old had a hit last year with a student comedy-drama entitled, er, Boys. "And I came back with this idea: what about… girls?" she says slyly. For when she returned to Barrie's originals, she was immediately struck by the problematic attitude towards girls – and between girls. "It was so strong to me when I read the book. Some of the quotes in it!" Hickson, voice dripping with scorn, reels one off: "Tink hated Wendy with the fierce hatred of a real woman." She points out that every female character in the book tries to kill Wendy – it's as if the default response of women to one another is jealousy.
"We have binary narratives for women [in children's stories], and I think that's troublesome. You're either a slightly mindless, sunny-faced princess, or you're a slutty, evil witch!" Hickson laughs – but having picked up on this vein of female competitiveness in Barrie, she began to notice it throughout the fairytale genre. "the Little Mermaid, Snow White, Cinderella – there are all these incredibly jealous matriarchs attacking young women for being beautiful," she says. "[It's] a really weird narrative to be telling our kids before they go to bed at night. I wanted to do a version where this isn't the case, please."
She's succeeded admirably: Wendy and Peter Pan is set to be a swashbuckling adventure, where girls get to spar with pirates rather than be rescued from walking the plank. And there's a terrific scene which will have you mentally punching the air, as Wendy, Tink and Tiger Lily – a frankly badass trio – ditch the sneering jealousy to pal up and "kick some pirate bum". Tink, rather than being a trembling Disney waif, is a "Big Fat Gypsy Tink" and stomps around mardily in hi-tops, while the Native American princess Tiger Lily is more Hunger Games, with sturdy boots and a bow. Not that the play is fully modernised: it's set in 1908, a date between the publication of the original play and the novel. But it was also a significant year for women's rights – mass protests in Hyde Park attracted crowds of an estimated 300,000 – and indeed, even Mrs Darling gets a radical make-over in Hickson's version, becoming a suffragette.
It's not just Hickson who thought these characters needed a revamp – the actresses playing them were relieved, too. "My immediate reaction when my agent said 'Wendy' was: 'lovely – but she's a bit boring'," explains Fiona Button with a roll of her eyes. "And then the first stage direction was 'Wendy blusters in, big-hearted, messy-haired' and says "can I play battles?" I was immediately excited by that – she's a new, formidable woman. In a Disney [film], you get rewarded if you're beautiful and you can sing a nice song and you love animals … in this play, you applaud someone who's going to fight for what they believe in, and have courage, and be funny as well."
Charlotte Mills – who, I predict, will indeed make a funny Tink – concurs. "I loved how feisty all the women were, and how far forward they were to the front of the story. Tiger Lily has a beautiful speech about little girls out there being ready for their big adventure. The first time I heard it, I burst into tears – my god, if I'd heard that as a little girl in a theatre …" she shakes her head, with a beaming smile.
It was partly the need for role models for a child in her own life that inspired Hickson. "My niece is just a few months old – the play is dedicated to her – and it was very much that [thought]: "I don't know what I would read you …" Who are the girls she would grow up with? Lyra from Northern Lights is pretty good, Anne of Green Gables … outside of that, it's shaky territory in terms of finding role models.
"Wendy is kind of untenable as a character [in the original story]: she just wants to get married to Peter and keep house. It neutralises [female characters] in some way, if we can send them from girl straight to mother – it misses out that potentially threatening middle ground …" It's that middle ground that Hickson herself occupies as a woman in her late twenties without kids – a time when biological clocks are supposed to start ticking like Neverland's crocodile. And her experience of the societal pressure to settle down made her even keener to interrogate the depiction of Wendy as a miniature housewife. "A lot of my contemporaries have just done that slightly zombie-ish thing of 'marriage … babies … must … build … home'" – Hickson comically droops and drools, groping towards a conventional future, undead-style – "and that was problematic for me."
But, before anyone throws up their hands and complains that children's stories shouldn't be dealing in ideology (which is nonsense anyway; as Hickson points out, the "pink princess" narratives commonly foisted on young girls are certainly political), it is worth stating that Wendy and Peter Pan is hardly agitprop for the under-12s. The script is funny, slapstick-silly and high on magic and adventure. Hickson acknowledges that, even with such oft-adapted source material, you have to tread lightly, "There's certainly a loyalty to the original, because it's very close to people's hearts – especially men."
She keeps many Peter Pan set pieces: happy thoughts, Lost Boys, Captain Hook. And the set should be spectacular, with pirate ships and underground dens, fairies and flying – although harnesses will be in full view, with director Jonathan Munby wanting audiences to engage in an active suspension of disbelief. It's a decision Hicksonapplauds; she thinks imagination is a muscle that children need to flex now more than ever, given our over-stimulated and simulated computer age. And after all, this is the play that asks children to clap their hands if they believe in fairies …
It's the first time Hickson has written for children, and it's made her really think about "why you write theatre and about making people believe". She then adds that "appealing to people's hearts, rather than their 'British-new-writing-London' brain is amazing. And it is important."
'Wendy and Peter Pan' is at the Royal Shakespeare Theatre, Stratford-upon-Avon, to 2 Mar; rsc.org.uk
Fun for all the family… five re-imagined festive shows
Jack and the Beanstalk, Tom Wells
In this female-led show, from hotly tipped young playwright Tom Wells. Jack – your principal "boy"– is actually a girl, just one of the meta-theatrical twists that liven up this panto, which also features a giant who steals hospitals and libraries: boo hiss!
Lyric Hammersmith, London, to 4 Jan; lyric.co.uk
Moominland Midwinter, Hattie Naylor
She penned Going Dark for Sound & Fury, and her exploration of sexual violence, Bluebeard, has just been at the Soho Theatre … but fear not: all that has been left behind by this sure-to-be-charming puppet adaptation of Tove Jansson's story. Follow the adventures of Moomintroll as he wakes early from hibernation to discover a snowy land …
The Egg, Theatre Royal Bath, to 12 Jan; theatreroyal.org.uk
Cinderella: A Fairy Tale, Adam Peck
Glass slippers? Sparkly Doc Martens more like … Peck's version (developed in 2011 with the cast and director, Sally Cookson) has another tomboy as its heroine. It's more Grimm than Disney, but its third outing has cemented a reputation for delivering true theatrical magic.
Unicorn Theatre, London, to 5 Jan; unicorntheatre.com
Sleeping Beauty, Jez Bond
Founder of the new(ish) Park Theatre, Bond is behind its first ever panto, co-written with Mark Cameron, who also plays the dame. Bond has billed it "a panto for people who hate panto". The theatre's dog, Hazel, has a starring role.
Park Theatre, London, to 19 Jan; parktheatre.co.uk
The Little Mermaid, Joel Horwood
Much of the darkness of Hans Christian Andersen's original is reinstated here – as well as wide-eyed theatrics, including a floating mermaid. She's no drip: here's another headstrong female lead. To get even more down with the kids, the cast was trained in beatboxing by Schlomo.
Bristol Old Vic, to 18 Jan; bristololdvic.org.uk
Join our new commenting forum
Join thought-provoking conversations, follow other Independent readers and see their replies