Choreographer Matthew Bourne: Rehearsing The Car Man, my radical reinvention of the Carmen story
Although The Car Man has been showered with accolades, this is only its second return – largely because it is not a suitable family outing for Christmas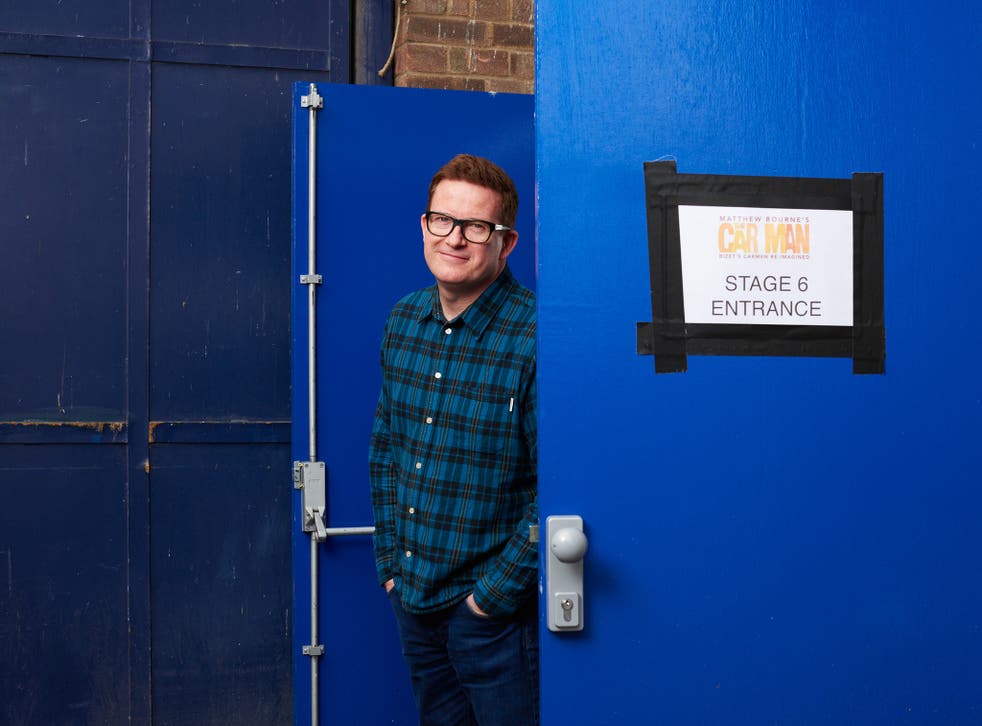 Three Mills Studios, tucked away behind the A12 in Bromley-by-Bow, is a former water mill that has been transformed into a busy film, TV and rehearsal complex, apparently the largest in London. This is where Matthew Bourne's celebrated dance company, New Adventures, puts its work together. I've arrived to watch them prepare the revival – after some eight years – of The Car Man, Bourne's radical reinvention of the Carmen story. Its tour starts in Bromley on 16 April and travels the country, finishing at Sadler's Wells in July and August.
Although The Car Man has been showered with accolades, including the Evening Standard Award for Musical Event of 2000, this is only its second return – largely because it is not a suitable family outing for Christmas. With plot elements including murder, bisexuality and allusions to homosexual rape, that much is clear. "We need a summer season for it," Bourne says.
The show certainly turns up the heat. It shares with Bizet's opera Carmen themes of sexual jealousy and crime passionel; but this is Carmen as film noir, a 1960s-style thriller, with a singularly Bournian twist. When a sexy stranger arrives in a small town, he turns everything and everyone upside down – including both an abused wife and a gay car mechanic.
The studio looks more like a film set than a scene for ballet. To one side stand two vintage American cars, or parts of them; to the other is the front of Dino's Diner; around the place lurk props such as crates of bottles, loose tyres and spanners. And Bourne himself functions not unlike a film director. The choreographer and company director, who hails originally from Walthamstow and wears his 55 years lightly, sits a little to one side, clad in a checked shirt, jeans and loafers rather than dance wear. It is only the fifth day of rehearsals and the dancers are still assembling the basics; Bourne watches as they tackle an early scene under the nitty-gritty instruction of the associate director, Etta Murfitt. Here they portray car mechanics finishing a hot day at work; they shower, then go out for drinks and dancing with their girlfriends.
Bourne himself steps in to target filmic details of personality and drama. He talks quietly with individual dancers or small groups of them, keeping to one side rather than invading the space wholesale. Everyone has a character to inhabit and relationships to display. With one couple he hones gestures and expressions to capture better the projection of their exchange, which is about jealousy and hostility. "Fight back a bit more," he encourages the girl; she needs to offer feisty, furious gestures, swear words so visible that we don't need to hear them. There is never a sense that Bourne is berating his dancers or psychologically buffeting them into shape, and he certainly is not a shouter. He seems to work with, rather than against, them, drawing out their ideas, encouraging rather than ordering.
But although he is a self-effacing presence for much of the time, the dancers are keenly attuned to his gaze; when he does speak to the entire cast, the studio falls silent on the spot. At one point several people must bring on a table and a crate of beer bottles. "There's a freeze at that point," Bourne explains, gesturing a pause. "The audience will probably applaud, and while that's happening, you three fetch the table from the wings…" We all practise the applause (it is nice as a visitor to be able to contribute usefully). Bourne knows how long an average audience is likely to keep clapping and, once the dancers have tried it a few times, the action comes out seamlessly timed. The audience might not even notice this transition, but it makes all the difference to the flow.
"There are moments in the music that we should mark, as we do in all our shows," Bourne tells everyone. "Listen for the big sounds and try to mark them – here it's 'boom BOOM' – listen out for that and find a gesture for it." This is the strongly marked upbeat and downbeat of Bizet's overture. The dancers find means to point it up it within the choreography, whether it is a raised hand, a jokey hip-bump or a downed draught of beer. Virtually everybody in the studio, whether dancer or technical staff, is in any case tapping their feet to Bizet's rhythms.
Next comes a dance to a juke box that gradually gets faster and faster. Again the transition into it needs the most work. "There's a moment when the energy flags," Bourne tells his cast. Sure enough, the action threatens to peter out between the handing out of the beer bottles and the dance's beginning. "It looks as if everyone's waiting for the music," says Bourne. "Don't wait. Keep it going." Again it takes several tries, but soon the interaction between the couples, and the covert bullying of the gay Angelo among them, fills the gap until Bizet's irresistible triple metre kicks in: "There! Hot tune!" calls Bourne. Soon the dancers are putting so much into their moves that Murfitt has to instruct: "A little less energy…"
At the front, the one male couple in this number needs extra work. Bourne takes time to polish this relationship, looking at the intensity with which the two boys hold each other's gaze, or the subtext to the way one will advance while the other retreats. There isn't time for everybody to listen in; while this is happening they carry on working on the rest of the scene.
Then, with a call of "Lange cast!" the dancers switch over. In a clever twist for a company that doesn't like hierarchies of first, second and third casts, each team of performers is named after a different actor from the various films of The Postman Always Rings Twice, which was a major starting point for the story: Jessica Lange, Lana Turner and Jack Nicholson. They take turns to run the scene; at the changeover the outgoing person quickly tells the incoming one vital points to remember.
Bourne values this quickness of mind as well as foot and looks out for it when auditioning dancers for New Adventures. "We work fast and they're not told every little thing; they need to be inventive and they need to keep their brains alive," he says. "And I look for passionate people, passionate about movement and performing, wanting to give to an audience – that's so much what we're about. The technique is important, but if that's all they have, it's not enough."
They have to be open to unusual demands, too. He says that he has asked the men, who need to look like car mechanics, to "beef up a bit" for the show, and it looks like they have been only too happy to do so. Off stage, at least one of them is brandishing a pair of resistance bands.
The down-to-earth roles are somewhat different from certain other parts they might dance for Bourne – and indeed, he says that was one reason he created The Car Man. "In other shows, like Swan Lake and Cinderella, I was asking the girls to be princesses or period characters," he says. "I thought it'd be good to make something that was closer to them, something that's about young people, and to get a bit down and dirty with it, a bit raw, a bit contemporary in style, with more 'down into the ground' in the movement. That was the impetus for doing it in the first place."
Now Jonathan Olliver steps into character as Luca, the sexually charged drifter whose affair with Lana, the wife of the brutish garage owner, sets the story hurtling along its trajectory of passion and violence. He strolls across the front of the stage while his Lana, Zizi Strallen, looks him up and down, in part flirtatious, in part afraid. "Lana needs a note pad," Bourne points out. One is found and she holds it, scribbling; as she spots Luca her pen slows and the pad sinks floorwards in her hands. "More!" Bourne encourages the pair in this vital first encounter, getting them to project the sexual frisson still further.
The casts in the studio are nevertheless not quite complete. When the show reaches Sadler's Wells, the Brazilian star of American Ballet Theatre, Marcelo Gomes, joins them as Luca. Admitting a guest dancer is an unusual move for Bourne. "It's not something this company normally does," he remarks. But Gomes has already appeared with them in Swan Lake in Tokyo and was, Bourne says, keen to come back, accepting the same wage structure as everyone else. "He absolutely loved it," he says. "He lapped it up and became one of the team. This role will suit him really well."
It seems fitting that New Adventures will have, for The Car Man, a charismatic new arrival of its own. "He really entered into the spirit of the company," Bourne says. "As you can see, it's kind of crazy. It's not like a ballet company at all."
'The Car Man' opens at the Churchill Theatre, Bromley, on 16 April and tours to 9 August (www.new-adventures.net/the-car-man)
Join our new commenting forum
Join thought-provoking conversations, follow other Independent readers and see their replies