From Maxine Peake to Ian McKellen: The many takes on Hamlet
With the 81-year-old McKellen primed to take on Shakespeare's most famous role once again, Paul Taylor explores a hero who is nowhere near his sell-by date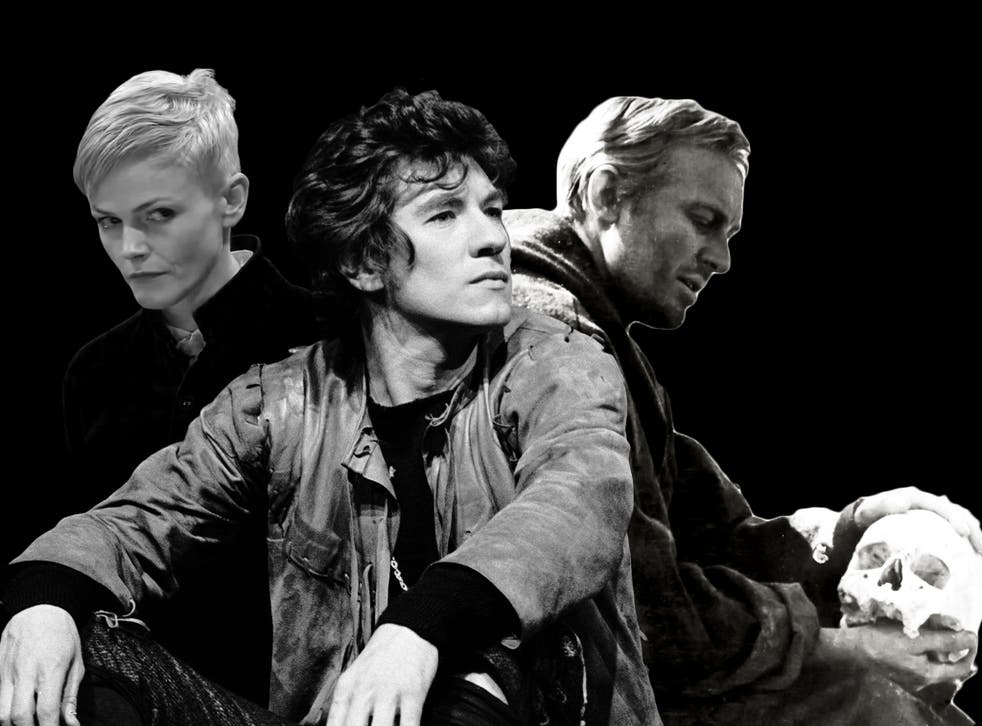 Hamlet is a drama that grows beyond itself as it unfolds. It's the instance, par excellence, of a genius learning on the job. Hamlet may have started off as an attempt by Shakespeare to contribute to the popular genre of revenge tragedy, but by the end, the playwright has created a hero who takes us into his consciousness in ways with which we are still trying to catch up. Shakespeare is, so to speak, getting the measure of a talent he discovers to be measureless.
Sir Ian McKellen is the past master at negotiating the tricky shifts of gradient and topography that come with this stretch of Shakespearean terrain. Back in 2007, he went on a world tour playing the title role in Trevor Nunn's Royal Shakespeare Company production of King Lear (first performed in 1606, three years before Hamlet). Having achieved that arduous feat (he was 68 at the time), McKellen could have been forgiven for hanging up his metaphorical crampons. The part of Lear – which is regarded as the crucial test for a senior actor – is traditionally likened to intrepid mountaineering, making an assault on Mount Everest at an age when it might prove fatal.
But then in 2017, a decade on, he tackled the role again – in a production scaled for the intimate dimensions of the Minerva Studio at the Chichester Festival Theatre. As I reported in a review: "In the wraparound intimacy of this space, McKellen is able to heighten the intensity of what Lear says through colloquial understatement and a playing-around with the beat and tempo of the verse that gives an almost jazz-like freedom and unpredictability to the king's utterances."
The commentariat swooped down in valedictory mode, taking their cue from McKellen who insisted that "that's it" in terms of live performance of Shakespeare plays. Such a statement could well end up inducing that flinch of expectancy that used to occur whenever Sinatra or Streisand announced a positively final appearance in live concert.
And lo, it has come to pass. We are now awaiting Ian McKellen's portrayal of that relative whippersnapper, Hamlet, in an age-blind production produced by Bill Kenwright and directed by Sean Mathias. Mathias has often directed the actor in theatre productions and is a former partner of his in what might loosely be termed real life. How old is this eponymous protagonist supposed to be? The internal evidence is confusing, but he is, by the end of the play, probably 31. Sir Ian will turn 83 this coming May.
Only a fool would try to curb their enthusiasm for King Lear by brandishing Hamlet as an invidious comparison. All the same, it has to be said that Hamlet is so off-the-scale in so many respects that it is in a class of its own. Shakespeare's longest and most told play, it revolves around deceit and revenge: Hamlet's father is murdered by his uncle Claudius, who has now married his mother. He is hell-bent on revenge.
Shakespeare's Falstaff boasts, "I am not only witty in myself, but the cause that wit is in other men". By the same token, Hamlet is not only creatively speculative in himself but the cause that creative speculation is in other men. And women. One of the most penetrating modern works the play has spawned is Iris Murdoch's masterpiece The Black Prince (1973), a novel written in the first person in which the over-controlling male hero "models" the idea of a bisexual/transvestite Hamlet on the daughter of a rival author with whom he has fallen, or thinks he has fallen, in love.
"O God I could be bounded in a nutshell and count myself a king of infinite space, were it not that I have bad dreams," Hamlet "confides" to Rosencrantz and Guildenstern, the university friends who he suspects have been summoned to Elsinore to spy. Ian McEwan's Nutshell (2016) plays with the idea that Hamlet is not yet born and is capable of registering the thrusts of his usurping uncle with matchless immediacy from his position in Gertrude's womb.
Hamlet is predicated on contradiction (he is at once the most inward of protagonists and an addict of theatricality). Take the ghost of Hamlet's father. He seems to hail up from the Catholic idea of purgatory and come into a protestant Denmark with a decidedly dubious ethical mission. Why doesn't he come to haunt Claudius, rather than his innocent son? Why does he embroil young Hamlet in a plot that stands every chance of being the death of him? Well might Richard Eyre's famous Royal Court staging in 1973 have shown Jonathan Pryce hawking up the guttural voice of old Hamlet and his fatal injunctions from his own distempered innards.
Kitted out with a medallion and a leather jacket, McKellen first tackled the part in 1971 for the Prospect Theatre Company. In 1971, he specified that the Prospect would take the line that Hamlet "is a youngster who knows exactly what has to be done, but lacks the manly resources to do it". I doubt if that is his view today. At 83, he comes back to the role with a lifetime's experience not just of theatre but of latter-day global fame as Gandalf in the Lord of the Rings movies and as Magneto in the X-Men franchise. Youth may be wasted on the young, as George Bernard Shaw joked, but there's special poignancy in the recognition that it is only through the perilous business of having once been young that we could ever have that piercing sorry/grateful perception of it in later life.
The greatest cinematic adaptation is, for my money, Grigori Kozintsev's 1964 black and white film produced by the Soviet Union and thrillingly photographed in the ruins of an actual castle in Tallin, Estonia. There is a brilliant sequence where the ghost of Hamlet's father is seen ominously patrolling the battlements, his cape picked out in black billowing outline against the night sky. When contemplating the afterlife of this play, I am reminded of the quip Zhou Enlai is said to have made when asked about the impact of the French Revolution: "Too early to say."
Certainly, Hamlet would be no use if you wanted to make the case that theatre is in danger of becoming old-fashioned because it wastes too much time reviving classics. It is, in the words of Ezra Pound, "news that stays news". The #MeToo movement shed valuable light by focusing attention on how, for all his capaciousness of mind and spirit, this hero has difficulty in forming a non-dysfunctional relationship with a woman. And the all-female companies (like the one headed at the Donmar Warehouse by Harriet Walter, who tops my Hamlet wish-list) are a salutary riposte to the Elizabethan theatre which banned women actors and would have assigned the parts of Gertrude and Ophelia to young men.
At the same time, with all due respect to Maxine Peake and Cush Jumbo (recent and future exponents of Hamlet), it says something about the groundbreaking nature of the play and about the slim pickings in the rest of the repertoire that there is a long and honourable tradition (I am not saying it was encouraged) of women taking on the role (Sarah Siddons, Sarah Bernhardt, Eva le Gallienne, Angela Winkler et al).
The performance history of the play is enriched by the cross-fertilisation it inspires. In particular, Rosencrantz and Guildenstern Are Dead – Tom Stoppard's swivelling-round of the proceedings so that we see Hamlet from the point of view of hapless, expendable underdogs – has entered the bloodstream of the play's afterlife.
Lastly, given that they have been rehearsing during a pandemic and have had their starting date delayed by lockdowns, McKellen, Mathias and company must have reflected on the fascinating topic of how Hamlet would respond to Covid-19. The play is an extended and profound pun on what it means to "act" – on the one hand to contrive an "antic disposition" that may dangerously veer into moments of genuine madness, as opposed, on the other hand, to dealing a decisive killer-blow. I instantly thought of Hamlet when I first saw those luridly lit posters saying "Act Like You've Got It". I think he might have a speech teasing out the meaning of those.
Meanwhile, we can safely say that Hamlet is in no danger of reaching its sell-by date before McKellen's production gets to open. As a creative stimulus, the play is inexhaustible.
Join our new commenting forum
Join thought-provoking conversations, follow other Independent readers and see their replies