Michael Frayn: Farce and the uncertainty principle
Michael Frayn's success as a playwright, novelist and translator has not dimmed his interest in human behaviour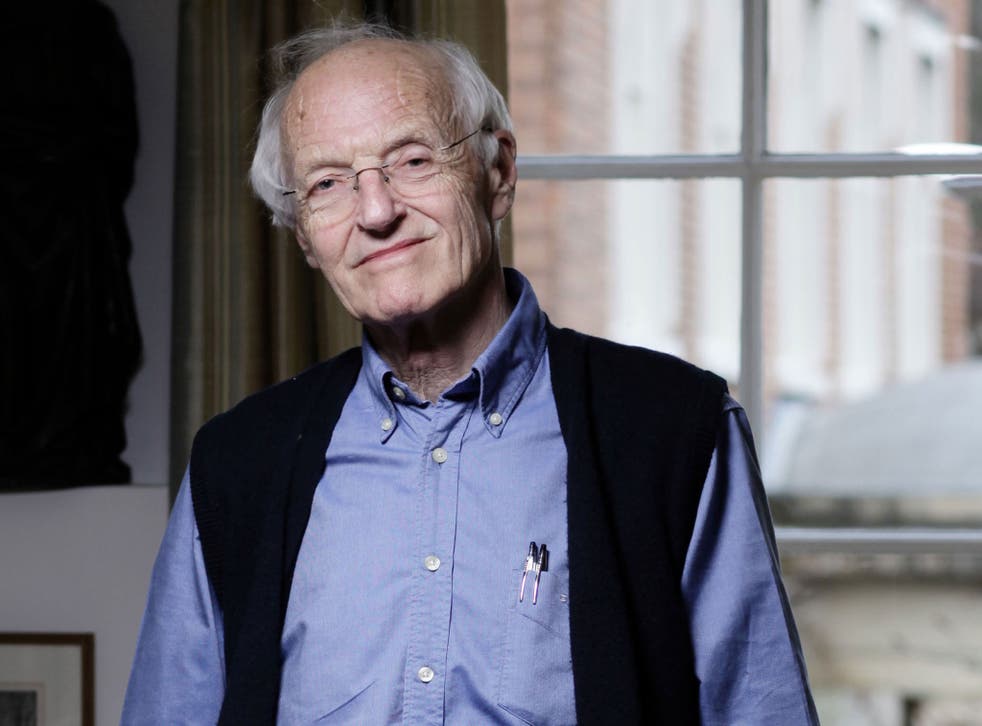 It doesn't bother Michael Frayn that he has a doppelgänger in Hampstead. In fact he seems quite pleased.
His most recent novel, Skios, is a farce in which an opportunistic bounder called Oliver steals the identity of a high-powered academic at a convention. "I've been giving talks about the book," Frayn says, "and people have come up and told me wonderful stories about mistaken identity. Recently someone told me they'd seen an amateur production of one of my plays at the Royal Free in Hampstead – and that, afterwards, I'd appeared in person and given a talk about it. But I hadn't!" He laughs at this flagrant example of life imitating art. "So it does happen. People do go around pretending to be you."
He doesn't stop to wonder why someone should pretend to be him, or wish to fool playgoers with impromptu lectures. But the inscrutability of human behaviour, of motivations and desires, even of personal identity, has been central to his art for four decades. From the middle-aged men confronting their youthful selves in Donkeys' Years (1976) to Niels Bohr in Copenhagen (1998) trying to fathom why his fellow-physicist Werner Heisenberg visited him in 1941, Frayn's characters try to impose order and find meaning in the disorderly and chaotic.
Next month Frayn will be feted by his theatrical peers with a Special Olivier Award "for outstanding achievement" at the Royal Opera House on 28 April. Though it puts him (and about time) in the same seraphic company as Alan Bennett (who won it in 2005), Sir Alan Ayckbourn (2009) and Stephen Sondheim (2011), he's been picking up lifetime achievement prizes for 10 years, since PEN, the writers' association, gave him a Golden award in 2003.
"I got a South Bank award last year," he says, "in the form of a dish made by Anish Kapoor. Someone pointed out that it's worth £100,000, so I had to insure it." This recognition seems only fair for a man equally distinguished as a playwright, a novelist and a translator; it's hard to think of anyone else who has pulled off this literary triple crown, and that's before you consider his side-projects of journalism, essays and philosophy, all published in collected editions. His name is synonymous with both comedy and seriousness. In his work, a vaudevillian and a professor of phenomenology sometimes seem to wrestle for mastery. At home in Petersham, near Richmond in Surrey, he cuts a professorial figure at 79, lean, bald and bespectacled, but his conversation is full of sparkle and combative glee, particularly about the modern world. At one point the phone rings – a finance-company cold caller, trying it on. Frayn springs to answer it, listens for a minute, then hangs up. "Somebody telling me about 'an outstanding refund'," he says witheringly. "Who are these people who ask about such things? I mean – what's the scam?"
Frayn's connection with acting and the stage began early. His father Tom liked to take him and his sister Jill to the music halls in Kingston and Croydon. "I saw Wilson, Keppel and Betty," he recalls. "They did an Egyptian sand dance, dressed like the figures on Egyptian hieroglyphs. They kept extremely straight faces and were irresistibly funny." The first performance he saw in a theatre was Dick Whittington: "I must have been very small. Somebody stole a purse, Dick was falsely accused and I burst into noisy tears. My parents were deeply embarrassed."
At Kingston Grammar School he started acting, but stopped after a tragic on-stage episode in The Government Inspector when a door jammed as he tried to exit. "It was such a terrifying experience, I gave up my acting ambitions." He turned against the theatre completely, like a spurned lover, and wrote savage reviews of touring productions when he worked for The Manchester Guardian. He started writing for the stage in his late thirties, after a director of television plays asked him to contribute to a show consisting of short plays about marriage. The four mini-dramas he wrote at the time became The Two of Us (1970) starring Richard Briers and Lynn Redgrave, which ran for six months. One of the mini-plays was a farce.
"There were two actors playing five characters. The audience saw the actors getting on badly, then going on stage and playing their parts, and their problems began to leak on to the stage. There were lots of quick changes, tearing between one door and another. I saw it from backstage one night, and thought it was funnier than what was going on out front. It made me think I'd like to write a farce seen from backstage. Then Michael Codron asked if I could do a full-length version …"
The result, 12 years later, was Noises Off. The inside-out three-acter, in which a touring company, beset with emotional traumas, tries to stage an old-fashioned sex romp called Nothing On, was an instant smash. Its classic status was guaranteed when the National revived it in 2000. The Old Vic re-revived it last year; their production is about to go on tour this year.
The living-room door opens and in comes Claire Tomalin, with whom Frayn celebrates 20 years of marriage – and their joint 80th birthdays – this autumn. The celebrated biographer of Dickens, Austen, Hardy and Pepys is elegant, warm and confiding, but a little irritated to find her name's become "Claire Tomlinson" in a national newspaper that morning.
Your work, I say, is full of the impossibility of knowing things. In The Trick of It, a character tries to discover how creativity works by marrying a novelist. In A Landing on the Sun, a character tries to quantify happiness. So you're writing about frustration…
"No," says Frayn firmly. "It's not at all about human beings being helpless. It's about human beings being very pro-active in the world, and sometimes succeeding in understanding something about it. We try to understand the world by seeing it in terms of some kind of narrative, and I think most of my plays and books are about that process. But I think there are some things about which it's theoretically impossible to have precise knowledge – namely, other people's intentions and feelings and probably one's own as well."
Which brings us to Copenhagen, perhaps his most celebrated play, once critics and audiences conquered their fear of dialogue about "cadmium control rods" and "uranium-235". Why had the book Heisenberg's War (by Thomas Powers) appealed to him as potential drama? "There was something about that meeting, and the difficulty in understanding why Heisenberg insisted on coming to see Bohr and what he wanted to say, which reflected both the uncertainty he introduced into physics and the difficulty of understanding why people do what they do. In both cases, it seems to me, there's a theoretical barrier beyond which we can't go – that however accurate the instruments are, they cannot know everything about the behaviour of anything, whether it's fast-moving particles or people's motivations."
Frayn at nearly 80 is, I'm surprised to learn, by no means opposed to the sweeping juggernaut of digital technology. Does he own an iPad? "Yes I do. I read the papers on it every morning." Has he a Facebook page? "No, but my grandsons [Jack and Finn Harries, twin sons of his daughter Rebecca] have made a huge success of a YouTube blog, and now have a million followers and a production company, and wherever they go they're greeted by screaming girls. Perhaps it's time I signed up on Facebook and told everyone: 'Read my brilliant book.'" These days, he could just sit around reflecting on a life of great success (and a few flops) in three major areas of literature, where, to quote Dr Johnson on Oliver Goldsmith, he touched nothing that he did not adorn. But first he has to write the screenplay of Skios, and keep an eye on the touring Noises Off, and prepare for a huge joint 80th-birthday party in central London in September. Michael Frayn has plenty to keep him busy until the next slew of lifetime achievement awards arrive in 2023.
The nominations for the Olivier Awards 2013 with MasterCard will be announced live on Radio 2, 11.30am on Tuesday 26 March. Michael Frayn will receive his Special Award at the Olivier Awards ceremony, Sunday 28 April, Royal Opera House (highlights on ITV). Noises Off tour: oldvictheatre.com/noises-off-tour
Curriculum Vitae
1933 Born on 8 September in the suburbs of London.
1957 Graduates from Cambridge with a degree in modern languages and moral sciences, and begins his journalistic career by working as a reporter for The Manchester Guardian.
1959 Frayn becomes a columnist for The Guardian.
1965 His first novel, The Tin Men, is published.
1970 Frayn's first play, The Two of Us, with Richard Briers and Lynne Redgrave, is performed at the Garrick Theatre, London, and runs for six months.
1975 His play Alphabetical Order wins the London Evening Standard Award for Best Comedy.
1982 He wins his third best comedy award from the Evening Standard for the play Noises Off.
1989 Divorces his first wife, Gillian Palmer.
1993 Frayn marries Claire Tomalin, the journalist and biographer.
2002 Frayn's novel, Spies, wins the Whitbread prize for fiction.
2003 He turns down a knighthood.
2012 His twelfth novel, Skios, is published.
Join our new commenting forum
Join thought-provoking conversations, follow other Independent readers and see their replies