Opera al fresco? What could possibly go wrong?
Stag beetles and bats are among the hazards of outdoor performances, says Michael Volpe, head of Opera Holland Park. And don't get him started on the weather...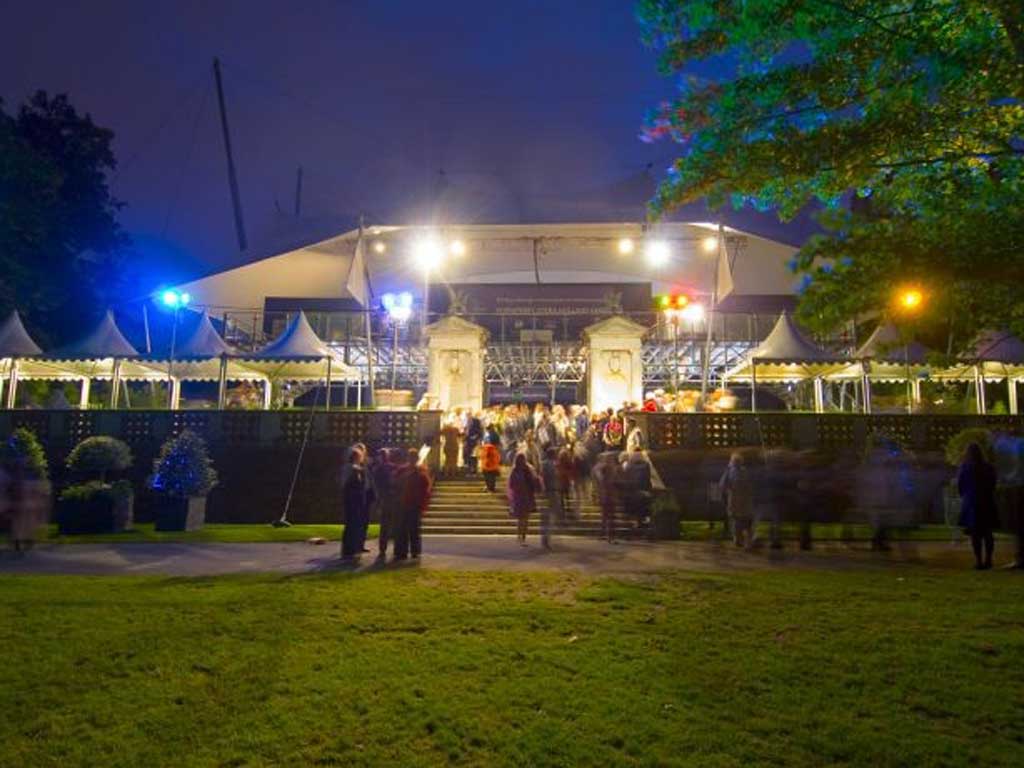 As she settled into the rhythm of her aria, Julia Riley, singing Dorabella in our current production of Cosí fan tutte, felt something scramble on to her hand. With a thousand people hanging on her every word, she glanced down to see a small bat hanging nonchalantly from her wrist. Impressively, she continued as if nothing had happened but a nearby chorus member almost levitated sideways into the arms of fellow chorister squealing "hold me, hold me!".
It was just another night at Opera Holland Park where a week before, Aldo di Toro's Edgardo in Lucia di Lammermoor, bereft and intent on suicide, had a very large stag beetle attempt to do the job for him by almost lodging itself in his open, wailing mouth. It was a close call but he, too, carried on regardless. Carrying on regardless is something singers in festivals like ours must do.
We spend time and money creating a beautiful theatre that keeps off the rain, tries to block out the wind and still retain all of the glories that sitting outdoors on a warm evening can bestow upon the operagoer. But we have challenges to face, and no amount of architectural mitigation save for brick walls and a tiled roof will keep out the drone of a passing helicopter or the shriek of an irritating French schoolchild. I myself am less patient of it than almost anybody and have had many confrontations with cricketers, footballers and a United Nations of schoolchildren (the French are by far the noisiest by the way).
Animals are another thing entirely and in 23 years there has been a menagerie of interventions from rabbits, squirrels, foxes, dogs, various small mammals and one year a dangerous hive that a Jamaican member of staff dubbed the "nes' a waps" which as an Italian I could have taken offence at. And it is not uncommon to find me chasing a large frog along the carpet as staff and patrons scatter from the path of the pursuit.
Although the peacocks have become something of an iconic interruption at Opera Holland Park, even being considered a critical part of the experience for some, we ourselves expressed our view of this by marketing a "Peacock Pie" at the bar. It was legal game in the pie of course, but the idea just made us feel better. These large birds actually fly which means they get into trees around the theatre, squawking wildly when the territorial male birds consider "Vissi d'arte" a challenge. Then we have to issue enormous Super Soaker water pistols to chase them away. Several years ago a new flock of white peacocks was introduced and scattered to all four corners of the borough when Onegin shot Lensky. The police were inundated with calls and the birds were returned to the park only to meet their maker soon after in the jaws of Mr Fox. I have seen snakes too, but our park-ecology expert disputes this. A former house manager was terrified to the core by them so it didn't help when I approached him with an Indian Ball Python coiled sleepily on my arm saying I had found it in the yew hedge (I'd borrowed it from the ecology centre). He ran shrieking across the theatre, on to the set of Tosca and out of the stage door, not stopping until he'd reached Notting Hill Gate.
From time to time there is a sprinkling of stardust and beautiful synchronicity in the appearance of park fauna; during La rondine ("The Swallow") in 2011, as Kate Ladner sang heartbreakingly of Magda's need to take to the wing and forsake her love, a robin swooped into the lanterns and lamps above the stage and to the fluttering, light-bejewelled bird, Magda sang her lament. No amount of planning can deliver such a bewitching scene.
The weather is our greatest enemy this year and we think constantly of new ideas to add even further protection so that we have a theatre we can adapt to every scenario. It needs to be architecturally beautiful, like our roof, so it won't be cheap and it is almost guaranteed that the moment we do it we will see the arrival of a scorcher. We welcomed global warming when we were told that the UK would enjoy a climate similar to that of southern Italy but when a patron wearing a mink coat is lauded and celebrated for her cleverness in June (as one recently was) you know the scientists might have made a balls of it.
Despite all of this – the animal invasions, the children, the flightpath – there really is something special about our theatre and the opera on the stage. Audiences tolerate the distractions because, ultimately, they are pretty rare and short-lived and they know that nine times out of 10, their patience will be richly rewarded with magic. It is easy, when windswept, irritated and chilled to the bone, to forget this but it won't stop me drawing those wall designs on the back of a fag packet. I dream of a glass-and-steel palace whose sides glide silently open or shut depending on the weather. Our enormous high-tension fabric and steel roof is an architectural wonder, as beautiful a structure as you will see in London. It is comfortable, with spacious luxurious seats, yet if it is cold, you may well curse its lack of solid walls. But there are rugs and the heat of passion on stage to fight off the chill. We, of course, retain hope with every arriving day that summer will accompany the dawn. They say it is the hope that kills you but at OHP it might just be a stag beetle.
Michael Volpe is General Manager of Opera Holland Park. The Opera Holland Park season continues until 4 August (operahollandpark.com)
Join our commenting forum
Join thought-provoking conversations, follow other Independent readers and see their replies