Rory Kinnear on playing Macbeth at the National Theatre: 'It doesn't really get any better than this'
The actor, who played Bill Tanner in the James Bond films 'Quantum of Solace', 'Skyfall', and 'Spectre', as well winning the Olivier Award for Best Actor for his role as Iago in the 2014 National Theatre production of 'Othello', now stars on stage as Macbeth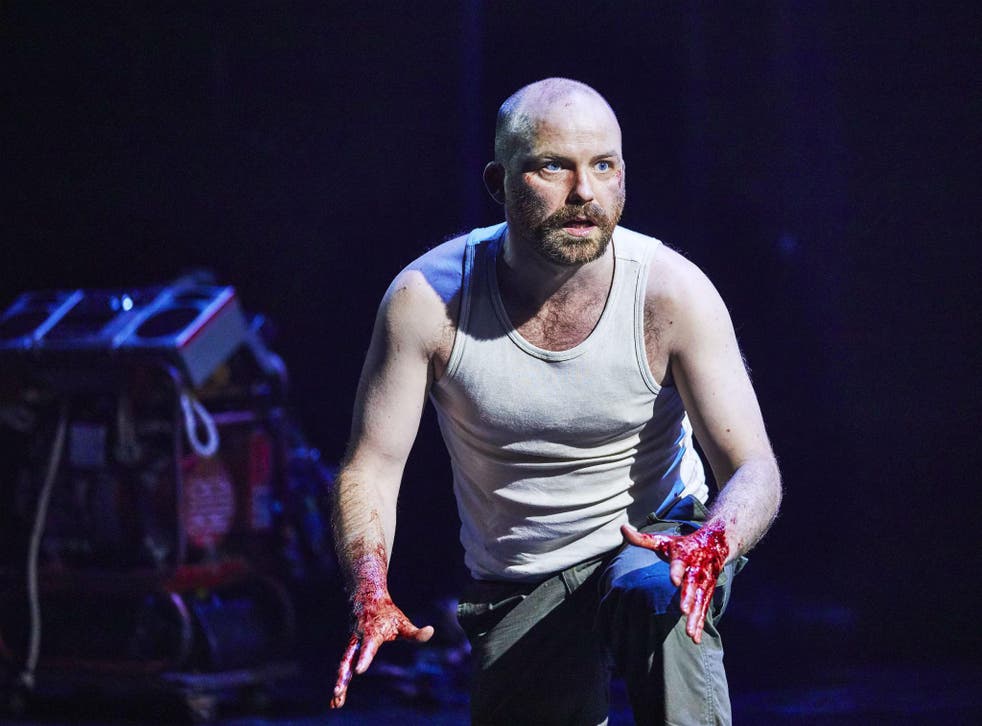 "You know how many interviews I've done while eating a cheese sandwich at the National Theatre?," London-born actor Rory Kinnear asks rhetorically as he takes another bite of his cheese sandwich. "I bet your article's gonna say, 'As he takes another bite of his cheese sandwich…'"
The actor is no stranger to the National Theatre; from his Laurence Olivier award-winning performance as Sir Fopling Flutter in Phyllida Lloyd's 2008 The Man of Mode, to his Evening Standard Best Actor-award winning performances as Hamlet in the 2010 production and as Iago in Othello, opposite Adrian Lester in the title role (who jointly won the prize) in 2013. Plus appearances in Thomas Middleton's The Revenger's Tragedy, Gorky's Philistines, a stage version of Nikita Mikhalkov film Burnt by the Sun, Stephen Beresford's The Last of the Haussmans and The Threepenny Opera. That's a lot of cheese sandwich-supported National Theatre interviews.
And here he is again, this time he's playing Macbeth, opposite Anne-Marie Duff as Lady Macbeth, in Rufus Norris's production at the National Theatre: "It doesn't really get any better than this," he tells me. "I've longed after very few jobs, I'd say not really any. But I'd always had a hankering for Macbeth." Despite his extensive CV in Shakespeare and at the National Theatre, high-profile theatre, TV and film roles, plus success as a playwright and director, the title role in the production is somehow an ultimate for the actor: "It's epic and extraordinary, the psychological unravelling, the poetry Shakespeare throws up, particularly for Macbeth, some of the twisted imagery that emerges throughout and as his mind begins to deteriorate – it's just one of those privileges really to get to say it out loud, particularly to a theatre that I love as much as the Olivier."
Playing devil's advocate, I'm curious to understand what he thinks it is that keeps theatres and audiences returning to the English tragedy. After all, there are a wealth of plays out there: new writing, contemporary work. Yet here again is another production of 1623's Macbeth, a play performed perhaps thousands of times over the course of centuries, with countless film, TV and literary adaptations to boot: "I think there's something familiar people find in some way comforting, no matter how disquieting a piece the play actually is. The idea of the psychology of the human mind and how people behave. There's that sense of constantly seeing yourself within it," he explains. "And it's the text itself, how elastic it is and how many questions are thrown up and how few answers are given for you. Everyone that will approach it will answer those questions in different ways. It responds to what people bring to it."
And what about the pressure to deliver the play afresh? To avoid plodding through what must be such well-trodden ground? In answer, he recalls that while rehearsing Hamlet back in 2010 they were referring to performance histories of how other productions had interpreted the text in the last 200 years: "I remember having an idea about something and somebody checking the concordances, and saying 'Well no, that was done in 1941', or something. And I just had to say, 'Stop looking at that book. Because I can ensure you, moment to moment, somebody will have had that idea before. But as a collection of ideas, all of us coming together, it will be unique.'"
The pairing of Kinnear and Duff (Channel 4's Shameless to BBC's The Virgin Queen, Saint Joan at the National Theatre, to Cause Célèbre at the Old Vic) was actually a long time in the making, with the two taking on their respective roles for the first time in a snippet of the play for an RSC production celebrating the 400-year anniversary of Shakespeare's death. "I always thought that she'd be perfect for it in that she has a strength but also a warmth and a vulnerability," Kinnear recalls. "Lady Macbeth is a Machiavellian force but you have to ask yourself why these people are behaving like this, why murder is the answer to their problems. That character can quite often dissolve into a Cruella DeVille type – you have to give something that allows an audience to see the pain within."
Director Norris first proposed the idea 10 years ago in New York but a production hadn't materialised. When he approached the actors again recently, they jumped at the chance: "I've worked with Rufus quite a few times and I couldn't think of a person this play would suit more in terms of his imaginative qualities as well as his continued pursuit to do what's not been done before," Kinnear says. "Not just being original for the sake of it but finding an original way of bringing alive why this play is so potentially scary and unsettling. To have Anne-Marie and Rufus was just perfect."
While Kinnear's career has focused predominantly on the stage, his film and screen credits are also extensive, including a British Independent Film Award-winning performance in 2012 for the film Broken and critically-acclaimed appearances in TV series from Penny Dreadful to Southcliffe. Though he admits that at first, after studying acting at the London Academy of Music and Dramatic Art, screen work did not appeal: "For me acting was pulling things together on stage, with other people in a collaborative process in the rehearsal room, being able to be in control each night how you react and how things change, rather than giving a couple of goes on camera and someone else saying, 'Thanks very much, I'll do my magic over here, away from you.'" And this was a process that came into its own with developing their version of Macbeth: "Rufus lets the rehearsal room lead right up until the end, so anything is still possible. You may return to your first instinct. But it's good to see what might take you in different directions, to keep yourself open and keep exploring."
But after learning more about the film and TV-making process, he discovered just how rewarding it could be and began to love it. Perhaps most memorably, he appeared in the very first episode of Charlie Brooker's groundbreaking Black Mirror. With "The National Anthem", the science fiction anthology series, known for it's eerily perceptive ability to capture a simultaneously fantastical yet believably not-too-distant future, as well as top-class performances from known and unknown talent and flawless production, got even closer to reality than even perhaps the creative team could ever have imagined. First aired in 2011, Kinnear played Prime Minister Michael Callow who was told that a member of the Royal Family had been kidnapped, and would be killed, unless he had sexual intercourse with a pig on national television. The seemingly ludicrous, if not perverse, fiction then drew uncanny comparisons to a news story which broke four years later, known as "Piggate", where an anecdote from an unauthorised biography of then Prime Minister David Cameron was splashed across front pages, suggesting that during his university years he put a "private part of his anatomy" into the mouth of a dead pig as part of an initiation ceremony.
Of the episode written by Brooker and directed by Otto Bathurst, Kinnear reflects: "I just remember reading it and a finding it really funny but also genuinely satirical in a brutal way. Like Jonathan Swift and the Irish eating dead babies." I have to ask him about the filming of that scene: "The night before I been at the Royal Albert Hall doing selections of Henry V speeches – black tie, as posh as could be. The next day I was inside this lecture hall in Buckinghamshire with Marge the pig sort of skittering around, eating from her trough.
"This other actor just walked into the room because he was filming the next scene. I knew him so he said hi and I said 'I'm just going to pop over here now...' The pig wasn't in the shot at that time. I was just vigorously humping this camera stool while crying. When we cut I burst out laughing and turned around to see this guy had turned white. He was probably thinking: 'What what did I sign up to? Did I read the rest of the script?' I'd say that's when you laugh the most. When you're dry-humping a camera stool that supposed to be a pig."
A further experience that he recognises sits in stark contrast to his other theatre and TV roles was playing the role of Bill Tanner in James Bond films Quantum of Solace, Skyfall, and Spectre: "Well, first of all I didn't have to hump a camera stool... But no, it was staggering, an enormous operation with incredible sets, incredible locations, thousands of people. In a way the acting comes for free. A lot of acting is enjoying working with other talented people and seeing what they can bring to a project and also, what it releases in you."
Such experiences, working within such varied mediums, have no-doubt fed into one another and enhanced his skills and understanding of the relative merits and opportunities offered by each. In particular, it strikes him how in contemporary culture we have become fixated on visual aspects, while the tradition of plays was to go to hear them: "It was the joy of going to hear a play as much as to see it. That's where words like 'auditorium' and 'audience' came from. Now, I love to meld those two things together, unpacking the signs and signifiers Shakespeare gives you in his language for example, the extraordinary images of the night and the natural world."
In terms of how he sees the future trajectory for cultural trends, he expresses openness and optimism: "I think people probably thought radio would die out but then with the rise of podcasts it's thriving. People thought the theatre would suffer at the hands of the internet and audience figures grow year on year. If you told people 10 years ago that the most interesting stuff would be happening in long-form television, most people wouldn't have believed you. It's hard to predict." Ultimately, as trends shift and change, or become transformed by technology, he doesn't see this as a threat to our culture's survival: "It's all about creativity. I don't think people will stop having the impulse to express themselves in as varied, creative ways as possible. Hopefully that will always be there."
As for his own career, having jumped to Macbeth from the opening production at the brand-new Bridge Theatre, Young Marx, and before that been busy filming a Mike Leigh film about the Peterloo Massacre in Manchester in 1819, he's actually not sure what's next. Though on the topic of who will pick up the mantle of Bond after Daniel Craig's final performance, he notes: "Well, I'm available."
'Macbeth' at the National Theatre until 23 June (nationaltheatre.org.uk). It will be broadcast to cinemas by National Theatre Live on 10 May. 'Macbeth' will also embark on a UK & Ireland Tour from September 2018
Register for free to continue reading
Registration is a free and easy way to support our truly independent journalism
By registering, you will also enjoy limited access to Premium articles, exclusive newsletters, commenting, and virtual events with our leading journalists
Already have an account? sign in
Register for free to continue reading
Registration is a free and easy way to support our truly independent journalism
By registering, you will also enjoy limited access to Premium articles, exclusive newsletters, commenting, and virtual events with our leading journalists
Already have an account? sign in
Join our new commenting forum
Join thought-provoking conversations, follow other Independent readers and see their replies