The night I danced for Michael Clark
Tonight ballet's enfant terrible returns to Tate Modern's Turbine Hall with a new work. Laura McLean-Ferris can't wait
Wednesday 08 June 2011 00:00 BST
Comments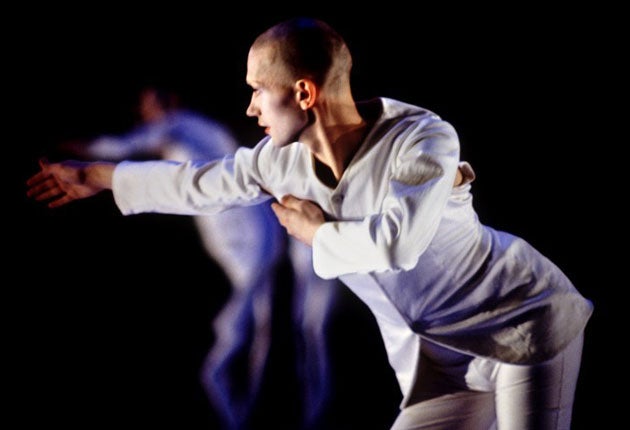 Tonight the Michael Clark Company will premiere new work in Tate Modern's Turbine Hall, following a residency and a series of performances at the museum last year and I will be thrilled to see them performing in the space once again. As he did last year, Clark has been working with untrained dancers. I was one of those who appeared in last year's event and taking part in rehearsals and performances and watching the company dancers were some of the most uplifting moments in my life.
Clark is a one-time enfant terrible; after training at the Royal Ballet School, where he was star pupil, he eschewed the classics in favour of the contemporary dance group Ballet Rambert, before forming his own company in the early Eighties. His electrifying connection to the punk music and performance art of the time is expressed in his utterly distinctive choreography from that period and also in collaborations with the likes of The Fall, Leigh Bowery and the film-maker Charles Atlas.
His movements, though surgically precise, nonetheless produced a sense of wildness and delirium and often featured outlandish costumes and props (trousers that exposed the dancers' bottoms being one memorable example). Clark has returned to the music of that period recently in Come, Been and Gone, which was shown at the Barbican last year and was based on the music of David Bowie.
For Clark's latest work, he has focused his attention on the dominating industrial architecture of the Turbine Hall, a space usually given over to major installations by visual artists such as Anish Kapoor or Ai Weiwei. Last year's work in progress demonstrated his ability not only to fully inhabit that monumental space with the movement of relatively small bodies, but also to channel his sense of the atmosphere and history of the space and filter that through the music that he is so passionate about, drawing out something enthralling from both.
Last year's performances included segments of mass choreography from non-dancers like me, moving to Bowie's "It's No Game (Part 1)" in a gridded formation. While large numbers of bodies moving in strict formation might more often be associated with fascistic depictions of military might (think of the films of Leni Riefenstahl or the Star Wars Stormtroopers), Clark managed to make this piece something very human, expressing the promise, rarely fulfilled, of the body's potential.
I hadn't done any kind of formal dancing since the age of 18, and it was incredible to pay attention suddenly to the specificity of certain muscles and movements, to recognise the exactitude in the bodies of the company dancers as they glided and darted through the space. It took a great deal of attention to detail to simply stay dancing in neat rows, with all of our different gaits and heights and shapes.
Our feet and ankles were not strong and sure, but rather soft, quivery or hesitant. It was the rare moments of grace and poise, interspersed with twitches, mistakes and worries, that lent the piece its poignant humanism.
Watching the company dancers, however, was something else. As they ran, pinwheeled, jumped and twisted around the Turbine Hall to the chilly, robotic twinkles of Kraftwerk's "Hall of Mirrors" or the languid, exhausted bitterness heard in Bowie's "Sweet Thing", they balanced faultlessly on the tightrope of Clark's choreography, which holds a line between the sexy and the coldly machine-like, between cool grace and tender emotion. Their bodies seem more than human, but utterly bound to humanity and all of its complexities and mistakes at the same time.
Michael Clark Company at Tate Modern – Part II: New Work (020 7887 8888) tonight to 12 June
Join our commenting forum
Join thought-provoking conversations, follow other Independent readers and see their replies