Tracie Bennett: Former Coronation Street star on bagging the juicy role of Mrs Henderson
'She's very formidable and kind, very generous and philanthropic and she had a kind of joy and naiveté about her'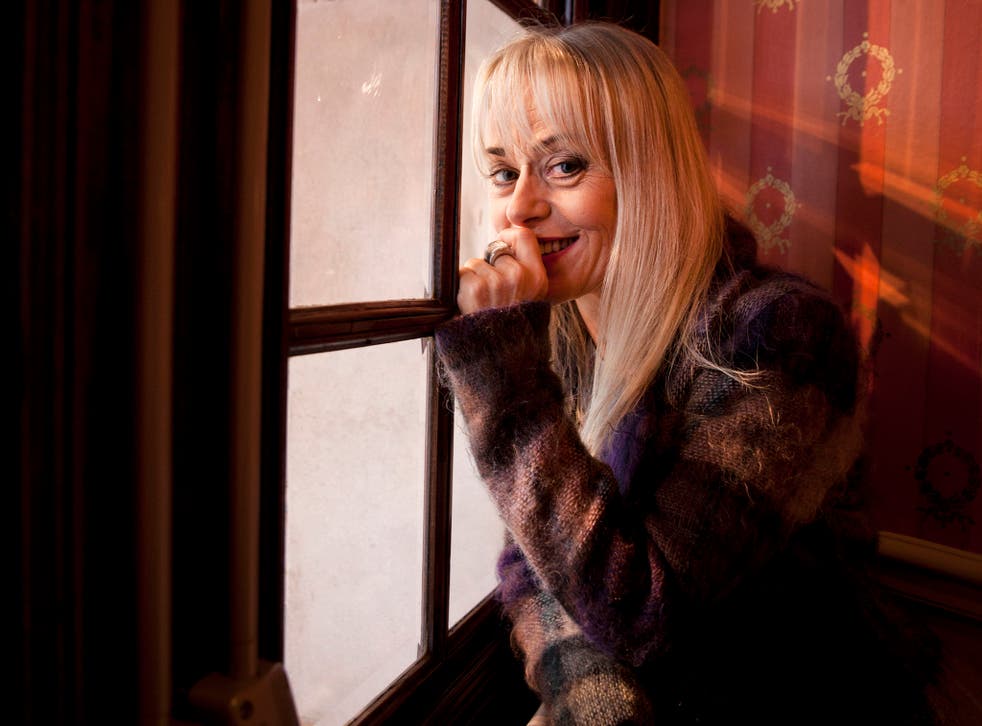 Tracie Bennett is chatting to me in between mouthfuls of baked potato, beans and cheese during a break from rehearsals of the musical Mrs Henderson Presents, in which she plays the eponymous lead. We're at the back room of the Union Chapel in London, and she perches on a pew, balletic legs crossed, polystyrene box in one hand, plastic fork in the other. If she's to be believed, she's oblivious to the five-star reviews the show has received in Bath. "I don't read 'em," she cuts me off, before I have a chance to tell her all about them. "A long time ago when I was 21, I did Educating Rita and there were two reviews, one was so brilliant and I thought 'really? am I that good?', and the other one was so bad you think, 'well, really am I that shit?' Because you want to please, especially in your twenties but you can't please everyone."
Mrs Henderson Presents has just transferred from Bath, where Janie Dee played the indomitable Mrs H but had to drop out at late notice to care for her sick child. Terry Johnson, the director, immediately thought of Tracie to fill the gap. When he enters the room briefly to check on her, their rapport is tangible.
"Here's Terry, he is the genius. He hates it when I say that about him, but he is," she laughs as he approaches. "Terry called me early on Friday morning and the next day I was in singing, so I was really up against it. I don't think Terry expected Janie to drop out."
"But I was thrilled you came on board," says Terry, hugging her from behind, so I see both their faces, grinning.
The 54-year-old studied at Italia Conti from 1978 to 1981 (other alumni include Louise Redknapp, Kelly Brook and Russell Brand), leaving her home in Leigh, Lancashire, to live in London.
"There were rich kids there with all different leotards and fashionable things every day, but there were poor kids too. I was a student, I didn't get much of a grant to be honest, I just worked in a supermarket every night from four o'clock until midnight. I'd go home and wash my leotard and then put it on the radiator and wear it again the next day. You had to go to lost property to see if you could get a 'new' leotard. At least it was free! it might not fit you very well, but you just did it and you just gone on with it!"
After graduating, she toyed with careers as a stunt double and ice skater before joining Coronation Street to play Sharon Gaskell, the Fairclough's foster daughter, a role she reprised in 1999. But she kept her stage and musical training under wraps. "In my day, in the Seventies and early Eighties, in TV they weren't interested in a musical theatre training, so I kept quiet about it," she shrugs.
Bennett didn't gain wider recognition for her singing abilities until she played Ilona in She Loves Me at the Savoy Theatre in 1994, for which she won an Olivier Award. She then took a series of acclaimed supporting roles before graduating in 2010 to leading lady, starring as Judy Garland in End of the Rainbow, a musical about the final years of the troubled star's life, which was also directed by Terry Johnson and for which she received a Tony nomination.
Bennett has rarely been out of work since she was 11 (her first Saturday job was on a fruit and veg stall, where she earned £5 a day), her CV is jam-packed with TV, film and theatre shows, from Les Misérables to Heartbeat.
"I am a rubbish lady of leisure! all my friends know it as a well and they say, 'oh you need to work Trace'... I just can't sit around doing nothing. But don't get me wrong, when I've just finished a job, I'm a slob and I know I need to just rest, more now than ever. I just stay in my pyjamas, I've got this fantastic dressing gown, it's wonderful, like a bear... and, honest to God, I watch trash TV."
Her need to work is a trait she has in common with Mrs Henderson, who is a based on a real-life character who bought the Windmill Theatre in Soho after her husband died and left her some money, transforming it into a nude revue show similar to the Moulin Rouge to entertain the troops during the Blitz. Mrs H could have lived off her fortune, but instead ran a ballet school and was on several charity boards. Terry Johnson describes her as a "pre-feminist".
"She's very formidable and kind, very generous and philanthropic and she had a kind of joy and naiveté about her," says Bennett, "and she wanted to give joy to the soldiers who would never see a naked woman before they might die."
She obviously feels quite protective over Mrs Henderson. Does she always sympathise with her characters?
"I try to empathise and find reasons why they are like that, like you do with your friends in real life... I always look at the situation of the character – and it goes deeper than just being working class. I grew up seeing everybody fighting in the youth club. My dad left when I was young so I kind of get that but you don't have to give birth to play a mother, you know what I mean? I've played murderers and I've never murdered anybody. So you just look at the script and see what's going on at the root of something."
Bennett isn't married (when you Google her, the first thing that comes up is "Tracie Bennett married?" and she tells me she's been linked to both Robert Redford and Robert Downey Jr – neither rumour has a grain of truth to it).
As a result of not possessing a marriage certificate, she has encountered some prejudice when looking for roles playing mothers and wives. "Yes, people say 'oh you don't know because you haven't been [pregnant]', well I haven't been married either but that doesn't mean to say I've not lived with somebody 20 years, which is a marriage longer than [most]."
When I ask what she'll do next she looks at me as though I've misunderstood something. "I don't have that [advantage] where I choose what I want to be, I don't have that luxury... I've always been a character actor, for the want of any other word. I've always been the girl next door, the comedy blonde or the murderer. It's not like I've stood up on the National stage and played bloody Cleopatra. I'd love to do that by the way, or Virginia Woolf. But I'm happy that I've had great gigs and met wonderful people. It's a good life." µ
'Mrs Henderson Presents' is on at the Noël Coward Theatre, London WC2 18 February to 18 June. Previews from 9 to 18 February (0844 482 5141)
Join our new commenting forum
Join thought-provoking conversations, follow other Independent readers and see their replies