Michael Moore slams Donald Trump for attacking his broadway show on twitter
The Terms of My Surrender had finished its limited run in New York
Jack Shepherd
Sunday 29 October 2017 09:53 Comments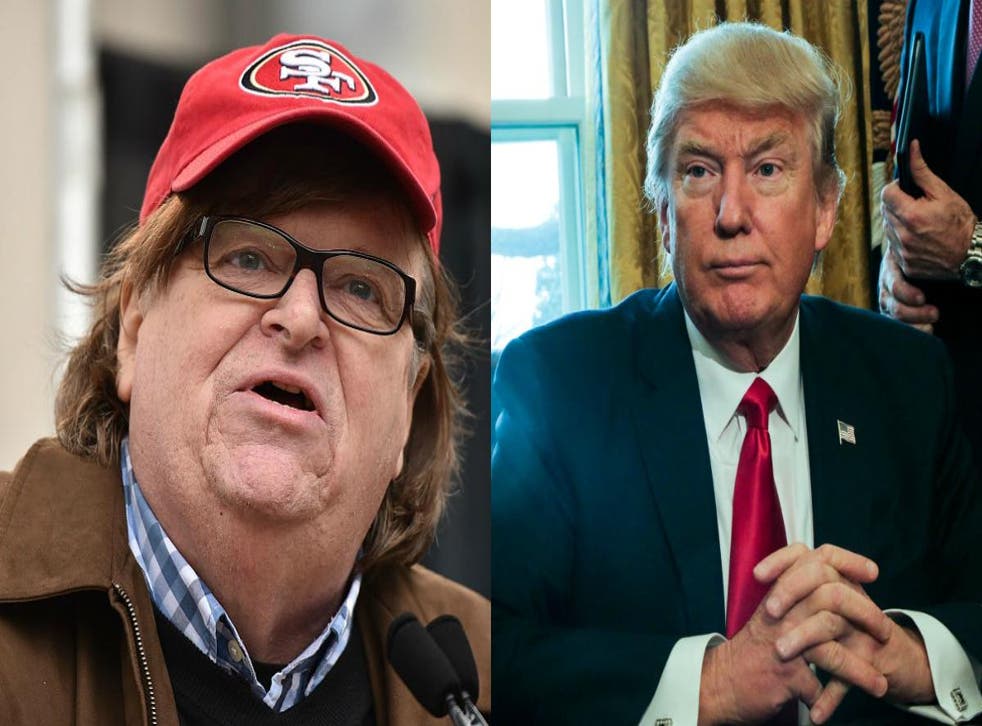 Donald Trump has often delighted in other people's poor ratings, prominently targeting Arnold Schwarzenegger's over his version of The Apprentice earlier this year.
Now, the President has taken the time to attack Michael Moore's Broadway show, calling the performance "a TOTAL BOMB and was forced to close. Sad!"
Trump added a small disclaimer, saying the comment was "not at all presidential" yet still making the statement on Twitter.
Moore's one-man show, titled The Terms of My Surrender, ran for 100 shows, having been intended to be limited. According to Deadline, the show took $367,600, averaging at $58.80 and fulfilling 47.2% of the house's potential.
The controversial filmmaker used the stage to discuss the current state of politics, making satirical jokes and featuring guests, including Bryan Cranston, Stephen Colbert and Mark Ruffalo.
Donald Trump's least presidential moments so far...

Show all 30
Outraged by Trump's Tweet, Moore used the social media platform to hit back: "You must have my smash hit of a Broadway show confused with your presidency — which IS a total bomb and WILL indeed close early. NOT SAD."
Moore pointed out how, on the day of the Tweet, one US service member was killed and six others injured in Afghanistan. "You, our President, are not even aware of this." he said. "You ARE aware I'm a "B'way star" & I guess this bothers you more. SAD." Read the full string of Tweets below.
Previously talking about the Broadway show, Moore said: "My 100 performances on Broadway represent perhaps the most fulfilling experience of my career.
"Having the opportunity to play the Belasco for tens of thousands of New Yorkers (and people from around the country and the world), with a simple and urgent message, has been one of the great honours of my life. And I am deeply moved to be so warmly embraced by the Broadway community."
The performer added that, come next summer, and The Terms of My Surrender would be going on the road, adding: "There is no surrender!"
Register for free to continue reading
Registration is a free and easy way to support our truly independent journalism
By registering, you will also enjoy limited access to Premium articles, exclusive newsletters, commenting, and virtual events with our leading journalists
Already have an account? sign in
Join our new commenting forum
Join thought-provoking conversations, follow other Independent readers and see their replies