DUP's anti-gay comments set to be showcased in new Belfast opera
'Abomination: The DUP in Concert' will see some of the most controversial views of party members sung verbatim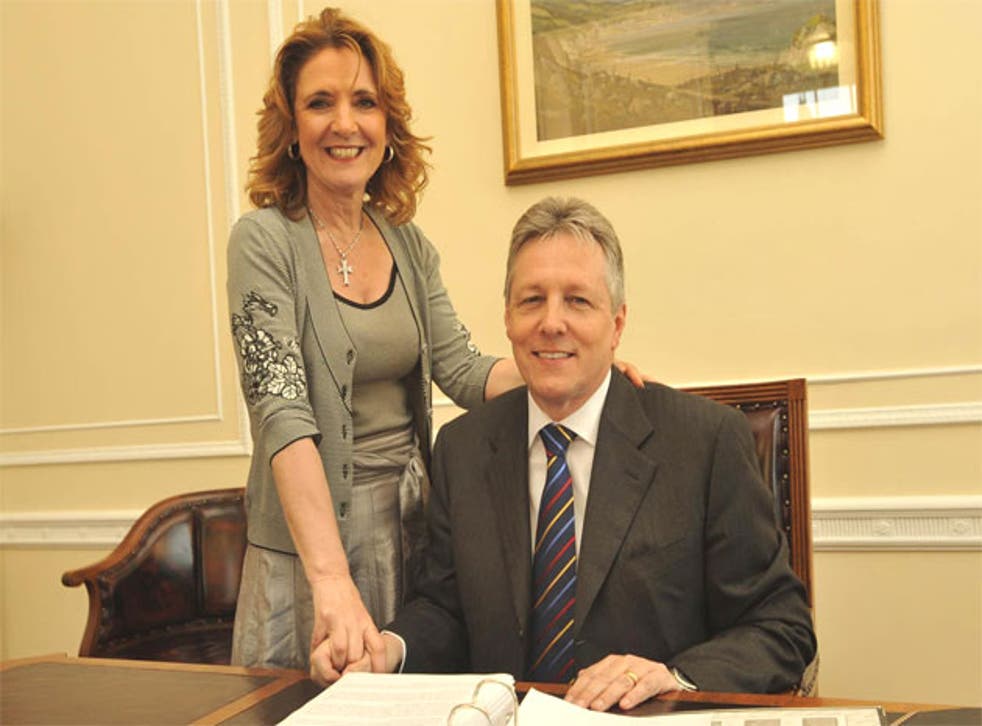 A new opera featuring the anti-gay comments of senior DUP politicians will premiere in Belfast later this month.
The lyrics for Abomination: The DUP in Concert are composed entirely of verbatim views expressed by controversial senior party figures like Iris Robinson and Ian Paisley Jr.
The piece will largely focus on an infamous 2008 interview given by Robinson, a former MP and the wife of former party leader Peter Robinson, in which she described homosexuality as "an abomination."
The incident occurred after a gay man in Northern Ireland was physically assaulted because of his sexuality.
Speaking on Stephen Nolan's BBC radio show, Robinson described homosexuality as "shamefully wicked and vile" before recommending a psychiatrist who performs so-called gay conversion therapy.
Her comments received widespread criticism and she was named 'Bigot of the Year' by Stonewall.
The piece will also feature comments made by the DUP's Maurice Mills, who blamed Hurricane Katrina on a gay pride festival, and Ian Paisley Jr, who once said he was "pretty repulsed by gay and lesbianism."
The work has been created by Northern Ireland composer Conor Mitchell, who says the comments of the politicians will be presented verbatim, word for word, so audiences can really linger on them.
"I don't want to make an overt comment, so I'm not adding any of my own words," he says, describing the piece as cutting edge and not straying into the comedic.
"I wanted to do something that took the words of the DUP, and finds another way of looking at them in a modern context, which really shows the function of music."
Mitchell thinks that looking back on these DUP comments resonates today due to the current situation in Northern Ireland and the Conservative-DUP deal which keeps Theresa May in power.
"There are DUP members who casually throw the words 'hate' and 'detest' into their language, and it's still in their political dialogue. With suicide rates rising in Northern Ireland, we have to consider what kind of effect this is having on people.
"Robinson's comments were made 10 years ago, and in that time I have seen no progress – if anything, things have gotten worse."
10 best pictures from Dublin Pride

Show all 10
Iris Robinson retired from politics and public life in 2009 after a political scandal in which it was revealed she once had an extramarital affair with a 19-year-old, but this opera is set to put her back in the spotlight.
She will be voiced in the Belfast production by Canadian soprano Rebecca Caine, who was part of the original cast of Les Miserables.
Caine has expressed her excitement about the role on Twitter, writing, "Looking forward to supporting N. Ireland LGBTQ community by unleashing my vile bigoted soprano tones on this!"
The DUP has a long history of expressing anti-gay sentiments, dating back to the 'Save Ulster From Sodomy' campaign of the 1970s – something that has had a direct impact on LGBT legislation and rights.
Northern Ireland remains the only part of the UK and Ireland in which same sex marriage is not legal, as a direct result of DUP opposition.
The party – who are the largest in Northern Ireland – have blocked the legislation despite same sex marriage enjoying the support of a majority of politicians and over 75% of the population.
Just what will the DUP make of their unlikely elevation into such high brow art? Mitchell isn't too bothered.
"I don't think it will be on their radar," he says. "They're not great supporters of the arts anyway, so I can't see them coming along to it."
Abomination: The DUP in Concert will be performed at the Lyric Theatre in Belfast, as the finale of Outburst Queer Arts Festival on 17 November.
Join our new commenting forum
Join thought-provoking conversations, follow other Independent readers and see their replies