Great Britain star Lucy Punch denies phone hacking play is anti-tabloid
The actress, who takes over from Billie Piper during the play's West End transfer, says the play is a 'fond look on tabloid journalism'
Jessica Barrett
Thursday 25 September 2014 14:22 Comments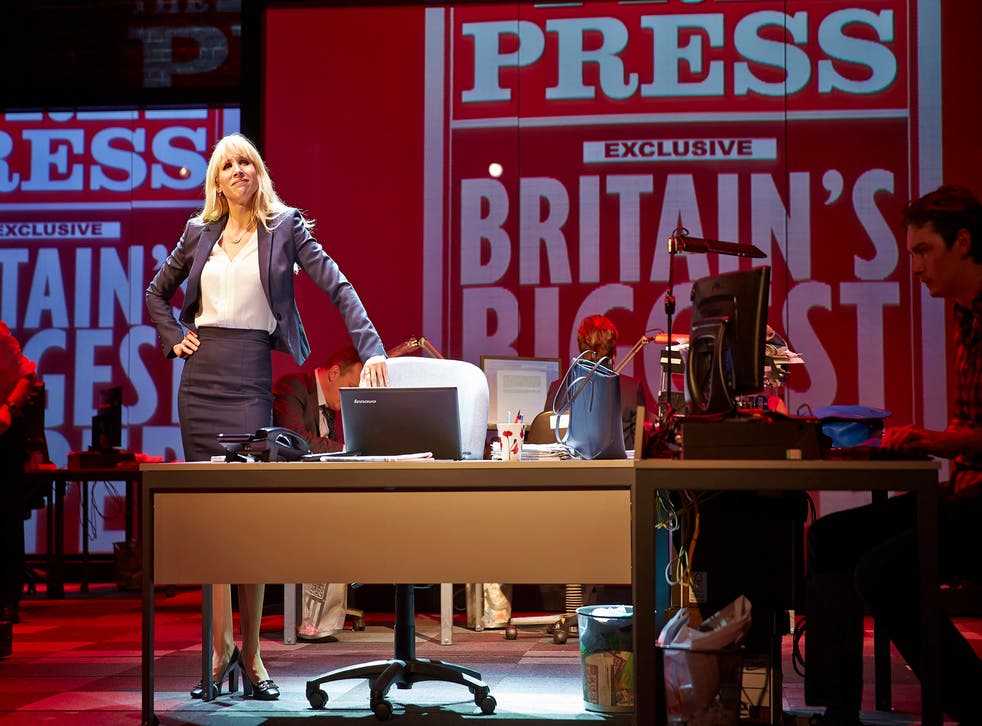 Given the amount of headlines it created, One Man Two Guvnors playwright Richard Bean must have known he was onto a winner when he took the tabloid phone hacking scandal and turned it his latest comedy Great Britain.
Billie Piper won rave reviews in her role as Paige Britain, the ruthless tabloid news editor, but she's now stepped down leaving Lucy Punch to transform herself into the "charming sociopath" each night.
Punch – who's had roles in films like Bad Teacher, St Trinian's, Woody Allen's You Will Meet A Tall Dark Stranger or Brit comedy Hot Fuzz – denies that hacks should be offended by the play.
"The play isn't anti-tabloid. It sort of it looks at tabloid journalism fondly, in the way that it can be quite entertaining. Which it can be," Punch says admitting that she hadn't immersed herself in the red tops to prepare for the role (her opening night is tomorrow, 25 September).
"I did buy The Sun a few times but I just don't read the tabloids. Sometimes they can have genius witty headlines, but that's all. There's nothing to read."
She's certainly chameleon-like, having played a mousey US school teacher, prostitute and West Country council worker to name just a few, but Punch, 36, admits this play is a challenge.
"It's a great, meaty, tough role. I haven't done a play in the theatre for so long so that does take some adjustment," she tells me. Punch admits she did watch her predecessor - former Dr Who actress Piper - in the run up to her debut.
"Ordinarily I wouldn't have done. But the rehearsal process for me was accelerated, I never really got to do a read through so I kind of felt like I needed to see it to get an idea of the piece. I waited for three or four weeks before I had my own idea of the character and I'd figured stuff out, I didn't want to but I felt like I needed to just to understand it as a whole. I thought she was absolutely brilliant, we had made some of the same decisions but some of them were completely different, too."
Great Britain is on at the Theatre Royal Haymarket until 10th January 2015.
Register for free to continue reading
Registration is a free and easy way to support our truly independent journalism
By registering, you will also enjoy limited access to Premium articles, exclusive newsletters, commenting, and virtual events with our leading journalists
Already have an account? sign in
Join our new commenting forum
Join thought-provoking conversations, follow other Independent readers and see their replies