Mamma Mia! in Mandarin heralds theatre's cultural revolution in China
A Sino-European consultancy has launched offering Western producers a "one-stop-shop" to take their shows to China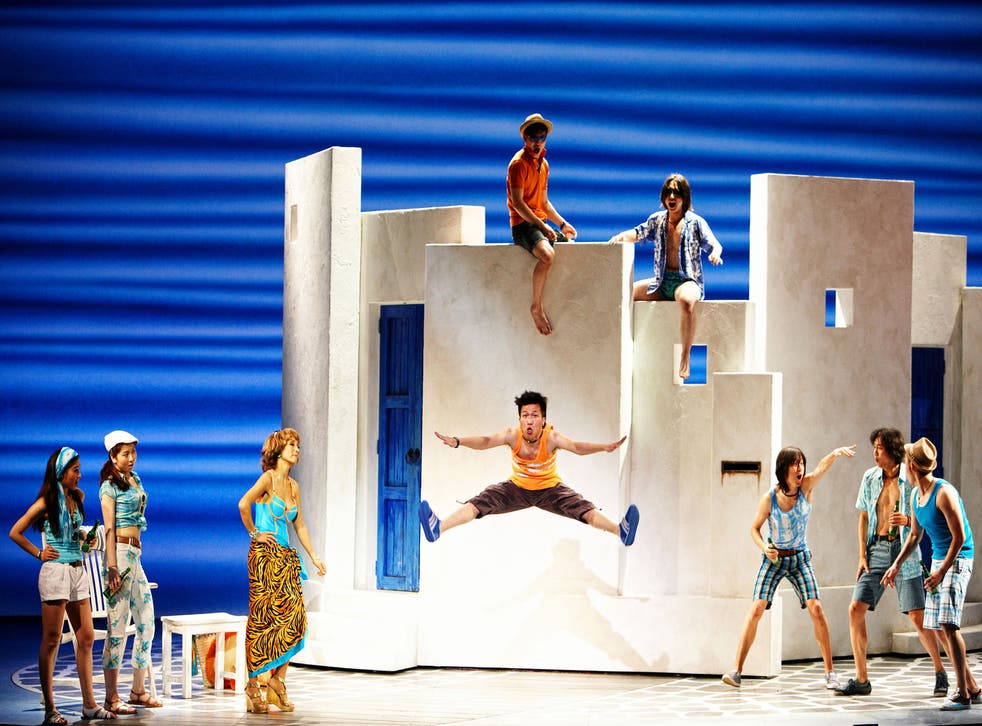 Mamma Mia! and Agatha Christie have led the way for European productions in China. And as its theatre market opens up experts predict it will be the third-largest in the world within a decade. For Western producers "You yi ge meng" could be the magic words that start a cultural revolution.
The phrase, which means "I have a dream," opens the Chinese version of Mamma Mia!, the first major West End show to be translated into Mandarin which was first staged last year. Now a Sino-European consultancy has launched offering Western producers a "one-stop-shop" to take their shows to the rapidly expanding market.
Center Stage China (CSC) launched in London last week by Finnish theatre producer Johan Sorgard, the first theatre management joint venture of its kind. It offers local expertise from permits, production logistics and management to venues and marketing the shows for a local audience.
Storgard called it a "cultural gateway" between Europe and China. "This will make it much easier for European theatre producers to get to China without finding they are banging their heads against the wall," he said.
He believes that the Western shows will be embraced "very quickly" adding there was a huge need for material in Shanghai. "Within 10 years, China will be in the top three or four in world theatre. It is a fantastic opportunity for UK companies to engage with China now," he added.
Several experts declared that foreign musical theatre had been heavily embraced in China. Mamma Mia! which opened at the Shanghai Grand Theatre in July 2011 was the trailblazer. It has now toured to 17 cities across China and been seen by more than 300,000 people.
David Lightbody, executive producer of Mamma Mia! in China, said despite fears of a culture clash "the response has been unbelievable".
Western musicals first hit China in 2002 with Les Misérables but were only ever performed in English. "It was embraced from the off," Mr Lightbody said, adding a stream of shows in English, including Phantom of the Opera and The Lion King, followed.
Yet producers believe shows in the local language were crucial to mainstream success in China. This summer a translated version of Cats opened, and Mr Lightbody said he is working on adaptations of other major musicals.
It is not just the musical. The Chinese also have an appetite for one of Britain's most popular crime writers. Agatha Christie works are regularly performed by the Shanghai Dramatic Arts Center to much acclaim, and last year they were signed a five-year deal to stage Chinese versions of her 19 plays.
Mr Lightbody said: "Previously, Western companies travelling to China was about cultural exchange, now it is looking more towards commercial. This is the big change that has happened in the past year and we're still in that transition stage."
He continued: "It's difficult to express how young the Chinese commercial theatre industry is. It has an extraordinary rich theatre history, but after the Cultural Revolution, the industry is discovering itself."
The shift has been driven from the Government which has demanded that the cultural industry contribute 5 per cent of the country's GDP, up from 2.5 per cent currently. In 2005, the government also changed the law allowing foreign involvement in producing for the Chinese stage.
China is engaged on a large scale programme of theatre building with 40 grand theatres seating 1,500 under construction around the country, alongside multiple theatre spaces. "They have built a lot of venues, and they need shows to fill them," Mr Lightbody said
Rachel Tackley, director of the English Touring Theatre, toured China with the company Shared Experience with an English language version of Mill on the Floss 15 years ago. "It was really difficult in those days," she said, before adding: "Everything is changing really rapidly. The whole country is opening up in a way that hasn't happened before."
Join our new commenting forum
Join thought-provoking conversations, follow other Independent readers and see their replies