Mike Pence says Hamilton is 'incredible production' and that crowd booing him 'is what freedom sounds like'
Mr Pence did not directly ask for an apology during an interview with Fox News; instead he said the cast was 'talented' and urged people to buy a ticket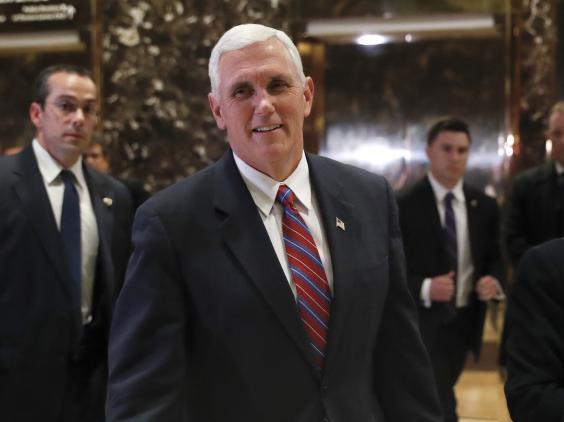 Incoming vice president Mike Pence has broken with Donald Trump in his view of what happened at the Hamilton broadway musical, where the cast told him in front of the audience they were worried about a president Trump.
While Mr Trump demanded an apology from the cast and called the show "overrated", Mr Pence told Fox News that he, his daughter and cousins "really enjoyed the show".
"Hamilton is just an incredible production, incredibly talented people and it was a real joy to be there," he said.
He acknowledged that he heard "a few boos" and "some cheers".
"I nudged my kids and reminded them that's what freedom sounds like," he said.
"But at the end I did hear what was said from the stage. I can tell you I wasn't offended by what was said - I'll leave it to others as to whether it was the appropriate venue to say it."
Mike Pence is told 'We are the diverse Americans anxious you will not protect us'
The ethnically diverse cast of the popular and sold-out musical, which tells the story of America's Founding Fathers, asked Mr Pence not to leave the venue before he listened to what they wanted to say.
Actor Brandon Victor Dixon said that people were worried that Mr Trump would "not protect them".
Mr Trump demanded an apology for the cast's "terrible behaviour" several times on twitter.
When asked on Fox News if Mr Pence expected an apology, he again questioned the choice of venue for the speech but encouraged people to "go see the show", and he was a "real history buff" and "really enjoyed it".
Mr Trump's daughter, Ivanka Trump, also agreed with Mr Pence when she went to see the show in March.
Mr Pence said he wanted to reassure people who were "disappointed" and "anxious" that Mr Trump meant "from the bottom of his heart" that he was prepared to lead for all Americans.
"I just want to reassure every American that in the days ahead I am confident that they're going to see president-elect Donald Trump be a president for all the people," he said.
Mr Dixon responded to Mr Trump's demand on twitter, saying that "conversation" was not "harassment".
Join our commenting forum
Join thought-provoking conversations, follow other Independent readers and see their replies