946: The Amazing Story of Adolphus Tips, Shakespeare's Globe, review: 'A winningly rumbustious family show'
Theatre's love-affair with the writings of War Horse author Michael Morpurgo continues with this stage version of his 2006 novella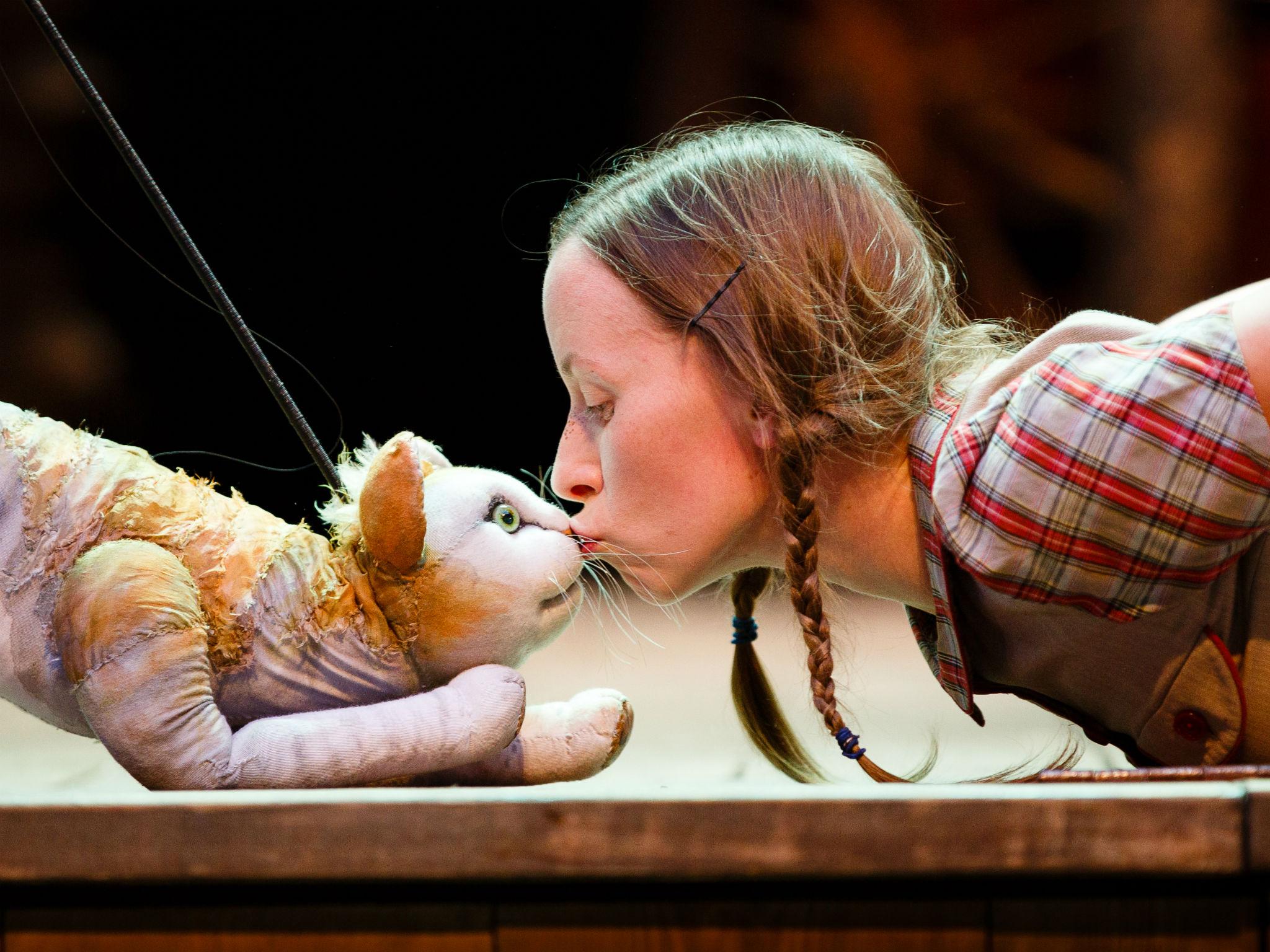 Theatre's love-affair with the writings of Michael (War Horse) Morpurgo continues with this stage version of his 2006 novella, The Amazing Story of Adolphus Tips. Emma Rice created it with her previous Cornwall-based company, Kneehigh, and has now imported the production to the Globe Theatre to be part of her first season there as artistic director. It makes for a winningly rumbustious family show, spilling over with song and dance and inventive cheek, that movingly affirms life in the face of the tragedy at its heart.
The piece is based on a painful episode in the Second World War that was hushed up for decades. The "946" in the title is the shocking real-life tally of servicemen who were killed because of a communications cock-up while they were doing practice runs for D-day at Slapton Sands in Devon. As in War Horse, the relationship between a young person and a beloved animal forms the emotional spine.The locals are forced to relocate for a while and 12-year-old Lily, whose father is away fighting, is left frantic when her precious cat, Tips, the provider of much-needed affection, goes missing during the upheaval.
"She don't know where home is any more," declares Lily, portrayed by adult actress Katy Owen who is very amusing and touching as she veers between furious, defensive stubbornness and coy, cusp-of-adolescence flirtation in her extraordinary performance. The fact, though, is that no one knows where home is any more in this world of displaced villagers, "towny twerp" evacuees and hordes of newly arrived American GIs.
The Globe's pillars have sprouted whizzing aircraft propellers. The Operation Tiger debacle is presented in a horribly effective manner – toy boats meet a fiery fate in the line of tin baths on the low fore-stage. There's a missile bombardment of red streamers. One dead soldier (the excellent Nandi Bhebhe) sits down among the baths and sings a haunting spiritual "I'm going to see my brothers over there" and the widespread slaughter is encapsulated with a spell-binding dignity.
If it draws valuable attention to a disaster long kept secret, the show is also a celebration of the mutual acceptance fostered by the war effort. The locals end up welcoming the GIs despite being initially startled by the sight of black skin and the stage explodes with joyous lindy-hopping. Adebayo Bolaji is a charismatic presence as the front-man of a terrific jazz band, perched aloft, whose members slide down a long pole to participate, as characters, in the multi-tasking mayhem of a production that incorporates puppetry on all scales and outrageous drag. I'm not sure that they've yet achieved the ideal balance between inspiring sentiment and inspired silliness and the proceedings feel a bit padded-out, but the sheer verve of the ensemble should delight punters of all ages, from about 9 upwards.
To 11 September; 020 7401 9919
Join our commenting forum
Join thought-provoking conversations, follow other Independent readers and see their replies