Akram Khan's Giselle, Sadler's Wells, London, review: It proves to be a triumph
The English National Ballet dance Khan's new 'Giselle', which stars Tamara Rojo, with utter conviction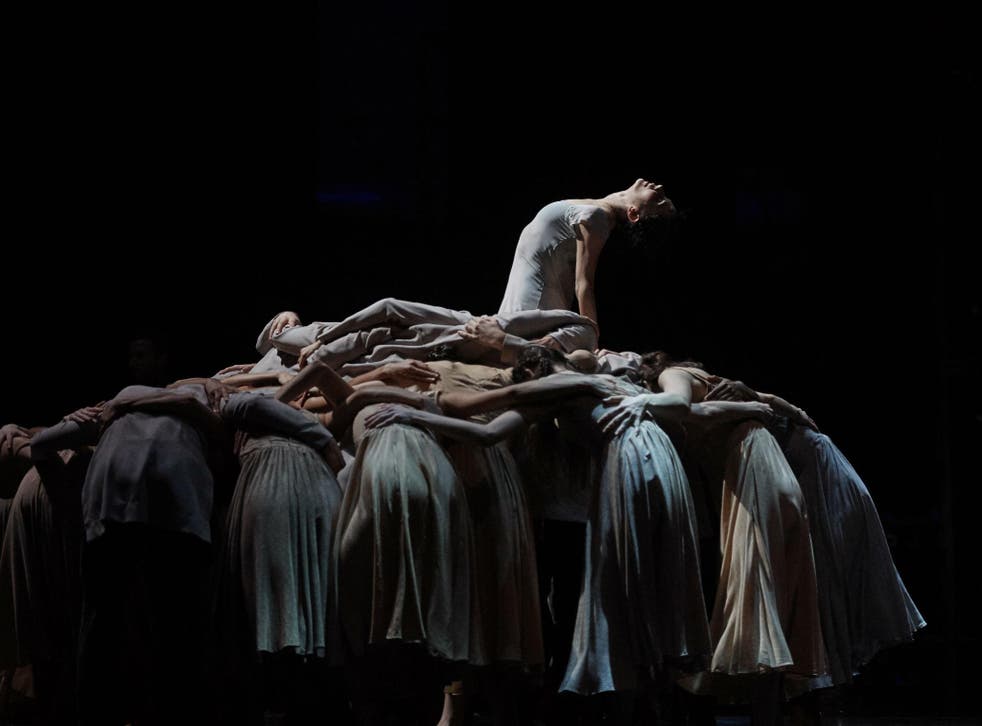 Akram Khan's new Giselle is a work of immense confidence and scouring anger. Reimagining one of ballet's most-loved classics, the story of a village girl betrayed by a nobleman, this production is another big, ambitious risk taken by English National Ballet under director Tamara Rojo. It proves to be a triumph for the company and its choreographer.
Khan's own training is in contemporary dance and in the Indian classical style kathak. Working with ballet dancers, he explores their technique while using his own. Though he's kept many elements of the Giselle story – the class divisions, the betrayal, her death and return as a supernatural wili – he's created a new setting, and commissioned a new score. A few of Adolphe Adam's original melodies wind through Vincenzo Lamagna's new score, an atmospheric mix of electronic and orchestral sound.
Tim Yip's set is dominated by a huge wall, separating Giselle's community of migrant factory workers from the Landlord class. Albrecht, one of the Landlords, has an affair with Giselle, but Khan lays much less stress on his deception. Instead, his focus is on the ballet's different communities.
The villagers move with collective force. There's a thrilling weight to their shared dances, from the mechanistic echoes of their factory work to the faster, folk-edged dances they perform to entertain the Landlords. Giselle's would-be lover Hilarion becomes a fixer who moves between classes, while the Landlords, dressed with Hunger Games outlandishness, are static, alien figures. In one sharp moment, Tamara Rojo's Giselle recognises the dress of Albrecht's fiancée, the imperious Begoña Cao: she sewed it.
Khan's Giselle is a more rebellious figure, refusing to bow to her oppressors. Her mad scene becomes a dance of anger and confrontation, in which she is surrounded and overwhelmed by both Landlords and her fellow outcasts.
The first act is danced in soft slippers, with pointe shoes saved for the ghostly wilis. Stine Quagebeur's Queen of the Wilis literally drags Giselle up from death, gliding on pointe while pulling the heroine's dead body behind her. When Giselle herself rises onto pointe, it's a creepy, unearthly process, a woman becoming a vengeful ghost. With loose hair over their faces, Khan's wilis suggest creatures from a Japanese horror movie, but the downplaying of Albrecht's treachery makes their motives and power less clear.
English National Ballet dance this Giselle with total conviction, from Tamara Rojo's stubborn heroine to the driven, driving corps de ballet. James Streeter is a speedy, focused Albrecht, while Cesar Corrales is a mercurial, dangerous Hilarion.
Join our new commenting forum
Join thought-provoking conversations, follow other Independent readers and see their replies