Anna Christie, Donmar Warehouse, London<br/>The Globe Mysteries, Shakespeare's Globe, London<br/>Crazy for You, Regent's Park Open Air, London
This rarely staged O'Neill drama may teeter on the hokey – but Jude Law is simply electrifying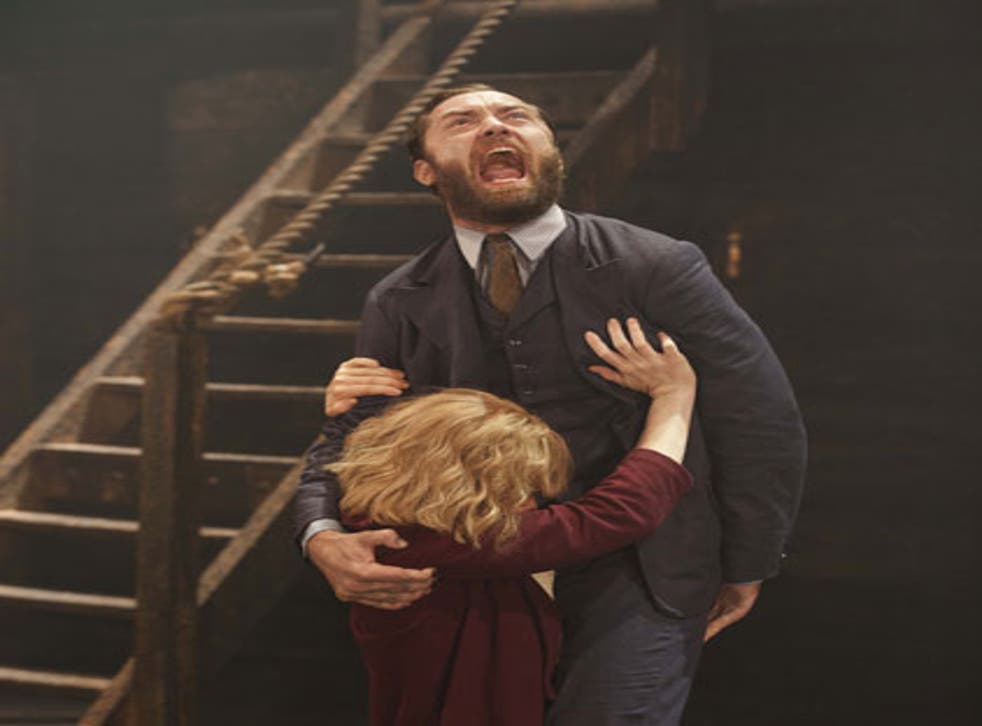 Jude Law is, manifestly, a catch: one that won't be hurled back overboard without a fight.
He's playing Mat Burke – a butch, Irish-born stoker who survives a shipwreck – in Eugene O'Neill's port drama, Anna Christie. Rarely staged, this near-tragic romance inclines towards mythic portentousness as well as grit. Law hauls himself from the surging waves on to the deck of the coal barge where Ruth Wilson's hard-bitten yet salvation-craving Anna is sheltering – lately reunited with her old salt of a Swedish father, Chris (David Hayman).
Law's entrance is accompanied by thunderclaps and Rob Ashford's production pulls out all the stops, with the deck hydraulically heaving. Mat is, presumably, short for Macho. Affecting the gait of a splay-footed giant, Law is a mass of pneumatic muscles, gleaming in the moonlit fog. He's overcome by exhaustion and adoration, nonetheless. Collapsing then coming round in Wilson's arms, he's a rover reformed – gazing at her halo of blonde hair and proposing marriage before you can say "Holy mackerel!" But he'll have to contend with the knife-brandishing Chris, and Anna's own resistance, which culminates in a confession about her past – leaving Mat shaken and threatening murder.
Anna Christie strikes me as risibly overblown at points, and teetering on the hokey at others. The heavily Scandiwegian Chris flags up the dangers of "dat ole davil sea" ad nauseam. That said, this handsome staging has high-calibre talent aboard. Even if Ashford (a choreographer-turned-director) has Mat striking mannered poses, Law becomes electrifying when he rages – lifting Anna's iron bed and slamming it down with the violence of a tidal wave.
Meanwhile, Wilson brilliantly conveys contrary emotions through tiny gestures. When we first see her, seeking her father in a waterfront bar, the scornful glances she gives the ogling dockers betray traces of vulnerable, romantic hope as well. O'Neill's play also seems startlingly modern, for she's a feminist heroine, telling patriarchal men to go hang, and challenging Mat's sexist creed (the condoning of studs and condemning of sluts).
Over on Bankside, the Globe is staging Christianity's epic saga. The Globe Mysteries are Tony Harrison's newly compacted, three-hour version of his wonderful Mysteries trilogy, adapted in the 1970s from the medieval play cycles (originally staged by craftsmen's guilds in Wakefield and elsewhere).
Deborah Bruce's production starts out delightfully: rough and ready and playfully inspired, with Yorkshire accents complementing Harrison's alliterative verse. David Hargreaves's bushy-browed God, in cardigan and braces, sits on high in a chintz armchair. Adam and Eve emerge from a wooden packing crate, having been furled up miraculously tightly. Paul Hunter's impish Lucifer lassoes Eve with a snaky rope, and Noah's homegrown ark is a garden shed rocking on car jacks. William Ash doubles as Abraham's almost-sacrificed son, Isaac, and Christ. Such role-swopping illuminates how Old Testament characters foreshadow the Messiah's story – albeit with several wherefores left hanging over God's master plan. The trouble is the evening loses steam, with Jesus's life squished down to almost nothing (one blind man cured) and a dreary song to round off Judgement Day.
Nothing, though, could erase the smiles at the end of Crazy for You, directed by Timothy Sheader, al fresco in Regent's Park. This musical, with score and lyrics by George and Ira Gershwin, is clearly a romcom pick-me-up in a recession. Banker-boy Bobby arrives in Dead Rock, a rundown yet attractively designed desert town – revolving clapboard saloons and DayGlo cacti. Bobby is meant to be foreclosing the theatre but he dreams of showbiz stardom and falls for Polly, the cowgirl whose pa owns the joint. "My bonds and shares, may fall downstairs. Who cares? I'm dancing ..." sings Sean Palmer's Bobby, overcoming a farce of mistaken identities to save the place and get the gal.
OK, Palmer is pretty vacant in his tap routines, just a pearly grin and natty moves. But Clare Foster is extraordinarily natural and charming as Polly: feistily tomboyish then sweetly attractive and elegantly twirling. The chorus line of stomping cowboys and high-kicking lady-hoofers is vibrant fun too, choreographed by Stephen Mear.
'Anna Christie' (0844 871 7624) to 8 October; 'Crazy for You' (0844 826 4242) to 10 Sep; 'The Globe Mysteries' (020-7401 9919) to 1 Oct
Next Week:
Kate Bassett beholds Shakespeare's Tempest Korean-style, in Edinburgh
Theatre Choice
R C Sherriff's moving First World War drama Journey's End returns to the West End at the Duke of York's until 3 Sep, then tours to 11 venues, nationwide, including Glasgow, Woking and Salford, from 6 Sept to 19 Nov. At the National Theatre, Jacobean tragedy A Woman Killed with Kindness, is smartly updated by Katie Mitchell (to 11 Sep).
Join our new commenting forum
Join thought-provoking conversations, follow other Independent readers and see their replies