Anything Goes, Crucible Theatre Sheffield, review: Cole's classic is alive and kicking
Sublimely silly and subversive, the show packs a feelgood punch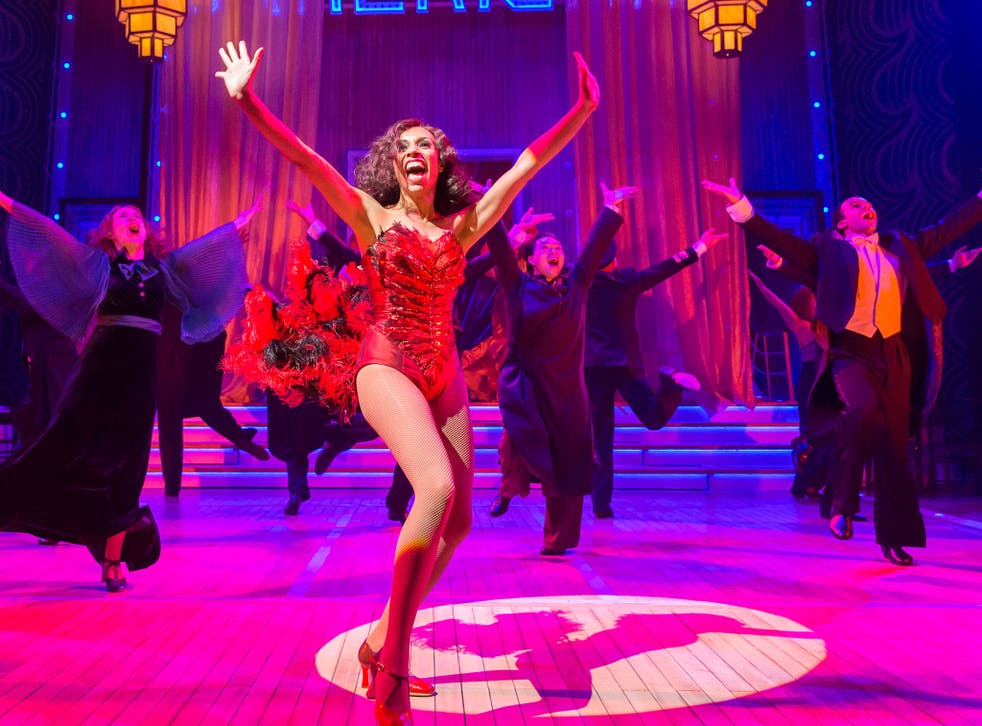 The success of his last two Christmas shows at the Crucible set expectation levels high for artistic director Daniel Evans. But if there was any sense of trepidation at the task of making it three hits in a row for the production team in Sheffield, there was thankfully little evidence that they had buckled under the weight.
Although much is made of the parallels between the Depression of the 1930s, when the show, was written and the post-recession plight of modern Britain, the true joy of Cole Porter's classic screwball nautical farce is its transcendent power of escapism.
Sublimely silly and cleverly subversive, the show packs a huge feelgood punch offering a paean to hedonism. And of course there are the tunes. What tunes they are. Unlike street-smart Irving Berlin, whose White Christmas is being revived up the road for audiences in Leeds this Yuletide, Porter was a toff from the right side of the tracks.
In pictures: Evening Standard Theatre Awards 2014

Show all 6
The possessor of the very finest education a chap could have – as the permanently sozzled Wall Street mogul Elisha Whitney (a fellow Yale man) might have opined – the composer eschewed convention to throw himself headlong into his music and the delights of the age.
Despite a policy of Prohibition that fuelled industrial-scale violence and gangsterism, sex, drugs and rock'n'roll (or jazz in this case) was very much a reality – at least for the Martini-sipping classes. This was an age of easy-going liberation as well as pointless celebrity, which is celebrated in the seemingly endless roll call of show-stopping classics from the opening "I Get a Kick Out of You" onwards.
Porter apparently took no interest in the production of a show once he had provided the genius of his songs, presumably preferring to party. Yet its passage was far from smooth.
The original writers for the steamship-themed musical included PG Wodehouse although that draft was sunk after a fire on the SS Morro Castle outside New York Harbour claimed 137 lives. Thankfully, the project was revived and thrown together in a frenzy of brilliant inspiration over the course of just a few days – an infectious energy that is palpable in Evans' production.
The performances are uniformly outstanding although Debbie Kurup steals the show as the foxy Reno Sweeney. She partners with good-looking Billy Crocker (Matt Rawle) – nice but never dull – most spectacularly on "You're the Top" in which Porter's gift for wordplay is brilliantly revealed – not least in his rhyming of Napoleon Brandy with Mahatma Gandhi. Hugh Sachs as Moonface Martin and Alex Young as Erma also provide top-level comic performances.
The success of My Fair Lady and Oliver! set new benchmarks for quality at Sheffield Theatres but Anything Goes achieves a new high in energy, wit and spectacle, one that will be shared nationwide when the production embarks on a tour of the UK and Ireland later this month.
To 17 January (0114 249 6000); then touring
Join our new commenting forum
Join thought-provoking conversations, follow other Independent readers and see their replies