Bad Jews, St James Theatre: witty, acerbic family drama is outrageously fun
Joshua Harmon's big themes emerge thoughtfully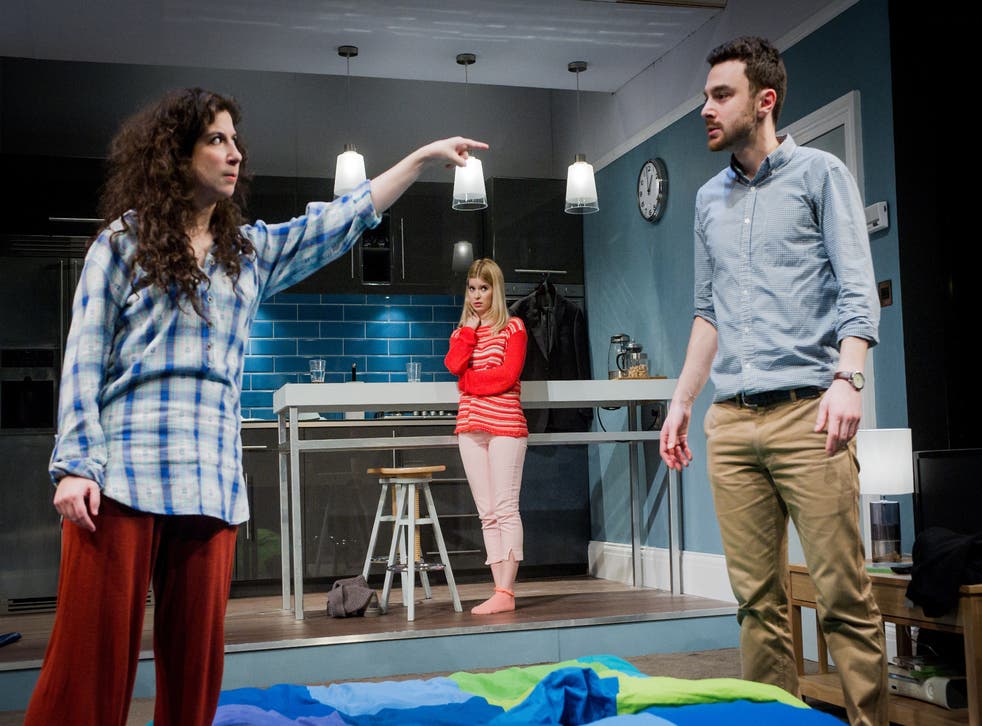 Deservedly transferring from Bath - having been imported from the US - Joshua Harmon's 90-minute blast of family drama is drawn so sharply you'd think he'd sliced it out of his imagination with a scalpel. For a while, that seems to be all it is: witty, acerbic dialogue between privileged Millennials - three cousins, and a girlfriend - airing angst following the funeral of their grandfather, Poppy.
It takes place in real time, in a realistically rendered New York studio apartment. "Super Jew" Daphna (Jenna Augen) gets annoyed with "bad Jew" cousin Liam (Ilan Goodman) for his scorn of her faith, their heritage - and for his choice of blonde-haired, air-headed girlfriend Melody (Gina Bramhill, very funny). Liam, meanwhile, condemns Daphna for phoney righteousness and overbearing self-importance. His brother Jonah (Joe Coen) just wants a quiet life: fat chance of that.
These characters can be outrageously awful, which can be outrageously fun to watch - thanks in no small part to the performers. All are good, but Augen is particularly notable as Daphna: shrill and difficult, ragging on an issue or an exposed weakness like a dog with a bone, in a way that's wincingly, irritatingly recognisable - there's one in every family, right?
Things get increasingly nasty as they maul each other over who inherits Poppy's chai, a Jewish symbol worn round the neck, which he managed to hold on to through the Holocaust… the significance of this is not so simple, however: for Daphna, it symbolises faith, at whatever cost; to Liam, it speaks secularly of the power of love.
As Bad Jews goes on, under the sure hand of director Michael Longhurst, its big themes emerge thoughtfully, subtly; a soft rebuke to that glaring title. Not matter how nightmarish their behaviour, eventually we are swayed to sympathy and understanding with all the characters' wildly opposing views: on the point of religion, the need for tradition, and how the past shapes - or merely accessorizes? - our identity in a modern, globalised world.
To 28 Feb; stjamestheatre.co.uk
Join our new commenting forum
Join thought-provoking conversations, follow other Independent readers and see their replies