Beginning, National Theatre, London, review: A real depth of insight, humour and compassion
David Eldridge's new play is a wry, funny and touching meditation on the loneliness of the singleton in the era of the dating app
Paul Taylor
Monday 16 October 2017 14:05 Comments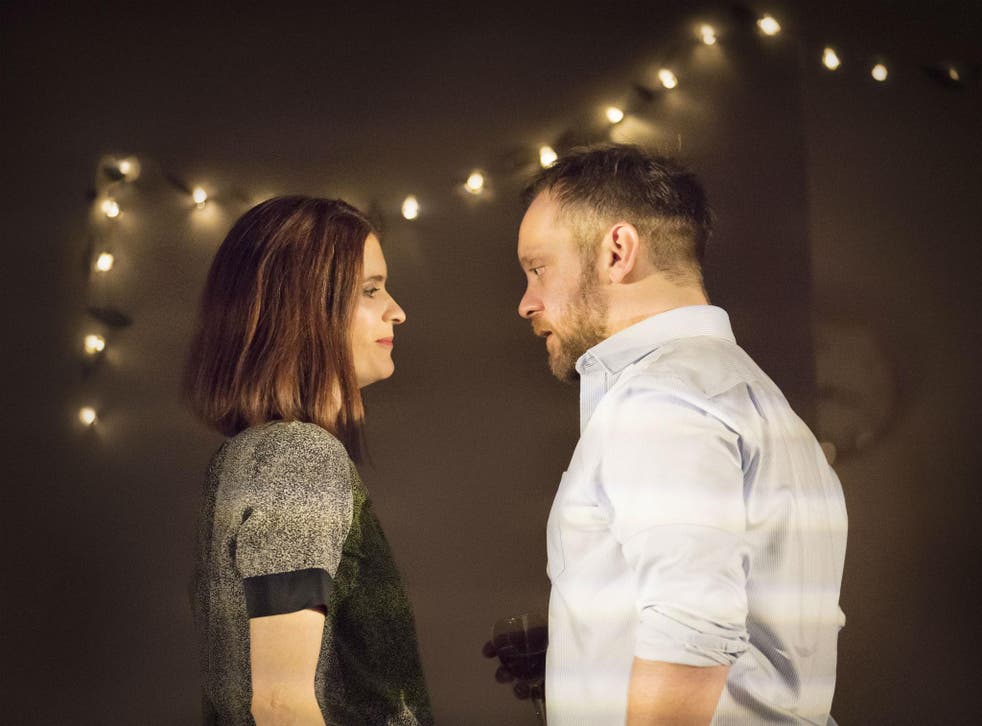 "I'm 38 and I've been sensible my whole life, Danny," says Laura. Tonight, though, might be a bit different. David Eldridge's gorgeous new play is a wry, funny and touching meditation on loneliness, that private shame of the singleton in the era of the dating app and of fraudulent boasting on social media. Written with a real depth of insight, humour, compassion and a keen sense of the ridiculous, the piece is set in the immediate aftermath of the house-warming party that Laura, a managing director, has just thrown at her new Crouch End flat.
All the guests have now gone, apart from nervous 42-year-old Danny, who came as the friend of a sort-of-friend and admits to having "no radar". On the face of it, the two near-strangers are an odd couple – the high-flying Irish-born, London-bred woman and the bungling Essex boy. But these stereotypes are gradually dismantled as the pair begin a halting dance, full of awkward gaffes and wincing misfires, painful revelations and defensive stances, that would bring them closer more quickly if Danny didn't have such aching cause to be wary of Laura's upfront desires. For what might be "beginning" here in this flickering mutual attraction? A one-night stand, a longer-term relationship, parenthood?
The play unfolds in real time over one hour and 40 minutes and Polly Findlay's beautifully choreographed production fearlessly allows lapses into realistic, awkward silence while the pair digest what has been said. There's method in this apparent meandering. In one excruciatingly funny sequence, the couple dance to Bros and Danny's deflating enthusiasm, as he reflects upon what is being asked of him, brings him to a near-standstill so that it's like an unintended slap in the face for Laura and her plans.
The performances – by Sam Troughton and Justine Mitchell – do superlative justice to the texture and layered truthfulness of the writing. Troughton's Danny starts off jumpy with evasive tactics and diversionary measures – ridiculously flapping out a bin-bag and suggesting a preliminary tidy-up of the flat, evoked by Fly Davis's spot-on design in all its post-party mess of wilted streamers, empty bottles and Pringle packets. But the actor piercingly shows you the vulnerabilities under the strained laddishness and the reasons why he needs to be guarded. Divorced, stuck in a dead-end recruitment job and back living with his mum and nan, Danny has been stung before. He hasn't seen his seven-year-old daughter since she was three. From the script and the extraordinary acuteness of Troughton's portrayal, you're aware that that this experience of hurt (which he can't allow to happen again) has also sensitised him to the need to protect Laura from the harm he might to do her through thoughtless compliance.
This latter might seem, at first blush, more generic. She knows that the social media lives of her contemporaries, in their images of the perfect family unit, are doubtless bogus. Yet she longs to put up pictures on Facebook of a white wedding and of making cupcakes with a toddler. I don't think, though, that Eldridge is setting her up as a reactionary exemplar of a woman who recognises the hollowness of professional success only just in time. Laura is a particular case and her honesty – with Danny about her requirements, and about her rhapsodic visions for the future – finds a strong voice in Mitchell's wonderful portrayal that crackles with the character's courage and wit and sense of emotional contradictions. Even when it would suit her cause, Laura does not pretend to Danny that she can guarantee him involvement in any future child's life if their own relationship fails to pass muster.
"I was honest with you because I like you and I can see that you're a good man," she says. Creating convincingly good people in drama is a rare gift. David Eldridge, one of our finest playwrights, possesses it, as he does the skill to sustain a 100-minute drama in real time about battle-scarred mid-lifers. This is a piece that richly deserves a transfer to the West End.
Register for free to continue reading
Registration is a free and easy way to support our truly independent journalism
By registering, you will also enjoy limited access to Premium articles, exclusive newsletters, commenting, and virtual events with our leading journalists
Already have an account? sign in
Join our new commenting forum
Join thought-provoking conversations, follow other Independent readers and see their replies