Big Dance, Multiple venues, nationwide
Singin', and dancin', in the rain ... just Gene Kelly and me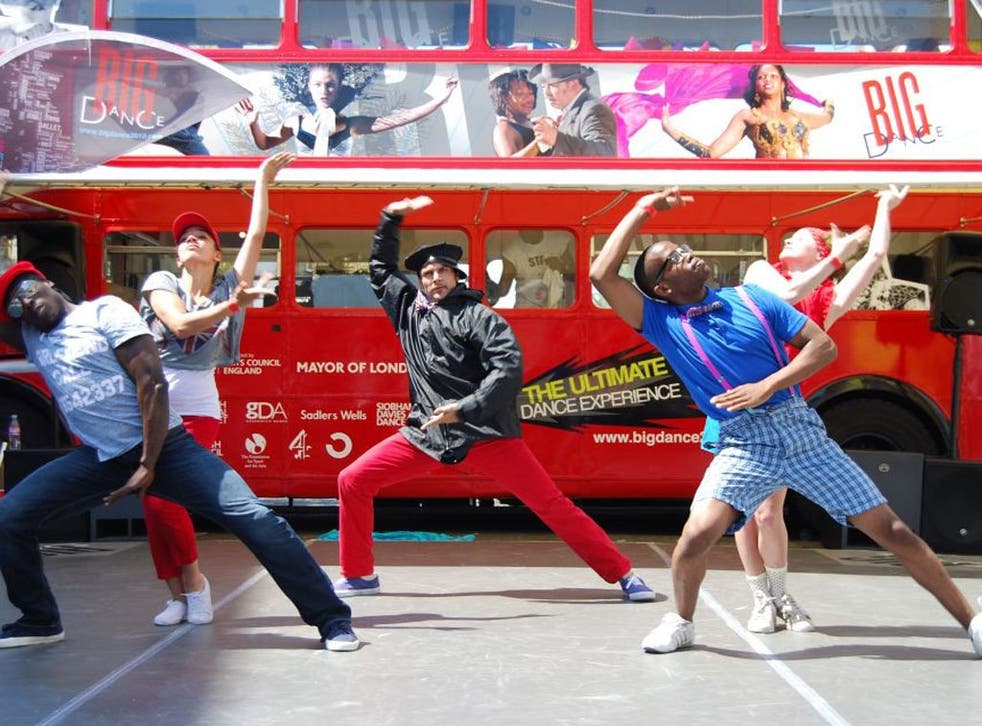 You don't expect dancing on the street in Britain. That's a sight for Rio, or Havana, or southern Europe if you're lucky. This writer once chanced upon real, spontaneous flamenco, if decidedly worse-for-wear, at a bus stop in Seville. But the British, give or take the odd Morris side, do not shake a leg outdoors. And now we know why: it's the weather.
Big Dance is a biennial UK-wide festival that has grown gargantuan since it began in 2006, with hundreds of separate events in parks, station concourses and civic squares – not places you expect to find an organised gathering of any kind, let alone a ballet taster class, a pop-up screening of Fred Astaire's Top Hat, or a public zumba workout. In terms of range, it's rigorously inclusive.
The tragedy of Big Dance 2012, set to culminate yesterday afternoon in a 1,000-strong choreographic display in Trafalgar Square – alas too late for this review – doesn't need spelling out to anyone confined to Britain for the past week. Yet under glowering skies a curious crowd formed in London Fields to watch Leaving Limbo Landing, a spirited show by East London Dance with a fortuitous climatic theme.
Inspired by the experiences of local immigrants, the five performers emerged from the audience carrying suitcases and costumed in burlap, bubblewrap and luggage tags. Wind and umbrellas, credibly enough, featured prominently in these stories of arrival from Africa and Asia. But when water cascaded on the dancers from a hidden perforated pipe it will have struck some as an irony too far.
Meanwhile, in the heart of the City, the artist Ana Gallardo had set up a week-long project called A Place To Live When We Are Old. Inspired by a phenomenon of Mexican cities, where contented seniors gather in public squares to engage in the sedate couple dance known as danzon, she set up a dance floor manned by three elderly Mexicans offering danzon lessons and try-outs to city workers. Was I just unlucky to find the instructors under-employed? Bring on some Mexican-style sun, and things might have been different.
A "flashmob of the air" is the promise of New Yorker Elizabeth Streb's One Extraordinary Day offering for London 2012, a collision of gymnastics, parkour, dance and sheer bonkers stuntmanship from undisclosed London landmarks. The timings, we're told, will be revealed only on the day of the event. Why the secrecy? They're obviously hanging on for a decent forecast.
'A Place to Live ...': 12-4pm today, Bishops Square, London E1
Critic's Choice
Next to his Swan Lake, Play Without Words is Matthew Bourne's most acclaimed piece of work in a 25-year career. Inspired by 1960s films, notably The Servant, it's suave, stylish, and set to a cool jazz score played live. At London's Sadler's Wells until 5 Aug, then at Norwich Theatre Royal (7-11 Aug).
Register for free to continue reading
Registration is a free and easy way to support our truly independent journalism
By registering, you will also enjoy limited access to Premium articles, exclusive newsletters, commenting, and virtual events with our leading journalists
Already have an account? sign in
Register for free to continue reading
Registration is a free and easy way to support our truly independent journalism
By registering, you will also enjoy limited access to Premium articles, exclusive newsletters, commenting, and virtual events with our leading journalists
Already have an account? sign in
Join our new commenting forum
Join thought-provoking conversations, follow other Independent readers and see their replies