Birdland, theatre review: Sherlock's Moriarty Andrew Scott is excellent
Royal Court, London: For all the play's air of experiment, it is only intermittently successful at bursting through cliche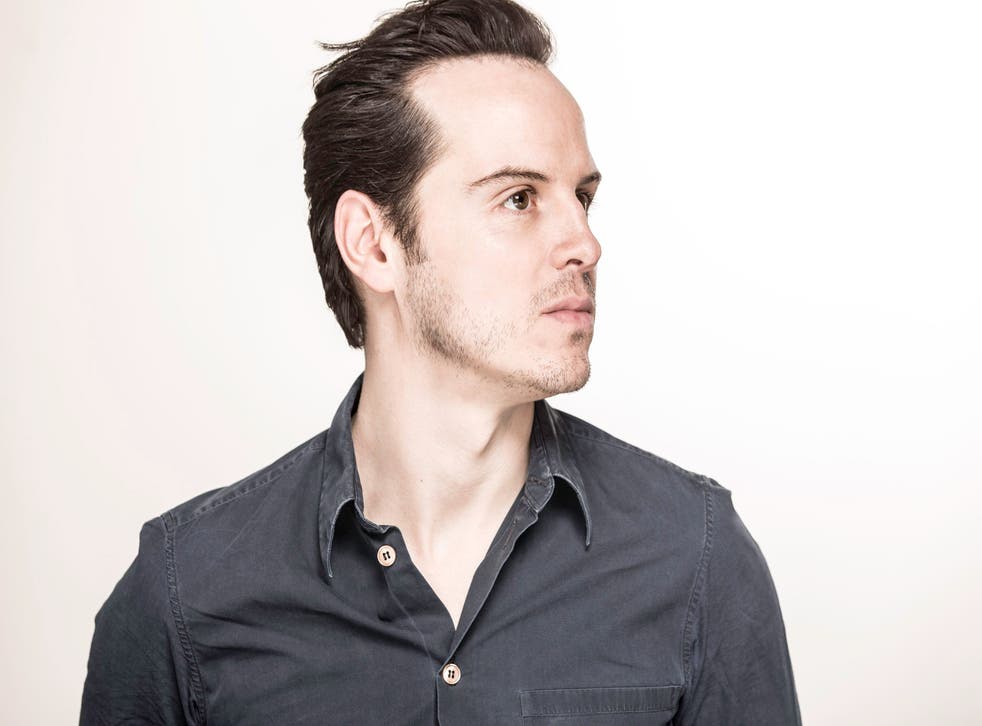 Moriarty resurrected as a stadium rock god? A mouthwatering prospect for fans of Andrew Scott's delectably witty and deviant turn as Sherlock Holmes's nemesis on TV and for admirers of the Irish actor's unfailingly brilliant stage work.
Especially so, since this current project reunites him with playwright Simon Stephens in whose devastating monologue about grief, Sea Wall, he gave one of his most unforgettable performances.
The result, though, is curiously dispiriting. For all the air of experiment in the abstract staging and multiple role-play of Carrie Cracknell's striking production, Stephens's drama, which is named after the Patti Smith song, is only intermittently successful at bursting through the cliches of the rock-rake's-progress.
Scott portrays Paul, the front man of a hugely successful band that plays to audiences of 75, 000 screaming fans and is on the last leg of a fifteen month world tour. Paul can buy anything, demand anything, go anywhere. And guess what? He's started to feel seriously hollow inside. He treats people as if they were merely the instruments of his will. After bedding a band mate's adored girlfriend, he drives her to suicide by threatening to reveal her infidelity and then goes into shifty denial about his guilt. Scott – who never sings but performs some sexy Jagger-like dance moves – is excellent at conveying Paul's cruelty and charisma, the spoilt-child charm and the bullying manipulativeness of the terminally bored. And he subtly transmits the character's sense of exile not only from home but from the capacity for empathy that he once had before fame turned him into an object.
There are some powerfully imagined encounters – not least the tender, touching scene, in a hospitality lounge of the O2 Arena, where his working class dad, painfully swallowing his pride, asks for a £1000 loan and where Paul almost opens his heart to him. But there's too much that just feels like a jazzed-up version of the tired tropes of the genre – such as his whisking the beautiful room service maid at his Moscow hotel (Nikki Amuka-Bird) on a sudden hedonistic jaunt to Germany ("I'm going to Berlin tomorrow. Would you like to come with me?"). Or there's the portentous overkill that mars certain episodes like the one where Paul, with deranged tactlessness, embarrasses the suicide girl's bereaved parents with offers of money for "a new car or some new clothes or some better brandy". The situation would be far more excruciating if not taken to quite such point-labouring excess.
Cracknell's production begins with the characters confined to wheeling themselves around in blue chairs and ends, after the bubble has burst, with Ian MacNeil's spare wooden-arched set turned into a waterlogged wasteland. We learn little about Paul's songs, other than that they have become more optimistic and that there's the view that they spoke with more honesty when they were trying to appeal to fewer people. Perhaps this absence is supposed to point up the irony that, as his career advances, Paul, despite his stadium appearances, is increasingly cut off from his music. But how deeply can we understand this protagonist given such limited knowledge of the creative springs that have been dried up by idolatry?
To May 31; 0207 565 5000
Join our new commenting forum
Join thought-provoking conversations, follow other Independent readers and see their replies