Bodies, Royal Court, London, review: Vivienne Franzmann's play about surrogacy is immensely powerful
Although fiercely perceptive, the play is too sensitive to settle into a root-and-branch indictment of fertility tourism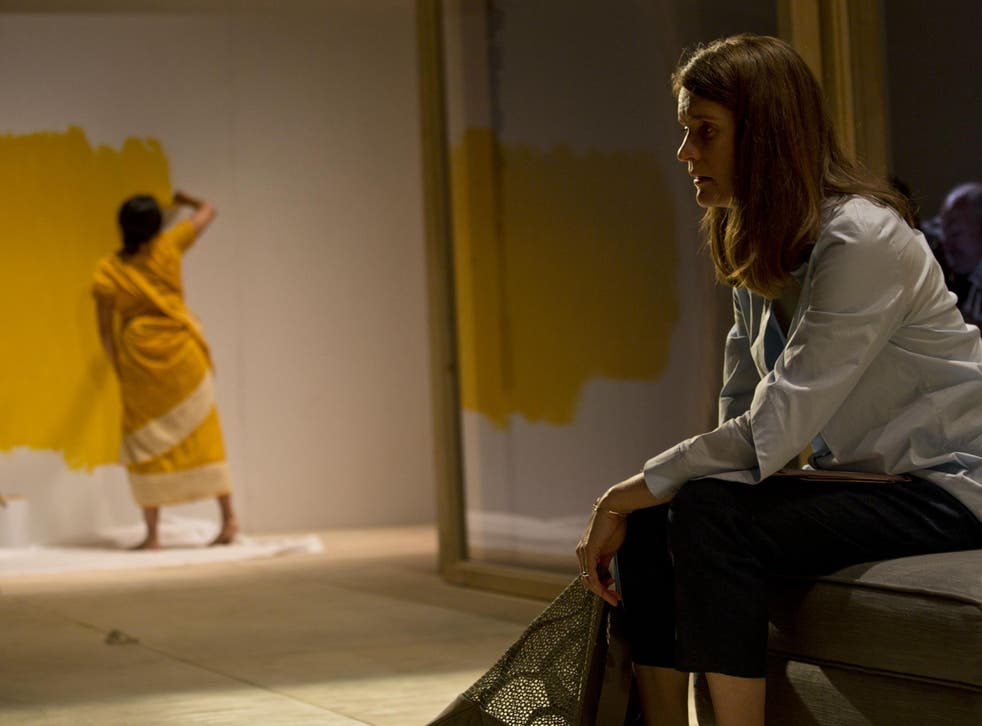 Surrogacy – and its human cost – is Vivienne Franzmann's subject in this immensely powerful and eloquently constructed play. Her focus is on the fallout from what happens when a British couple – TV producer Clem and her husband Josh – seek a solution to the protracted agony of their childlessness by using a Russian woman's egg (fertilised by Josh's sperm) and implanting it in the womb of Lakshmi (Salma Hoque), a young Indian woman. "We should have brought a gift," says Clem, leafing through her Hindi phrase book, as they wait in a Delhi clinic for the initial procedures. She's thinking of a Union Jack T-shirt or a money box that looks like a double-decker bus. "We've brought a gift," counters Josh. "It's called £22,000".
The play is too sensitive to everybody's pain to settle into a root-and-branch indictment of fertility tourism. It's at once fiercely perceptive about what the materially fortunate are prepared to overlook in pursuit of their happiness and not uncritically compassionate towards Clem and her predicament. Justine Mitchell's performance brilliantly captures the grief-stricken, end-of-the-tether aspects of the woman, her flat-footedness as she tries to do right by everyone, and the terrible inner doubts about the project that she's increasingly unable to suppress.
We see how she's not nearly as good at managing things as she'd like to think. Her father David (Philip Goldacre) suffers from motor neurone disease and it's awkwardly clear that, after just a few sessions, his new carer Oni (excellently shrewd and direct Lorna Brown) has an easier, closer relationship to him. His old socialist objections to commercial surrogacy, conveyed with effortful vehemence, cause an agonising rift. Clem's need to compartmentalise is reflected by Gabrielle Slade's blond-wood and beige design with its glass doors that are pulled open and shut in order to seal off the smaller room at the back. But these attempts to impose order and silence are futile.
Franzmann's masterstroke is the inclusion of fantasy sequences in which Clem talks to the beautiful 16-year-old Daughter (Hannah Rae) whom she envisages will be the perfect product of this experiment. In Jude Christian's beautifully pitched production, these come across as an unsettling mix of unreal, wobbly wish-fulfilment and the voice of Clem's conscience and deepest fears. For the wonder-girl turns out to be a graphically articulate witness for the prosecution. It's as if she absorbed all of the Indian woman's experiences while she's was being carried, and she baits Clem with the terrible facts of which she chose to be ignorant – Lakshmi's lack of legal rights, the poverty and widowhood that forced her to leave her own children by themselves – with harrowing results.
Early on, there's an awkward scene in which the parents-to-be, back in England, keep overjoyed tabs on the progress of the pregnancy through Skype. Lakshmi and her bump pose for inspection as the doctor reassures them of how well she is responding to the "supportive environment" where she and the other surrogates will be looked after for the nine months. It brings home vividly the queasy mix of abrupt, uncertain intimacy and dehumanising distance in this long-range culture-clashing bond. Later, there are episodes and stage pictures that range from the surreal (Lakshmi, in a weird substitution, slapping buttercup yellow paint over the English nursery wall) to the unbearably distressing.
Valiantly stepping into the role at very short notice because of the illness of the other actor, Jonathan McGuinness is wonderfully convincing as Josh, a man so wound up and impatient to end his wife's distress that he reacts to a change of law in India as though the government's main aim is to inconvenience him.
You could forget, watching Bodies, that not all women define themselves by motherhood, but this is a richly humane and insightful piece.
Bodies is at the Royal Court till 12 August; royalcourttheatre.com
Register for free to continue reading
Registration is a free and easy way to support our truly independent journalism
By registering, you will also enjoy limited access to Premium articles, exclusive newsletters, commenting, and virtual events with our leading journalists
Already have an account? sign in
Register for free to continue reading
Registration is a free and easy way to support our truly independent journalism
By registering, you will also enjoy limited access to Premium articles, exclusive newsletters, commenting, and virtual events with our leading journalists
Already have an account? sign in
Join our new commenting forum
Join thought-provoking conversations, follow other Independent readers and see their replies