The Great British Bake Off Musical review: Sweet songs and silly jokes, but the puns are overdone
A 'Bake Off' inspired musical was never going to be subtle, but the humour is surprisingly offbeat and self-aware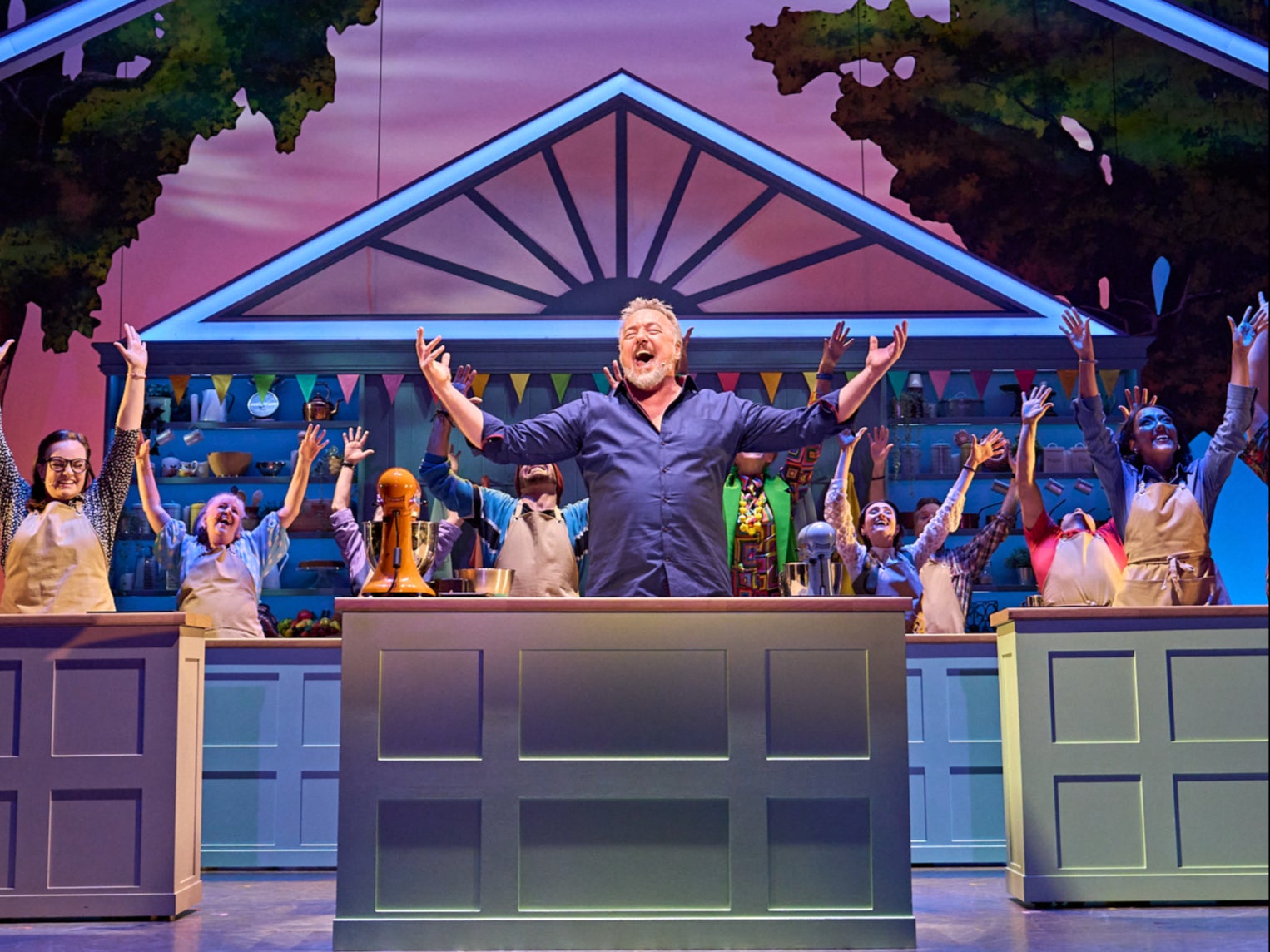 "Have you ever slapped a strudel before?" asks Phil Hollinghurst, The Great British Bake Off Musical's stand-in for Paul Hollywood. Contestant Babs nods her head: "Three times, and all of them ended in divorce." It's not entirely clear what she means. But… who cares? This is a Bake Off musical! Innuendos that don't always make sense are what we're here for! As you'd hope, the show, written by Jake Brunger and Pippa Cleary, is heaps of fun and full of cracking songs. The more serious stuff might be a little saccharine, but you'll leave with your appetite satisfied.
The show is based on Bake Off as a concept rather than any real-life storylines, set during the filming of a fictional series and charting behind-the-scenes rivalries and romances among the on-screen action. It's hosted by presenting duo Kim and Jim (a hilarious Zoe Birkett and Scott Paige), while our judges are "baking demi-gods" Pam Lee (Haydn Gwynne) and Phil Hollinghurst (John Owen-Jones), not-so-loosely based on Prue Leith and Hollywood.
While much of the drama takes place in the Bake Off tent (carved out of neon in Alice Power's innovative design), this show isn't scared to move into more abstract territory. Inspired by the comedy skits that open episodes, we get a wacky opening number about the invention of cake (complete with church choir and caveman costumes), and a battle over the pronunciation of the word "scone" in which Phil and Pam box one another while dressed as the afternoon tea staple.
These moments reveal an unexpectedly offbeat sense of humour in the writing, as well as a willingness to joke about the show itself. Overly complex technical challenges are mocked, while the much-deified Hollywood (sorry, Hollinghurst) handshake becomes the subject of "The Handshake Song", the contestants swaying on stools like a Nineties boyband as they sing: "At the end of his arm is an infamous palm." In less self-aware moments, however, the contestants rattle off trivia about the show's production process, filling time but adding little else to the production.
While the real-life Bake Off has produced some break-out stars, it's the judges and presenters that everyone remembers. The same is true on stage. Paige shoots off delicious side-eye as Jim, but Gwynn is undeniably the standout of this production, not only looking like Leith, but sounding like her even while singing opera. When she opens the second half with A Chorus Line-inspired number "Keep On Keeping On" in a sparkly dress, surrounded by dancers in sequinned aprons, she brings the house down.
Brunger and Cleary's score more than holds its own alongside other noteworthy new British musicals, but is let down slightly when the baking metaphors are forced onto more serious subject matter. Contestant Gemma (Charlotte Wakefield), sings about mother's death in a song titled "Somewhere in the Dough", and, when Italian Francesca (Cat Sandison) explores her problems to conceive in "Grow", it's through a heavy-handed "bun in the oven" metaphor. The messages in both songs are powerful, but the twee analogies prompt titters among the tears. But even in lyrically dodgy moments, these are songs you won't be able to get out of your head – a rare thing for a new musical. The flavours here may not be subtle – but at least they're punchy.
'The Great British Bake Off Musical' runs at the Noel Coward Theatre until 13 May
Join our commenting forum
Join thought-provoking conversations, follow other Independent readers and see their replies