BU21, Trafalgar Studios, London, review: You can gasp with uneasy laughter at the play's refusal to be politically correct
An invented terrorist atrocity is the topical subject of this tragicomedy by Stuart Slade that imagines a plane from New York downed in the Fulham area with half a dozen survivors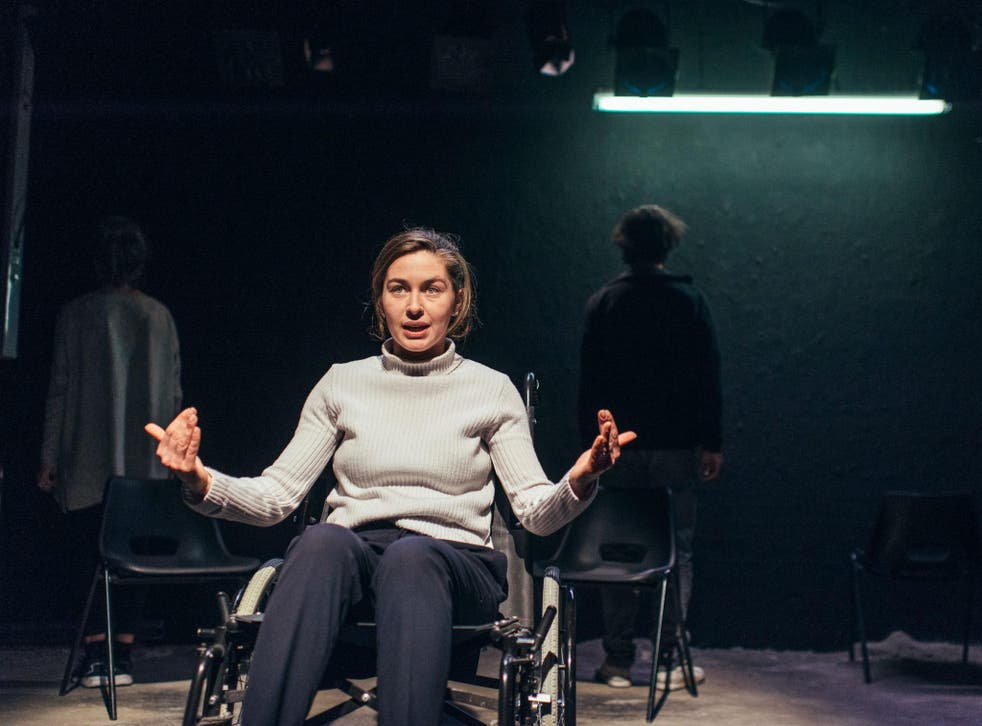 Stuart Slade's wily, bracing play explores how six millennials are affected by a terrorist outrage that it imagines being perpetrated in a near-future London (22/7/2017, to be exact).
A passenger jet from New York is downed by a shoulder-mounted rocket-launcher, causing hundreds of deaths and horrendous devastation as it smashes into the Fulham area, its engine bouncing down the New King's Road. In interweaving monologues, half a dozen survivors divulge their stories, bringing home both the immediate impact of the attack in their graphic eye-witness accounts of the horror and, as often reluctant members of a support group, the long-term effects of post-traumatic stress.
Izzy found out that her mum was dead on Twitter and is ashamed that her first reaction on seeing the corpse on a social media feed was not one of grief but of physical disgust. The fact that the remains of his girlfriend and his best mate were discovered a week later fused together in flagrante ("like those bodies, you know, in Pompeii") is revealed with his habitual determined nonchalance by raffish young banker Alex ("it actually made it easier to mourn them"). The main attraction, for him, of a survivors' group is that it is "literally the best place in the universe to pull".
As you'll have gathered, the piece eschews any semblance of a hushed, reverential tone in favour of disarming frankness. This can take your breath away with the depth of its moral challenge. Ana, a Romanian waitress who was sunbathing on Eel Brook Common and suffered appalling burns from the aviation fuel, says she does not know whether it's a miracle or a curse that the human body can live through so much. But she certainly deplores the force – "God or adrenaline or whatever" – that kept a young mother, shredded by the blast down one side "like pulled pork", in existence for just long enough to learn that her baby had perished. Or the candour can make you gasp with uneasy laughter at the play's refusal to be politically correct and at its determination to question its own procedures.
Though BU21 echoes certain features of 9/11 and 7/7, there's a calculated audacity here in inventing a major terrorist atrocity. Breaking through the fourth wall, the amoral Alex – played with reprehensible charm by Alexander Forsyth – is teasingly complicit with what he regards as the audience's voyeurism, the desire for a "dirty little pervo fix" of misery-porn that he undertakes to satisfy. His job is to bait the punters – as when he accuses us of assuming that Clive, the one Muslim, will turn out to be a terrorist.
If occasionally you reckon that the play is too relentlessly self-aware, Dan Pick's tonally adroit, excellently acted production balances the cynicical knowingness with finely captured feeling. Graham O'Mara is spot-on as the van man who becomes a national hero under false pretences, welling sentiment that queasily conjoins London pride and unreconstructed racism. Roxana Lupu exudes quiet moral authority as the horribly burned Ana, her measured response to her plight humbling in its clarity and its desire not to spread unhappiness. Strongly recommended.
Register for free to continue reading
Registration is a free and easy way to support our truly independent journalism
By registering, you will also enjoy limited access to Premium articles, exclusive newsletters, commenting, and virtual events with our leading journalists
Already have an account? sign in
Register for free to continue reading
Registration is a free and easy way to support our truly independent journalism
By registering, you will also enjoy limited access to Premium articles, exclusive newsletters, commenting, and virtual events with our leading journalists
Already have an account? sign in
Join our new commenting forum
Join thought-provoking conversations, follow other Independent readers and see their replies