Cats, London Palladium, review: Nicole Scherzinger has the miaow factor
This Andrew Lloyd Webber revival is terrifically fresh and exuberant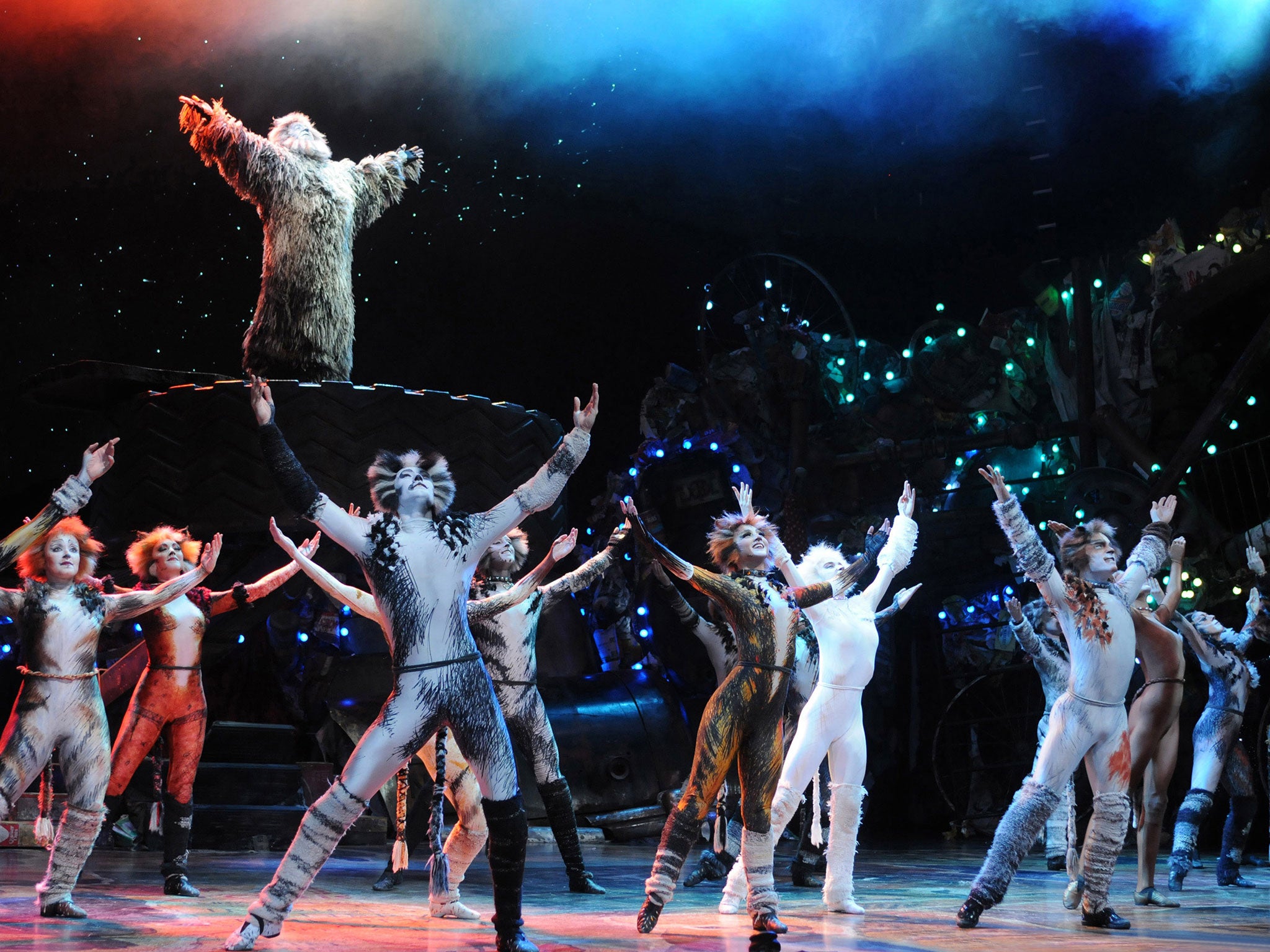 The "memory" lives again, all right, as this most purr-plexing of1980's mega-smash musicals returns to the West End twelve years on from its phenomenal 21 year run at the New London.
Andrew Lloyd Webber may not have had a new hit in two decades (this time last year Profumo scandal tuner Stephen Ward was struggling to connect with audiences) but he has a genius for generating publicity for revivals of his own and other composers' work.
For this re-"fur"-bished Cats, which reunites the original creative team, the master-stroke from the hype point of view is the casting of Nicole Scherzinger – famed for being an erstwhile X Factor judge, a Pussycat Doll and partner of Formula One champion Lewis Hamilton – as Grizabella, the faded glamour puss of easy virtue who has become a pariah, spurned by the other moggies. Would she or wouldn't she have the "miaow factor"?
First night Cats-fanciers were in no doubt. They were erupting in cheers and a round of applause at the half-way stage of her climactic rendition of the aching ballad, "Memory".
It has to be said that Scherzinger doesn't make many concessions to appearing past-it. She's a drop-dead stunning presence with her flawless face, her thigh-length stiletto-heeled boots, long-back gloves and a chic grey tattered coat that wouldn't look out of place on a cat-walk – all of which feels a bit at odds with the plaintive beseeching gestures of this now despised loner.
But I suspect that I will be in a small minority in finding the attempts at soulfulness a touch synthetic – to my ears, her shattering belt on "Touch me. It's so easy to leave me..." sounded more like a ferocious feat of virtuosity than a poignantly desperate plea for connection.
"Now and Forever" was the original slogan (a cross between a boast and a threat) of the show that improbably makes a dance-driven spectacular of T.S. Eliot's Old Possum's Book of Practical Cats. But how well is the show standing the test of time?
Trevor Nunn's youthful cast certainly do their utmost to rejuvenate the material, performing the cartwheels, flips, balletic leaps and aerial spins of Gillian Lynne's demanding choreography with terrific freshness and high-definition zest.
There's some tactical updating too. Rum Tum Tugger, once a Jagger-esque bad boy, has been reimagined as a slim little rapping dude, whose flashy cool-cat bravado and break-dancing exhibitionism are conveyed with devilish charm and wit by Antoine Murray-Straughan.
The anthropomorphised felines, in their spandex leotards and furry leg warmers, still prowl the aisles and glare in the eyes of the punters but the show, with its trademark junkyard set by John Napier, feels less like a prototype immersive experience and more like a weird through-sung-and-danced revue that veers between mischievous whimsy (Joseph Poulton is breathtaking as the tricksily tepsichorean conjuror Mr Mistoffelees) and all that mystic mumbo-jumbo about ascents to the Heavyside Layer and rebirth.
But even those of us who find the latter risibly "paw"-tentous, would have to admit that much of the rest of the production, in its exuberant confidence, is the cat's whiskers.
To February 28; 0844 874 0667
Join our commenting forum
Join thought-provoking conversations, follow other Independent readers and see their replies