A Christmas Carol, Old Vic, London, review: Rhys Ifans gives a remarkably powerful performance
Matthew Warchus directs Jack Thorne's new adaptation of Charles Dickens's classic with Ifans as Scrooge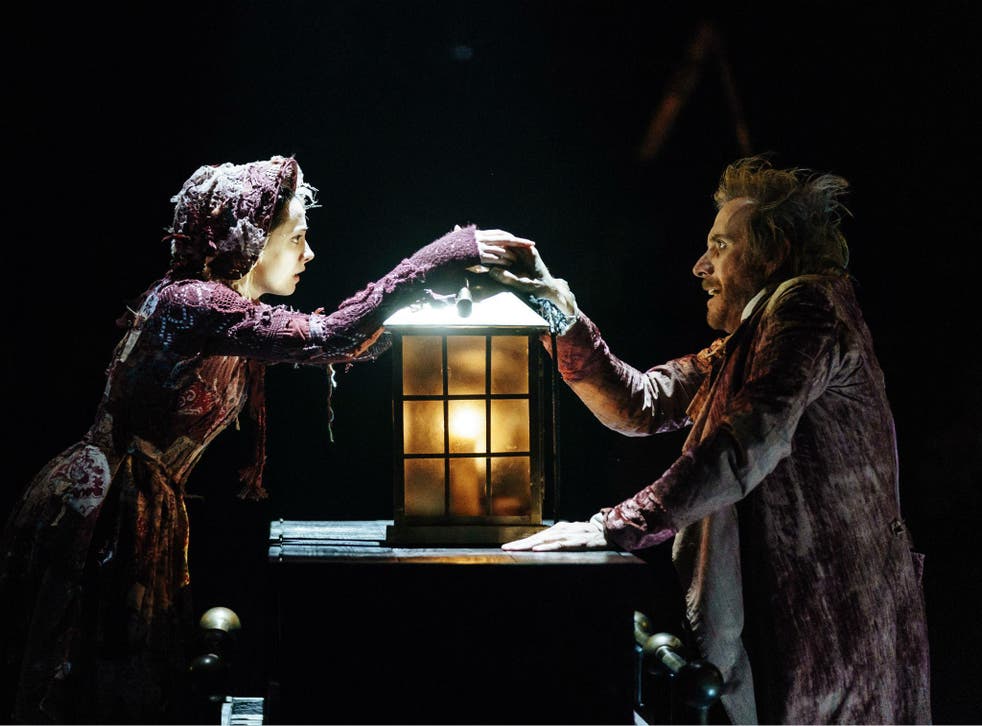 Matthew Warchus's magnificent staging provides everything you might want from a theatrical adaptation of Dickens's timeless (and never more timely) morality tale urging social responsibility and compassion. It reconfigures the Old Vic in ways that are magically festive and spooky and the new adaptation by Jack Thorne (of Harry Potter and the Cursed Child fame) fuses fun with the macabre and a fine degree of psychological depth in its treatment of Scrooge's damaged personality and of his encounters with the Ghosts of Christmas Past, Present and To Come.
The story is told in the round, with a great walkway running through the stalls that makes for some potent entries, as when the Ghost of Marley arrives trailing chains that clank the full length of the stalls. The stage is lit by a constellation of lanterns. Exquisite music is provided by Christopher Nightingale who threads carols through the proceedings. Some of these are rung on handbells by the cast, as in the ethereal shimmer and slight mischief of the rendering of "Silent Night" which is played as an encore. It's an obvious point, rarely made as movingly as here, that carols embody sentiments antithetical to Scrooge's joyless philosophy. So the blast of rapture ("Hail redemption's happy dawn") in the sequence where he opens his heart to love again could, you feel, burst any fortress in its fierce fervour.
Rhys Ifans gives a remarkably powerful performance, spiky-haired and spitting intemperate scorn as the terminal skinflint who thinks that a side benefit of the poor house is that it helps to decrease "the surplus population". Jack Thorne's adaptation equips Scrooge with a cruel, debt-ridden father who makes inordinate and contemptuous demands on his son, forcing him into an early apprenticeship. We see how, by degrees, the boy is misshapen into the miser who makes an idol of gold in an effort to be invulnerable and loses his chance of love by not returning to reclaim the betrothed Belle in time.
This is both a witty and deeply affecting take on A Christmas Carol. The bit that made me crack in this version was where his 12-year-old self hops onto the old man's future coffin, and sits clutching the parrot puppet beloved from his Robinson Crusoe games. Rhys climbs up and clutches the boy's head, looking at him with infinite sorrow: "I don't want him to be". The actor is excellent at every phase of Scrooge's journey. There's rough, furious denial and vulnerability at the core. And then a love of Christmas so fervid that it almost amounts to a threat. I won't give away by what droll devices he gets the audience involved in the preparation of a massive Christmas feast to take round to the Cratchits. But he has a great rapport with Toby Eden's nicely irreverent Tiny Tim (one of four young people playing the role) and the casting and the concepts seem to me to be spot on. All the spirits are female and look to be echoes of Scrooge's adored late sister, Little Fan ("Always a delicate creature, whom a breath might have withered"). There appears to be a pram motif. Phantasmal doors eerily rise and fall of their own accord. And Scrooge learns much in a deft new scene with Belle that may stop him from always putting himself at the centre of his second chance.
Until 20 January, 2018 (oldvictheatre.com)
Join our new commenting forum
Join thought-provoking conversations, follow other Independent readers and see their replies