Dance review: Flamenco Festival - A welcome taste of Andalucia, not just hot and spicy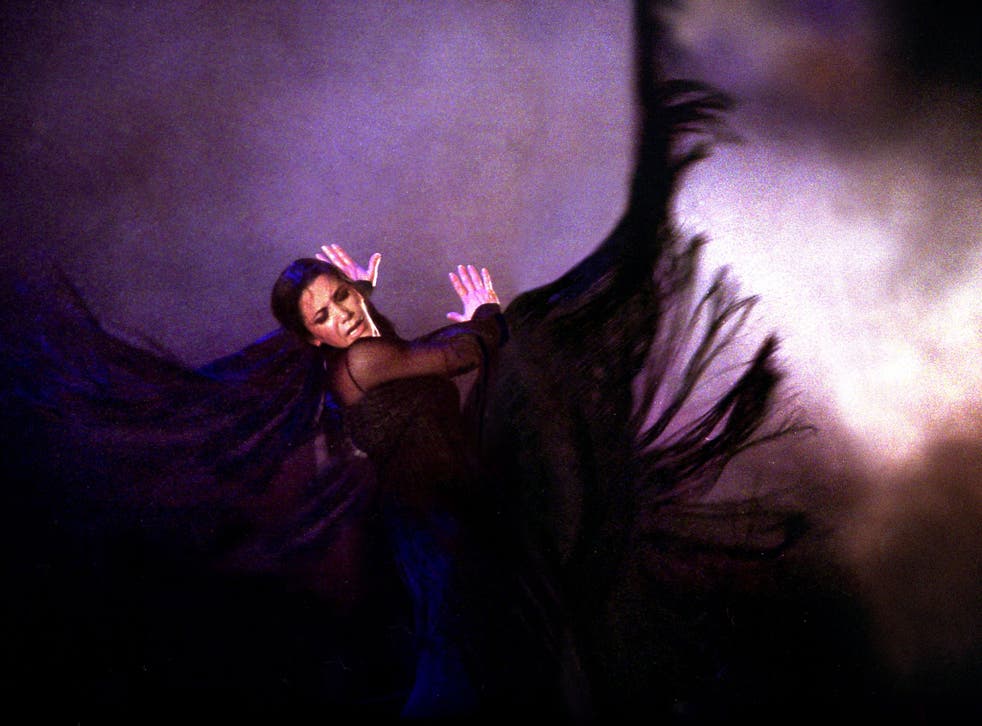 At the dog-end of a British winter, there's nothing so welcome as a blast of Spain. Sadler's Wells clocked this 10 years ago when it scheduled its first annual flamenco fortnight, a table of tapas showcasing the expanding range of flavours offered by the newly revived artform.
This year's menu has been more varied than ever – no longer do its components divide into flamenco puro and flamenco fusion. Traditionalists could choose between the pugnacious young gypsy star Farruquito, absent from recent festivals owing to a spot of bother (he's been serving time in a Spanish jail), and the big-frocks display of Ballet Flamenco de Andalucia. The more adventurous might risk a night with the terrier-like Rocio Molina, a tiny bailaora who counts crushing a wineglass beneath her heel as legitimate footwork. Nowhere were past and present more potently meshed, however, than in the opener by queen of the blues Eva Yerbabuena.
The 43-year-old is a performer whose interior life is her material, to the extent that she's now decided to do without supporting dancers on stage – a fearsome test of stamina, if nothing else. She has always been an experimenter, with mixed success (2009's Lluvia –Rain – took melancholy to the max), but this latest piece of self-interrogation hits the spot, its accumulation of scalp-tingling moments leaving the sense of a full-head massage.
In format, !Ay! is traditional enough as a string of plotless solos with onstage musicians: a percussionist, a guitarist, a visiting fiddle, and a trio of male singers in three sizes of voice, the biggest with a vibrato wide enough to drive a herd of bulls through.
In execution, though, !Ay! is as audacious as it gets. In a cinematic opening in a thin beam of light, to the sound of a bleak repeated note from the violin, Yerbabuena creeps in and out of vision like a widowed ghost. And as the note breaks into a shiver, the dancer's hands respond in kind – trembling, then vibrating, then fluttering wildly on windmill arms like panicked moths. When a performance sets off at such a pitch, there might be nowhere left to go. But Yerbabuena maintains the intensity. It shouldn't work, but it does.
When she climbs on a chair, hitches her hem and, in the same spirit of personal crisis, rattles out rhythms with her heels while the percussionist taps a counterpoint on the chairback, we're taken to a lonely landscape and a sleepless night, a branch brushing a window in a gale. Yerbabuena has travelled a long and winding road to reach this level of artistry, but it's been worth sticking with her.
Flamenco Festival continues until Wed (0844 412 4300).
Critic's Choice
Two years after its world premiere, the Royal Ballet's first full-length creation in 16 years is back at Covent Garden, and this time it's also coming to a screen near you. Alice's Adventures in Wonderland, conceived by Christopher Wheeldon to music by Joby Talbot, is cinecast live to cinemas on Thursday.
Join our new commenting forum
Join thought-provoking conversations, follow other Independent readers and see their replies