First Night: People; Lyttelton Theatre, London
Bennett takes a swipe at cosy English complacencies and the National Trust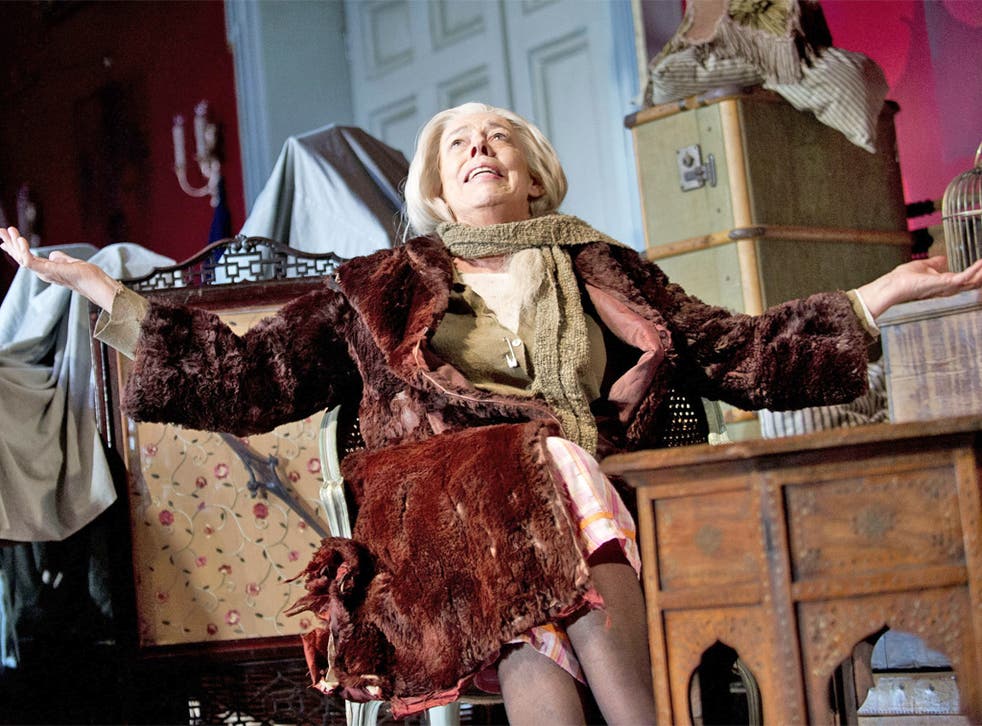 In Alan Bennett's 1980 play Enjoy, the last back-to-back house in Leeds is demolished and reconstructed brick by brick in a museum – with Mam still living in it as a part of the exhibit. Awkward questions about the nature and purpose of preservation are raised again now, at the opposite end of the social scale, in Bennett's highly entertaining new play People, which takes an outrageously funny and provocative swipe at the National Trust.
In her moulting fur and gym shoes, Frances de la Tour's splendid Dorothy – peeress, ex-model and long-time recluse – is as grand and down-at-heel as Stacpole, the decaying country house in South Yorkshire where she lives in dust-sheeted, Arctic conditions with her lower-class companion Iris (a marvellously moth-eaten and slyly subversive Linda Bassett).
Dorothy's brisk, archdeacon sister June (Selina Cadell) wants to hand the place over to the trust. But where "access" and the prospective hordes are concerned, Dorothy's attitude to other people is more Jean-Paul Sartre than Barbra Streisand. So she is tempted by an offer from the Concern, a secretive group of wealthy philanthropists who also want to restore the property but for a "like-minded... like-moneyed" elite, and only if it can be transported to well-bred Wiltshire or Dorset.
Meanwhile, to raise a bit of cash, Dorothy rents out the hall and its four-poster beds to a porn film company. The location shooting of Reach For The Thigh is the farcical high point of Nicholas Hytner's well-judged production. A bishop, struggling with new bifocals, blunders on to the set and is persuaded that it's the Women's Institute creating an Advent calendar.
Elsewhere, there is spirited intellectual knockabout in the contest over values that pits our heroine against Lumsden, the National Trust man who, in Nicholas le Prevost's very amusing performance, is all bristling enthusiasm for a world of widened access and costumed interactivity.
Through this figure, Bennett wickedly satirises the view that there is no building whose wonders can be allowed to speak for themselves without a dumbed-down pandering to idle, prurient curiosity for doctored anecdote. "This is not Allegory House," declares Dorothy, protesting that his institution peddles a metaphoric, falsely reassuring "pretend England" – "Country houses are window-dressing. They mitigate nothing."
If the National Trust ever had designs on acquiring Alan Bennett's former Gloucester Crescent home (perhaps with a volunteer impersonating Miss Shepherd in a mocked-up van outside), I think we can safely assume these will now have been shelved.
Like Mam in Enjoy, Dorothy winds up a ghostly attraction mingling with the crowds in a spectacularly transformed Stacpole. Is that less of a prostitution, we're left to wonder, than playing host to a blue-movie shoot? People is maybe not the most even-handed of plays but it demonstrates that, in his 78th year, Alan Bennett's acute wit and talent for challenging cosy English complacencies are in a very healthy state of preservation.
Register for free to continue reading
Registration is a free and easy way to support our truly independent journalism
By registering, you will also enjoy limited access to Premium articles, exclusive newsletters, commenting, and virtual events with our leading journalists
Already have an account? sign in
Register for free to continue reading
Registration is a free and easy way to support our truly independent journalism
By registering, you will also enjoy limited access to Premium articles, exclusive newsletters, commenting, and virtual events with our leading journalists
Already have an account? sign in
Join our new commenting forum
Join thought-provoking conversations, follow other Independent readers and see their replies