The Importance of Being Earnest, Harold Pinter Theatre, review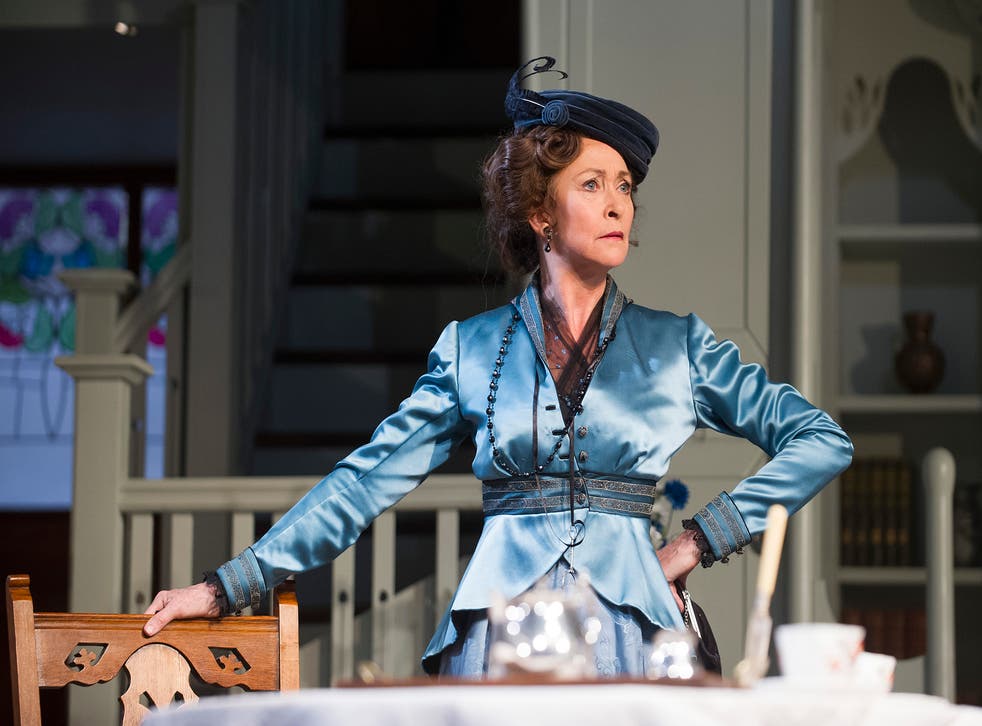 We've had a Romeo and Juliet set in a care home with the focus on a pair of star-crossed senior citizens. We've had a Midsummer Night's Dream in which Judi Dench's ageing Elizabeth I got to moonlight, on a royal whim, as the passionate Queen of the Fairies. And we've had Much Ado About Nothing re-purposed as a vehicle for Vanessa Redgrave and James Earl Jones, though over this last venture we will have to draw a tactful veil.
Now, striking a blow for the older actor in roughly similar fashion, there's Lucy Bailey's charming production of Wilde's greatest comedy. It comes with a framing device by Simon Brett that provides the pretext for casting a bunch of crack veterans who, by any realistic standards, would be deemed too "mature" for most of the roles. The curtain rises here not on Algernon's London flat but on the living room of the beautiful Arts and Craft home of two of the stalwarts of the Bunbury Company of Players, an am-dram outfit who have been putting on summer seasons in Morton St Cuthberts for thirty years and intend to keep it that way. The idea is that we are watching the scrambled last-minute preparations for and then the dress rehearsal of Wilde's play
The considerable drawback is that this conceit arouses expectations that it fails to fulfil. With a few not-so-funny strokes, Brett sets up the potential for mayhem. The smug lothario in the red trainers who's to play Algy (Nigel Havers) is now on his third affair within the group. The cuckolded guy portraying Canon Chasuble (Niall Buggy) is capering around drunk. There's been a death; there's a diva (Cherie Lunghi) who keeps splitting her costume; and when not chivvying her spouse ("Straighten up, George), Sian Phillips's stately Lavinia apprehensively practises the line "A handbag?". She has no need worry; she carries off the part of Lady Bracknell with imperious aplomb, if – and is this Lavinia or Phillips? – too good-natured an air.
Obviously, this show is not trying to be Noises Off (wholesale sabotage of inset play by feuding company) nor A Chorus of Disapproval (with its distorted images on either side of the footlights). But some may feel short-changed that there's so little comic disruption here of a piece that itself makes delicious play with shady double lives and that the pretence that we are viewing egotistic amateurs at work has all but evaporated in the second and third act. The compensations, though, are also considerable.
It's a joy to hear Wilde's dialogue delivered with such poised musicality and mischief by seasoned performers of the calibre of Christine Kavanagh and Cherie Lunghi and Martin Jarvis and Nigel Havers. The latter pair first portrayed Jack and Algernon at the National in 1982. Now at the age of 72 and 62 respectively, they are reunited in their glorious double-act. What amazing heads of hair they still have – and that's the least of it. The production left me with two main feelings. One one is that the age-blind casting suits the slightly surreal Lewis Carroll aspect of the play's subversiveness. The second is that theatre is such a non-realist art that good acting can render age irrelevant. This cast does need the framing conceit.
To Sept 20; 0844 871 7637
Join our new commenting forum
Join thought-provoking conversations, follow other Independent readers and see their replies