Jenny Gilbert on Mayerling: The drugged-up prince, the underage girl, and a right royal cover-up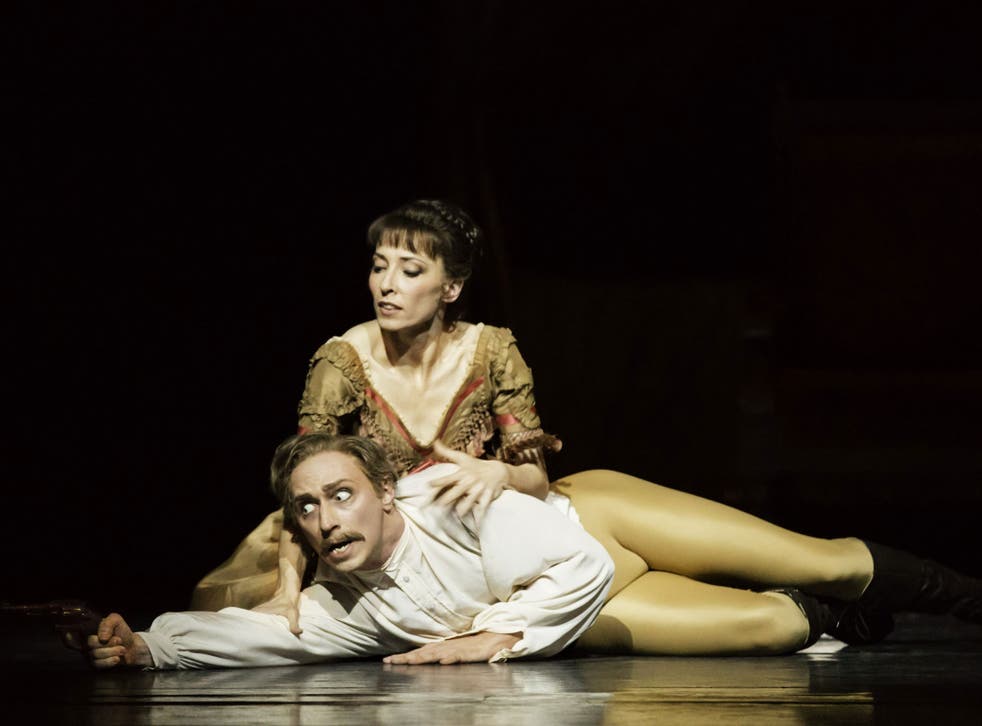 History rarely supplies plots for full-evening ballets, and with good reason. Dance tends to be strong on feeling, weak on facts. As George Balanchine once drolly observed, ballet has no way of saying "this is my mother-in-law".
Kenneth MacMillan's Mayerling, then, created for the Royal Ballet in 1978, is a one-off, at least in terms of its success. Mayerling was the location of the Austrian hunting lodge where, in 1889, the drug-fuelled double-suicide of Crown Prince Rudolph and his 17-year-old mistress not only threatened to rock the principle of divine right, but also the political status quo in Europe. Needless to say, the scandal was subject to a swift and thorough cover-up. The official cause of the 25-year-old's death was was given as a heart attack, and the girl's corpse disposed of in secret. All credit, then to MacMillan's ballet treatment (or rather, to Gillian Freeman's scenario) that it manages to flesh out the true story in all its lurid detail, not least the newly married Prince's addiction to morphine, prostitutes and loaded guns. That it also manages to encompass the emotional dysfunction of the Hapsburg royal family and more than a hint of the political movements fermenting in Europe makes for a densely absorbing evening. Yes, you do need to read the programme, but it's worth it.
In a field hardly crowded with great roles for men, Mayerling offers a career-capping challenge both technical and dramatic. So it says much for this production as a whole that it held up strongly on Tuesday night even with both its scheduled stars laid off by injury. For although the plot turns on the unravelling of its central character, Mayerling is also a superb company vehicle, its teemingly detailed context demanding from everyone on stage the naturalism and clarity in which the Royal excels.
Bennet Gartside establishes Rudolf's degeneracy by doing nothing much at first. He's hangdog at his own wedding, desultory in flirting with his new wife's sister, bored by everything and everyone. When his emotional appeal to his mother is rejected (a chillingly smooth Kristen McNally), he reacts with a kind of dull nullity. Even his sadistic assault on his terrified bride on their wedding night – pointing a pistol at her head – is an existential game.
It's only the arrival of Mara Gale-azzi's up-for-anything groupie, Mary, that prompts a flicker of interest from him. Procured by a past lover, Mary comes primed with the knowledge of what will press Rudolf's buttons. At their first bedroom encounter, her eyes go straight for the gun on the table. This is a person apparently more willing even than he to obliterate herself, and their meeting of bodies in MacMillan's incrementally violent pas de deux is, if not explosive, then astonishing, given Gartside's relative compactness and Galeazzi's long limbs.
The patchwork score of favourite bits of Liszt (plus some plonkingly pomp-and-circumstance ones) is perfect in terms of period, geography and demonic allusion. It's only a pity that the house orchestra, under Martin Yates, sounded so unengaged.
To 15 June (020-7304 4000)
CRITIC'S CHOICE
Aerial circus goes to church in How Like an Angel, as six acrobats contort and tumble in the grand architectural space of an English Gothic nave, accompanied by a live performance of sacred song from the group I Fagiolini. At All Saints, Hove, (Tue to Fri), then touring to Norwich Cathedral, Salisbury Cathedral, and St Bartholomew the Great, London.
Join our new commenting forum
Join thought-provoking conversations, follow other Independent readers and see their replies