Kate Bassett on Othello: Defeated by the green-eyed monster
Jealousy is the enemy in an impeccably cast tragedy. And a Swedish one-man-show is the West End's new best friend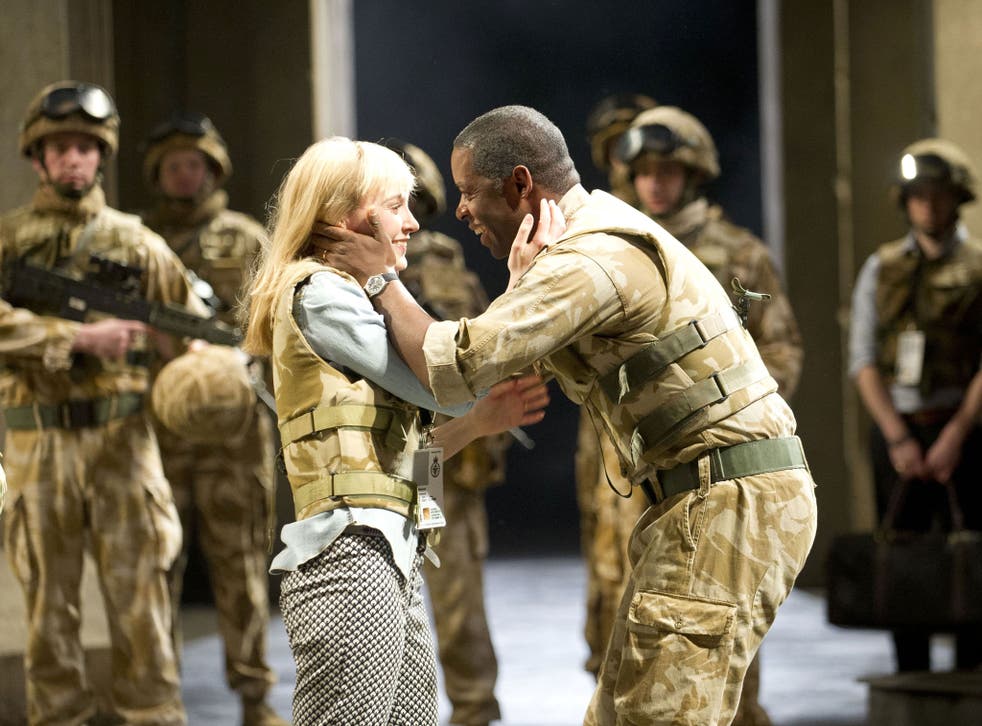 Where's a good doctor when you need one? Iago implies that he has, personally, administered some physic. His practice is to kill, not cure, though. In Nicholas Hytner's keenly awaited NT staging of Othello, Adrian Lester as the eponymous army commander has just slumped unconscious in the outpost that he is meant to be defending. The newlywed's mind has been so poisoned by jealousy – succumbing to his ensign's insinuations – that he has suffered a seizure. Rory Kinnear's gruff, shorn-headed Iago duly sneers, "Work on, my medicine," as he boots his superior's prostrate body.
With gun-toting troops in desert camouflage gear – in strip-lit barracks behind concrete barricades – this production is peppered with ferocious violence. Increasingly explosive, Lester punches a hole in a wall and makes Olivia Vinall's Desdemona cower. Barely more than a willowy teenager, she has been innocently tactile, flinging her arms around him and his friend, Lieutenant Cassio, never supposing this might be viewed as unchaste.
The present-day setting proves a close fit with relatively few textual cuts (much like the Hytner/Lester Henry V of 10 years ago). Here, the white characters' surfacing racism seems all too possible, even with multiculturalism visibly extending from the lowest to the top rank. In the cabinet boardroom, in Act I, Lester's Othello is smart-suited, with statesmanlike dignity, suppressing his anger at the bigotry of the grandee Brabantio – Desdemona's bitterly upset father.
William Chubb is outstanding in that role. So is Jonathan Bailey as a naive, public school Cassio, so shocked at being cashiered that he's almost hyperventilating. The production will, I think, mature in time, but newcomer Vinall is a name to watch, and Lyndsey Marshal, playing Iago's wife as a flak-taking squaddie, comes into her own in the last act, screaming blue murder.
Maybe Lester's Othello could reveal more deep-seated insecurities. Nonetheless, he's touchingly ardent at first, and tragically confused by the close, suffocating Desdemona on their bed in what looks like a passionate clinch. As for Kinnear, I've seen more lasciviously twisted Iagos. But his deceptive mateyness is horribly funny, his fresh line-readings are brilliant, and his soliloquies riveting – exposing a choked-up, raging paranoia about his own marriage.
Next we become the confidants of the morbid GP in Doktor Glas (Wyndham's, London *****). This is weird and, as it turns out, thrillingly world-class fare for London's theatreland. It sounds like commercial suicide: a 90-minute monologue, in Swedish, with surtitles, that makes passing reference to Schopenhauer and is based on a 1905 novel by Hjalmar Söderberg, little known this side of the North Sea.
The box-office draw is Krister Henriksson – Wallander in the Scandanavian TV series of that name. But this is no star-casting gimmick. The whole production is mesmerising, laced with dark laughter and disturbing moral ambiguities, suggesting designer-director Peder Bjurman as the new Ingmar Bergman.
Henriksson's Glas is a shadowy figure, caught in pale shafts of light that slant into his surgery, a chamber that hovers between Strindberg's era and the 1960s. A clock without hands (a very Bergmanesque image) stares from a wall which phosphoresces as Glas tells his tale of warped love and lethal pills – obsessing over two patients, an odious pastor and his bewitching wife who needs saving.
The voice is almost a whisper: but is it soothing or sinister? Glas's role-swapping is unsettling as well. He turns into the woman of his dreams simply by stroking his lapel as if it's a décolletage, then just as suddenly he morphs into the hunchbacked husband he reviles.
If there's more where this came from, can we import it please, without delay?
Last but not least, the Donmar's artistic director Josie Rourke has revived The Weir (****). Conor McPherson's masterpiece, from 1997, is set in a rural Irish pub where a handful of lonely souls gather, telling spooky stories that become searingly personal, opening old wounds but also generating tentative, communal sympathy.
It would be hard to surpass Ian Rickson's perfectly paced and unforgettable premiere, yet Rourke's production left me weeping almost as uncontrollably as the first time round. Her ensemble is wonderfully humorous and heartbreaking. It includes Brian Cox as the rueful, ageing bachelor Jack, Ardal O'Hanlon as the chronically shy, rustic Jim, and Peter McDonald as the barman biding his time but trying to make the nervous newcomer, Dervla Kirwan's Valerie, feel at home. Strongly recommended.
What a corking week.
'Othello' (020-7452 3000) booking to 18 Aug; 'Doktor Glas' (0844 482 5120) to 11 May; 'The Weir' (0844 871 7624) to 8 Jun
Critic's Choice
The Bard's delightful verse epic Venus and Adonis is fleetingly back at Shakespeare's Globe in London (Mon to Sat), performed by Cape Town's singing, dancing Isango Ensemble, who were a highlight of last year's Cultural Olympiad. Brighton's Fringe Festival 2013 (Sat to 2 Jun) gets rolling with top names including NoFit State Circus, La Clique and buckets more.
Register for free to continue reading
Registration is a free and easy way to support our truly independent journalism
By registering, you will also enjoy limited access to Premium articles, exclusive newsletters, commenting, and virtual events with our leading journalists
Already have an account? sign in
Register for free to continue reading
Registration is a free and easy way to support our truly independent journalism
By registering, you will also enjoy limited access to Premium articles, exclusive newsletters, commenting, and virtual events with our leading journalists
Already have an account? sign in
Join our new commenting forum
Join thought-provoking conversations, follow other Independent readers and see their replies