King Lear With Sheep, Jevington Place Farm, Sussex, review: 'Deliriously absurd'
You've scarcely lived if you haven't seen Lear shout "B****!" at a sheep
Paul Taylor
Monday 18 August 2014 11:13 Comments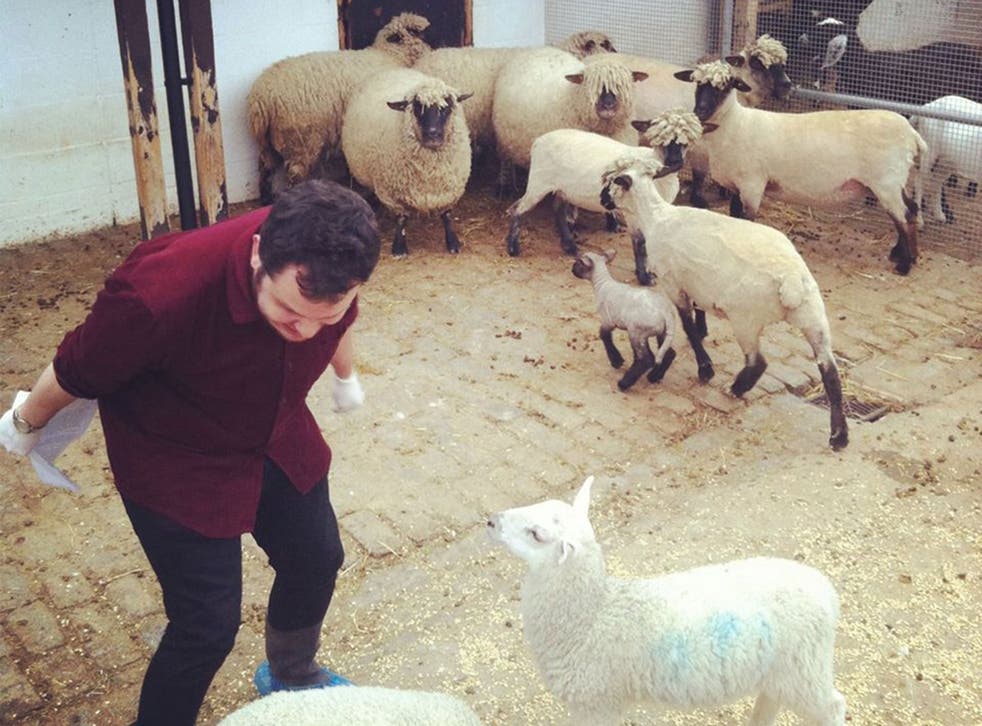 This reviewer is, by background and temperament, the total antithesis of a farm-boy. So as I journeyed down to Jevington Place Farm in Sussex for this show (and yes, you did read the title correctly), I began to worry a bit about the pitfalls of possible audience participation.
Suppose I were picked on to help milk one of these sheep, I honestly wouldn't know where to start. The piece, by the way, is exactly what it says on the tin and I can safely say that I will never see anything remotely like it again in a hurry – or, indeed, in a time-span measured by the body-clock of a glacier.
Written and directed by Missouri Williams and produced by Lucie Elven, King Lear With Sheep is, by turns, funny, charming, bonkers, delicate, barking (or baa-ing), poetic, challenging and faintly smelly. It throws Shakespeare and sheep (that ineluctable binary) into fresh and arresting relief. You will never feel about either of them in quite the same way.
Picture the scene. An eager, packed and slightly increduous audience are gathered in a very beautiful old barn and seated on raked bales of hay. The end-stopped stage has a red curtain and is flanked with blown-up black-and-white cut-outs of 17th century engravings of an elephant and a rhino. There's a hint here of the Inigo Jones-style court masque; already the incongruities are lunatic lyrical and legion.
The director, a bearded young man, played with just the right tonal gear-changes by the highly engaging Alasdair Saksena, is in a tizzy of watch-checking apprehension. The flock of sheep who have been, we are led to believe, performing King Lear on tour to huge acclaim ("Functional" Guardian; "Apt" Independent) are late for this engagement. The frettingly propitiatory director assures that they are just such a 'together'" team and that the show they are creating is "a play and also 'a house of togetherness'.
At this stage we seem to be in a cross between I, An Actor and One Man and His Dog. You could cut the sense of imminence with a knife. We want those sheep as badly as the Harmonia Gardens wants the return of Dolly Levi.
Then, with a startling, stage-covering suddenness, they are there, decked out in little ermine-trimmed costumes and coronets and contradicting the director's version of events by turning their backs to him and flurrying away in abrupt fits of what looks like low dudgeon. "Guys? Team?" he implores, bemuses.
Hence the descent into a mad belief that he's the victim of ingratitude. You've scarcely lived if you haven't seen Lear shout "B*****!" at an unsuspecting sheep, or (the play is full of questions) strain to hear unforthcoming answers with cocked ear (in the manner of Harry Corbett intent on hearing Sooty's secret harmonies) or deliver the lines "Why should a dog, a horse, a rat have life/And thou no breath at all" with Cordelia (played by a gorgeous little creature who doubtless won the Bancroft Gold Medal at "Sheep Rada") pawing the air with her beautifully carved, ungulate arm.
At one and the same, it's deliriously absurd and haunting. Is this man an egomaniac nutter or has his egotism had a weird Kafka-esque effect – instead of waking up to find himself turned a cockroach, he struggles to the realisation that emotional neglect has turned his entire court into unreciprocating sheep.
I hope that the team pull off the projected tour. Never pulling the wool over your eyes, this uncategorisable delight give you much to, erm, ruminate upon.
Register for free to continue reading
Registration is a free and easy way to support our truly independent journalism
By registering, you will also enjoy limited access to Premium articles, exclusive newsletters, commenting, and virtual events with our leading journalists
Already have an account? sign in
Join our new commenting forum
Join thought-provoking conversations, follow other Independent readers and see their replies