Le Corsaire, English National Ballet, theatre review: Shimmering dancing and packed to the gills with pirates
Le Corsaire is a tale of love, kidnapping, betrayal, poisoned roses and whatever else could be fitted in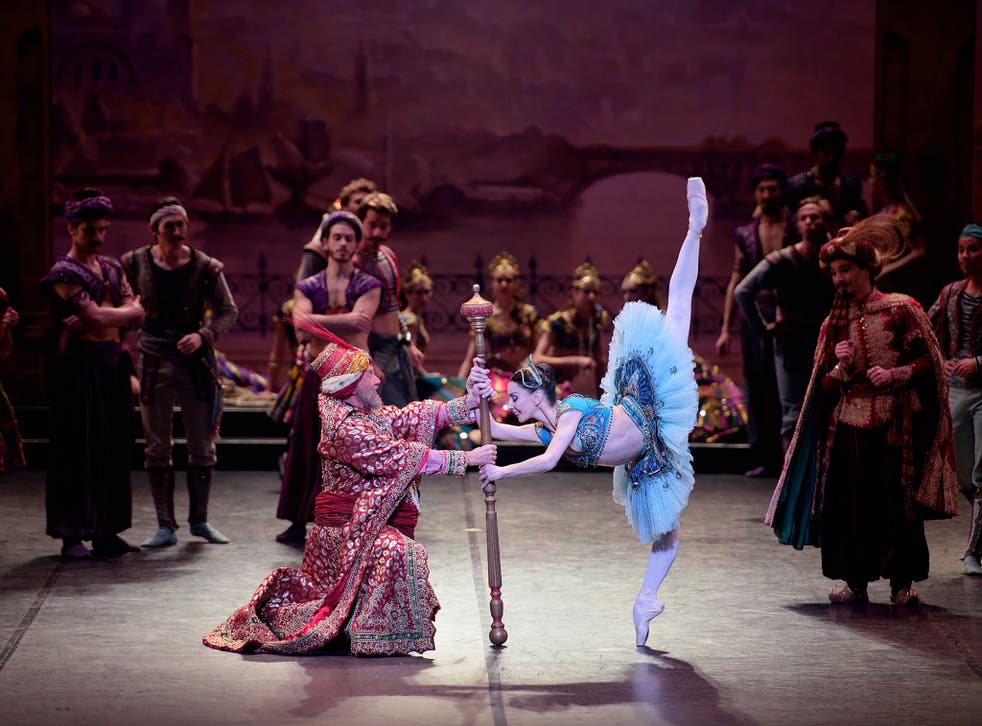 English National Ballet's Le Corsaire is a romp, packed to the gills with pirates, daft plotting and virtuoso dancing. It's also full of male roles, taken with gusto by the home team and some terrific guest artists.
Based very loosely on a poem by Lord Byron, and revised many times since its Paris premiere in 1856, Le Corsaire is a tale of love, kidnapping, betrayal, poisoned roses and whatever else could be fitted in (there's also a shipwreck and a vision scene). The score is a patchwork by ten different composers, while the ballet always has room for another show-off solo.
Anna-Marie Holmes' 2013 production for English National Ballet is the best I've seen. It's faster and better-paced than most versions, with fabulous designs. Bob Ringwood's sets are a painterly Arabian Nights fantasy, with sumptuous perspective foregrounds framing distant misty vistas. His costumes shimmer with textures and decoration.
There's some shimmering dancing, too. The guest artists include Osiel Gouneo, Cuban-trained and now a member of the Norwegian National Ballet, as the pirate hero Conrad. With a dashing stage presence and bold technique, Gouneo has the personality to drive the action. He'll soar into a jump, then twist into speedy flicks or turns mid-air. He sometimes overdoes the open-mouthed laughter, but he makes a warm, vivid leading man.
Another guest, Washington Ballet's Brooklyn Mack, gave a sensational performance as the wicked slave trader Lankedem. Mack has gorgeous breadth of movement, powering through leaps and spins without a hint of strain. His phrasing is musical, with beautiful use of his arms and shoulders. After some knockout dancing in the first act, Lankedem spends the rest of the ballet lurking and plotting; Mack is charismatic even when seething from the sidelines.
Ali, Conrad's sidekick, is a supporting role, but he dances in the ballet's best-known number, a pas de trois with Conrad and the heroine Medora. Junior soloist Cesar Corrales rises to the challenge set by these guest stars, sprinting into action with a high, clean jump. As the traitor Birbanto, Yonah Acosta seemed subdued: I missed the rage he's brought to this role in the past.
The women make less of an impression. Tamara Rojo, the company's artistic director, replaced an injured Alina Cojocaru on opening night. Rojo has strong stage presence, and her storytelling is always clear, but this performance lacked spontaneity. She's happier in the role's firecracker technique than in the slower, more romantic displays of the vision scene.
There was some wobbly partner work in her duets with Gouneo – perhaps the result of the late cast change, but a reminder that partnering has recently been a weakness at English National Ballet. Rojo, Gouneo and Corrales made the famous pas de trois go with a bang, trading ever faster spins, higher jumps, more outrageous displays of bravura.
As Gulnare, Medora's friend, Laurretta Summerscales dances with clean technique and a sense of naughtiness, teasing Michael Coleman's funny, foolish Pasha. Ksenia Ovsyanick stands out among the soloist odalisques.
Join our new commenting forum
Join thought-provoking conversations, follow other Independent readers and see their replies