Michael Clark Company, Barbican, London
It's rock'n'roll (and I like it)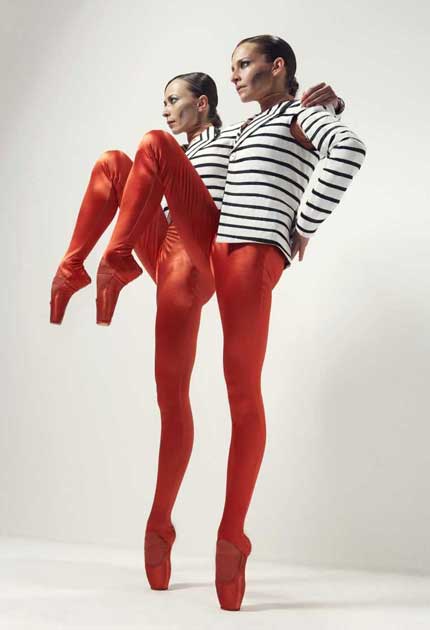 Rock music is good for Michael Clark. His latest work, Come, Been and Gone, shown as part of bite and Dance Umbrella, returns to the music of his teens: Iggy Pop, Lou Reed, David Bowie. Even the programme is designed to look like a 7-inch record sleeve. With this soundtrack, Clark and his company gleam with purpose. It's the best thing he's done in years.
Clark has always had a glam/punk sensibility. He left the Royal Ballet School for a rebellious career in contemporary dance, creating splashy and sometimes scandalous theatrical spectacles. Come, Been and Gone is driven as much by his early training as by his obvious love for this music. These dances are full of sharp footwork and bold classical line.
The new work is paired with Swamp, Clark's taut 1986 work to songs by Wire and Bruce Gilbert. Come, Been and Gone is in the same vein: the dancers stalk through both dances with similar cool.
Clark has added several new numbers since the work's British premiere at the Edinburgh Festival. Veiled dancers pick their way forward on pointe to The Velvet Underground's "Venus in Furs". Speeding up, they circle their arms as if playing trains, chugging along to the beat. Another dancer glitters like a disco ball, face and body covered in tiny mirrors. They're more languid in "Ocean", lying down in spaced-out, dreamy poses.
With "Heroin", Clark could be commenting on his own drug history. The backdrop lifts, showing Kate Coyne appearing from the depths of the Barbican Theatre's backstage area. Her costume, designed by Clark and BodyMap's Stevie Stewart, is stuck all over with syringes. They flatten as she lies down, folding herself into angles. As Lou Reed sings that heroin "will be the death of me", Coyne holds her hands forward, palms upwards. She looks resolute and resigned, all at once.
During "Heroes", footage of Bowie is projected onto the backdrop, a square of film that slides around the screen. It doesn't quite work: the huge singing face distracts from the taut dancing in front of it. You can't watch both. In another odd sequence, two dancers climb into supported poses around what looks like an orthopaedic chair.
Clark's own solo, marked "intermission" on the screen behind him, is more ambitious than it was in Edinburgh. He's gone from walking steps to shoulder stands and lean, confident poses.
Bowie's "The Jean Genie" makes a stomping finale. There's a brilliant entrance for two women on pointe. They stalk on, arm in arm, in a high-stepping prance, stabbing their feet into the floor with every step. They join two more dancers for a speedy, intricate quartet, changing places as they link and unlink arms. The Barbican has just announced that Clark will continue as artistic associate for another three years. He's starting it in terrific shape.
To 7 November (020-7638 8891)
Join our commenting forum
Join thought-provoking conversations, follow other Independent readers and see their replies