Michael Clark Company, Barbican Theatre, London, review: 'It flowers into moments of warmth – particularly in its tribute to David Bowie'
The choreographer's new work, to a simple rock'n'roll…song, features music from Bowie and Patti Smith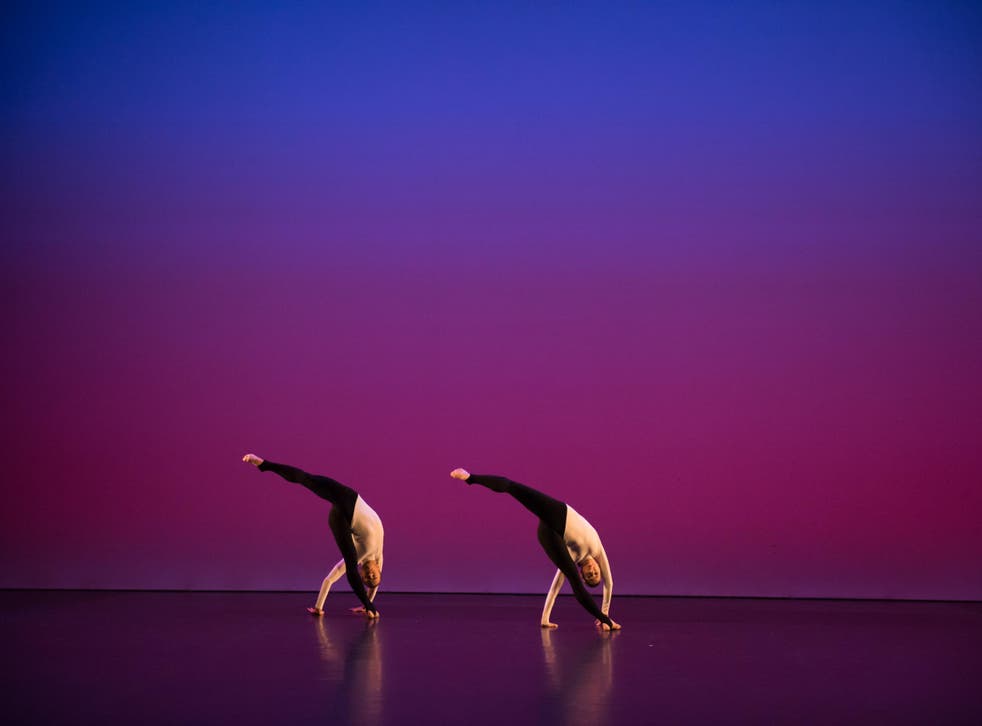 Michael Clark, who made his name with post-punk excess, has matured into stark, strange rigour. His new work, to a simple rock'n'roll… song is a dance of otherworldly precision, flowering into moments of warmth – particularly in its tribute to David Bowie. Clark himself haunts the work like a dapper ghost.
Clark was always strict as well as splashy, a Royal Ballet School rebel who danced radiantly through ever more extravagant settings. His 1980s shows added pop music, extravagant designs and explicit sexuality. Since then, he's dwelled more and more on the more austere end of choreography, though he's also looked back to the pop music of his youth.
to a simple rock'n'roll…song puts those influences back together, as if Clark is considering his entire history. The opening section, Satie Studs, is almost brutally stern. Dancers in black and white leotards stalk through long strides and longer balances to piano music by the French composer. There are echoes of the lyrical British choreographer Frederick Ashton in some of the poses – delicately crossed legs, intricate but still flowing lines. The impact of the modernist Merce Cunningham is even clearer, evident in the deep lunges and raised arms.
Clark's dancers, as ever, have beautifully articulate feet and abs of the gods. They can hold sculptural planks and endless shoulder-stands, showing world-beating levels of taut control in choreography that seems to rise above human frailty. The demands it makes on its audience are pretty tough, too. The dance is impressive, but severe to the point of dryness. Though they're distinctive as well as strong, the dancers submerge their individuality, dedicated to the common cause.
The second part, Land, is danced to Patti Smith (whose lyrics provide the evening's title). Now in flared leather unitards, designed by Stevie Smith and Clark, let their hair down just a little. Oxana Panchenko is lifted by one man and trust-falls back into the arms of another, fearless and debonair.
Clark remembers Bowie with both early work and with Blackstar, the last work Bowie released before his death. The dancers match the music's ritual tone, devoted and clear. Clark, in baggy trousers, wanders in and out, his hands moving through formal gestures – a symbolic sign language in chattering rhythm. It's both understated and touching.
A woman crosses the stage on pointe, drifting like a sleepwalker. Clark catches her when she falls, and urges her back offstage. Now in his 50s, Clark's stage appearance is a cameo – but it's one that shows restored charisma and presence.
to a simple rock'n'roll… song is never cuddly, but it finds its own playfulness in the last section, with dancers in flaming orange dancing to earlier Bowie. Their feet get faster and faster, bodies twisting within their strict poses. The wriggly piano lines of Aladdin Sane tempt them into swinging hips and even snapped fingers – a moment of fun in an uncompromising evening.
Register for free to continue reading
Registration is a free and easy way to support our truly independent journalism
By registering, you will also enjoy limited access to Premium articles, exclusive newsletters, commenting, and virtual events with our leading journalists
Already have an account? sign in
Register for free to continue reading
Registration is a free and easy way to support our truly independent journalism
By registering, you will also enjoy limited access to Premium articles, exclusive newsletters, commenting, and virtual events with our leading journalists
Already have an account? sign in
Join our new commenting forum
Join thought-provoking conversations, follow other Independent readers and see their replies