Michael Clark Company, Tate Modern, London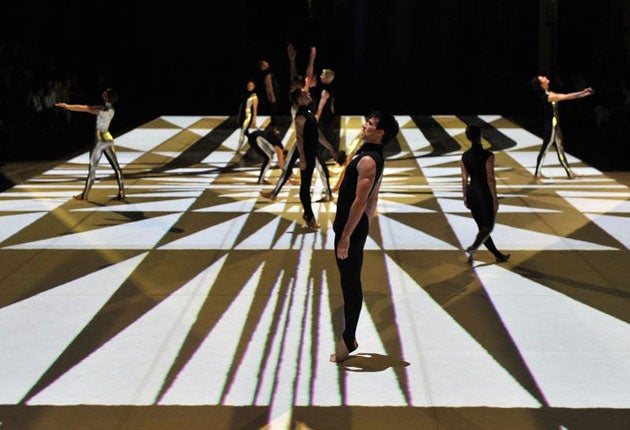 Michael Clark's new work for Tate Modern starts after sunset, with twilight visible through the skylights of the Turbine Hall. The piece builds on last year's residency at the gallery, when Clark worked with public volunteers in weekly workshops. A large volunteer cast move in blocks, set against the taut precision of Clark's own dancers, who strut and stalk with serene cool.
Clark is an art punk, collaborating with artists, fashion designers and musicians from The Fall to Hussein Chalayan. Tate Modern is a good fit, not least because his choreography makes such satisfying use of space. The performance area takes up half of the Turbine Hall and the audience sits on three sides; dancers sprint down from the entrance way or emerge from the banks of seating. If you sit in the middle, you find yourself turning like a tennis spectator; more dancing has sneaked up on you.
Clark uses work from last year's project and from his recent hit come, been and gone. The volunteers stand and turn through different angles. They lie down and tick their legs to the side, like the hands of a clock. When one group replaces another, they run past each other in lines.
Clark loves classicism. His dancers take up clean poses, their feet beautifully stretched. They flow through angles and curling lines, against music by David Bowie or Funkadelic. The block colours of their Stevie Stewart costumes clash brilliantly with a black-and-white floor designed by Clark. When they jump, their striped legs scissor above a striped surface, a Bridget Reilly painting bursting into life.
It takes a while for the work to pull into focus. There are some rough edges. Dressed in black towels, the volunteers step confidently through their patterns, but they are less strictly drilled than last summer. Just when the work starts to meander, however, it will change. Spotlights pick out dancers on the bridge overhead. On the floor, a woman dances around a ballet barre: high above, her colleagues use the balustrade. Soloists start dancing in shadow, arriving in full flight.
Clark and his lighting director, Charles Atlas, project patterns and monochrome video across the floor. In a huge space, Clark builds up layers and layers of light and shadow and movement.
To 12 June (020 7887 8888)
Join our commenting forum
Join thought-provoking conversations, follow other Independent readers and see their replies