National Ballet of China, Sadler's Wells, London, review: This production gives them little chance to show their individuality
The National Ballet of China perform the epic love story 'The Peony Pavilion', which was originally performed in a 20-hour cycle, but has been cut down to a well-paced two hours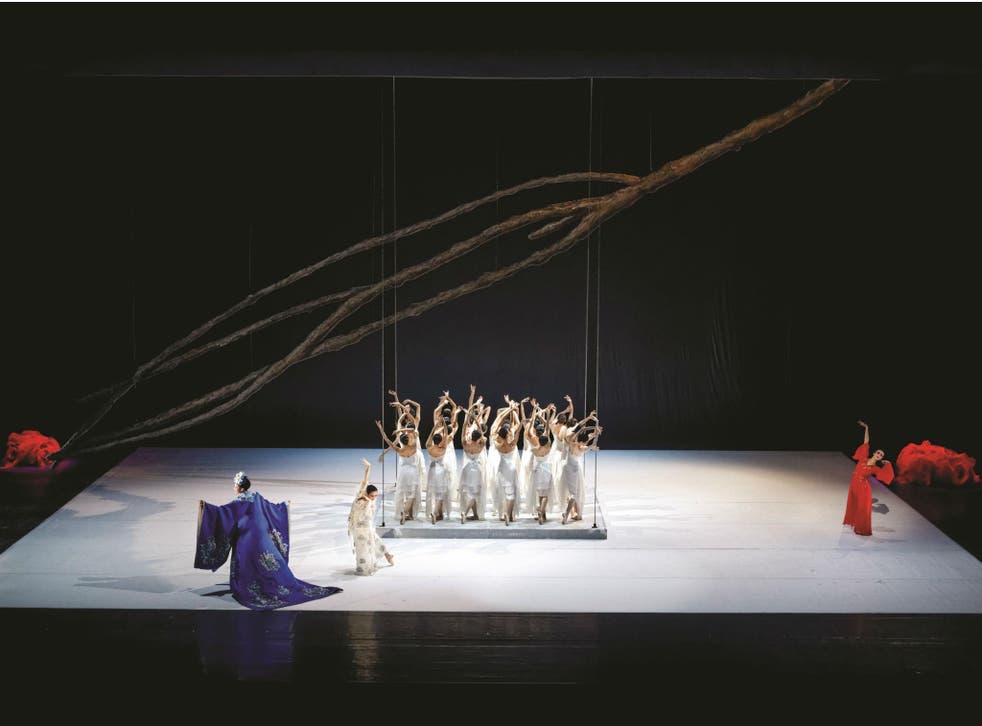 With The Peony Pavilion, the National Ballet of China sets out to blend eastern and western cultures. Fei Bo's production retells a classic Chinese love story in ballet technique, to a score that blends Debussy and Kunqu opera. The stage pictures are often beautiful, full of fluttering silk and falling petals, but it's emotionally remote.
Asleep in the peony pavilion, the heroine Du Liniang dreams of an ideal lover, Liu Mengmei. Awaking without him, she pines and dies. In the afterlife, the infernal judge is moved by her plight, and reunites the lovers in marriage.
The Peony Pavilion was first performed as a Kunqu opera in 1598 – an epic tale that takes more than 20 hours to perform. The ballet cuts that down to just under two, but still feels leisurely.
Directed by Li Liuyi, with choreography by Fei Bo, it's a highly stylised production, dwelling on dreamlike imagery. The opening scene introduces Du Liniang and her two alter egos. The human heroine is danced by Zhu Yan, dressed in white. Circling around her is her Flower Goddess self, representing her sensuality, danced by Zhang Jian in clinging red. There's also a Kunqu Liniang, representing her caution and restraint, performed by guest Kunqu performer Jia Pengfei in elaborate blue opera robes.
Guo Wenjing's score is a patchwork of western classical music, with traditional Chinese styles sidling through it. The high-pitched croon of Kunqu opera singing cuts across edited chunks of L'après-midi d'un faune, both amplified. Debussy and other composers get pulled about, undermining the shape of the music.
In the ballet's most striking moment, Liu Mengmei, danced by Ma Xiodong, takes off Liniang's pointe shoes, admiring her arched feet. She's flirtatious about letting him take the second shoe, dancing with one bare foot. It emphasises how much stress ballet puts on the feet, on pointework; later, Liu Mengmei has visions of multiple Liniangs, each wearing one scarlet shoe.
It's a distinctive detail in a ballet that needs more of them. References to traditional Kunqu opera – Pengfei's gliding walk, the infernal judge's elaborate face paint and beard – underline how stripped-down and bare the rest of the staging is. The corps of spirits float through classical steps, but the choreography is thin, with little contrast. The National Ballet of China dance with fluid lines and secure technique, but this production gives them little chance to show their individuality.
Register for free to continue reading
Registration is a free and easy way to support our truly independent journalism
By registering, you will also enjoy limited access to Premium articles, exclusive newsletters, commenting, and virtual events with our leading journalists
Already have an account? sign in
Register for free to continue reading
Registration is a free and easy way to support our truly independent journalism
By registering, you will also enjoy limited access to Premium articles, exclusive newsletters, commenting, and virtual events with our leading journalists
Already have an account? sign in
Join our new commenting forum
Join thought-provoking conversations, follow other Independent readers and see their replies