No Man's Land, Wyndham's Theatre, London, review: 'Hilariously tragicomic'
With its all-star cast, this revival of Harold Pinter's 'No Man's Land' is not to be missed as it opens in the West End following a triumphant UK tour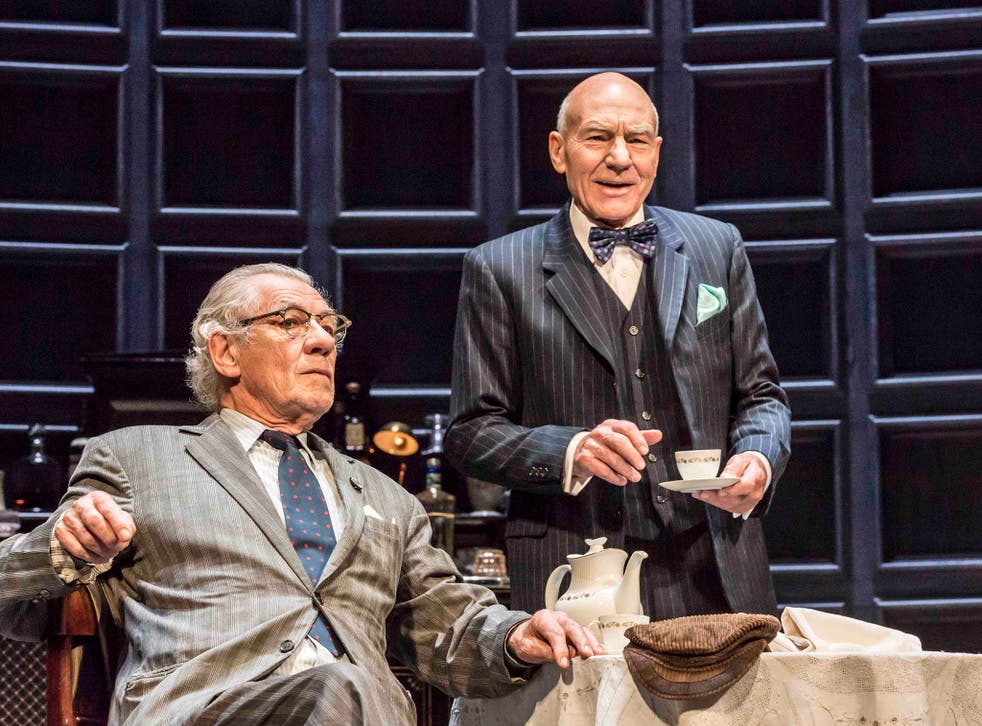 It's been in the offing since Sean Mathias's acclaimed production of this Pinter classic was unveiled on Broadway in 2013. Now, as we'd hoped, Ian McKellen and Patrick Stewart – both at the top of their game – have finally brought it to London. After a short UK tour, their version has landed, fittingly enough, in the very theatre where, some forty years ago, John Gielgud and Ralph Richardson continued to put their brilliantly eccentric stamp on the roles of Spooner and Hirst in the West End transfer of the original 1975 National Theatre production.
Mathias's staging manages to be the funniest account of the play I have seen without underselling its scariness, mystery or bleak vision of the twilight zone between life and death that is old age. On Hampstead Heath, Hirst, a moneyed man of letters and a chronic alcoholic, has just run into Spooner, an elderly, down-at-heel pot boy at a Chalk Farm pub, and invited him back to his imposing home for what proves to be far from just the one drink.
In a rumpled suit that looks as if it hasn't been to the dry cleaner's since Suez, with filthy tennis shoes and a little ratty grey pony-tail, McKellen is hilariously tragicomic as Spooner, the seedy intruder who will launch into any flight of fantasy if it helps him in his characteristically Pinteresque mission to plant himself in this household. There's a predatory edge to his obsequiousness and a lovely disjunction between the pretentious literariness of Spooner's long arias about, say, the golden evenings with his group of supposed protege poets at his country house (the dated, self-treasuring note – "what can ail? I mean who can gainsay?" – captured perfectly by the actor) and the constant opportunistic cunning of the vagrant that here makes Spooner cradle a sneaky bottle of whisky to his chest for surreptitious top-ups.
Patrick Stewart is a trim man and not in the mould of those big-chested performers (Richardson, Michael Redgrave, Gambon, Pinter himself) who have tended to be cast as Hirst. But he has great presence and gives a splendidly disconcerting portrayal of this artistically bankrupt old soak, marooned in his mausoleum of a home. You can see footage of full-leafed branches swaying in the breeze above Stephen Brimson Lewis's fine design – a reminder of the life teeming outside this hermetic, sterile world of male power games. Stewart can run the gamut from arch hospitality to a wintry extreme of desolate insight within the space of a single line. Hence his prowess at conveying the alarming memory lapses and switches of tack of the alcoholic mind. Having last seen him legless, you laugh out loud when he launches with a calculatedly provoking jauntiness into the great one-upmanship scene where the pair taunt each other with invented cuckoldings and Hirst treats Spooner to an account of the Oxford summer he seduced his wife ("I'll never forget her way with my jonquils").
In Pictures: Sir Patrick Stewart Wins The Internet

Show all 15
Of course, it's at no point established how far, if at all, the two men were actually acquainted. What is intimated is that Hirst and Spooner have the affinity of being two sides of the same coin, the might-have beens. This is no straightforward contrast, though, between success and failure. For what does Hirst have now? He's heading into dementia alone, save for two thuggish minders whose insolent possessiveness and vaguely homoerotic complicity are excellently communicated by Owen Teale and Damian Molony.
McKellen delivers a wonderfully unsentimentalised portrait of Spooner: even as the character tries to rescue Hirst from the dipsomaniac death-in-life where his henchmen have him trapped, he always remains, in part, a con-artist shooting glances at the main chance. Stewart's performance, ranging between imperiousness and terrified bewilderment, makes you feel that it's high time he played King Lear on stage.
In New York, the two actors – arch-enemies in the X-Men films, best of old friends in real life – performed No Man's Land in rep with Mathias's production of Waiting for Godot. One difference between these pieces is that the Beckett does not require the prodigious intake of liquid stipulated by the Pinter. Certainly, if there were a theatrical award for "Heroic Bladder of the Year", this pair would be a shoo-in.
Join our new commenting forum
Join thought-provoking conversations, follow other Independent readers and see their replies