Outlaws to In-Laws, King's Head Theatre, London, review: These disparate dramas connect like a moving, understated motif
As part of the King's Head Theatre's 2017 Queer Season, this compilation of seven, specially commissioned short plays, chart how the lives of gay men have changed since the 1950s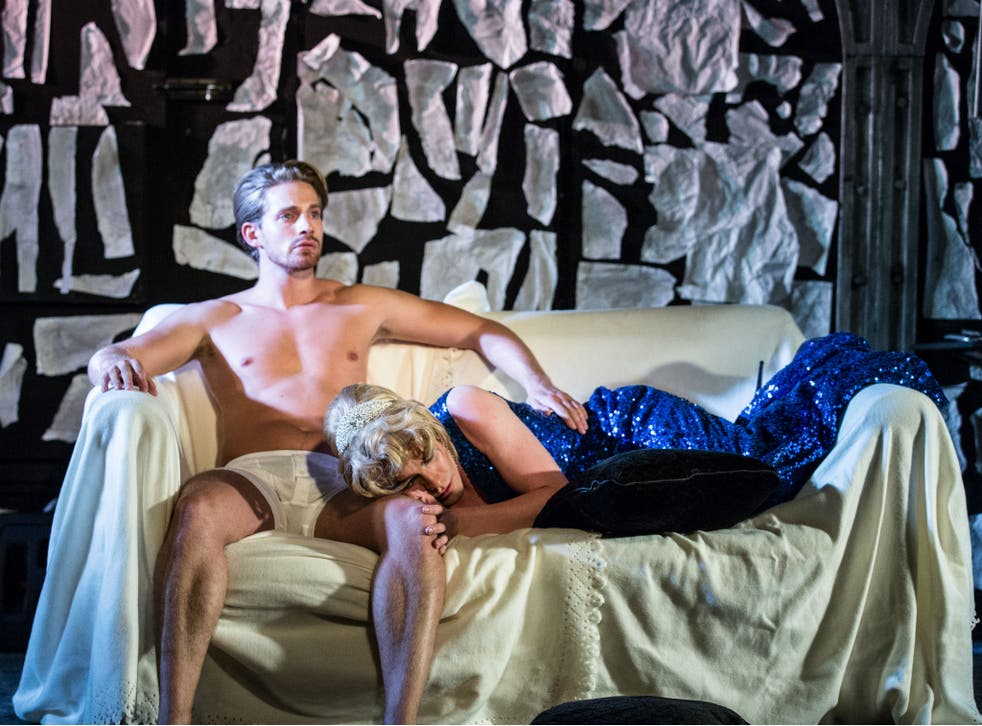 You can't accuse the King's Head Theatre of lacking enterprise. Presented as one of the centrepiece shows of their 2017 Queer Season, Outlaws to In-Laws is a compilation of seven short, specially commissioned plays that chart how the lives of gay men have changed, decade by decade, since the 1950s. It starts with Happy and Glorious, Philip Meeks's shrewd and witty appraisal of the tensions within a group of gay men gathered to toast the coronation of the Queen. It ends in 2017 with The Last Gay Play by Joshua Val Martin which dramatises the pre-wedding nerves of a gay man whose same-sex nuptials are about to be televised on Channel 5 and officiated over by his cleric-father. Not before a ding-dong in the belfry, however, which may possibly be resolved by the ring that has kept resurfacing since it was first seen in 1953 and connects these disparate dramas like a moving, understated motif.
The remit sets the writers a tricky challenge. They have to create a 15-minute drama that epitomises the period and offers us a fresh, individual take on it. Jonathan Harvey, author of stage hits such as Beautiful Thing and the Bafta-nominated sitcom Gimme Gimme Gimme, pulls off this feat with a real fusion of historical insight, wit, and humane perceptiveness in Mister Tuesday, the most engrossing and powerfully acted of the pieces here. It's set in 1965 and social change is in the air but homosexuality won't be decriminalised for another two years. This is a world that, though it may have relaxed in some respects, is still a blackmailer's charter. Harvey gives that situation an ironic and heart-breaking twist. We first see Peter (Jack Bence) and Jimmy (Elliot Balchin) sharing a post-coital cucumber sandwich in bed. In order to deter married policeman Jimmy from terminating this illicit weekly arrangement, Peter stoops to blackmail and their real love for each other is grievously warped.
Even-handed in its sympathies, Mister Tuesday allows itself the room to breathe, as does Jonathan Kemp's Reward, a compelling piece about National Front skinhead (Bence) and a bookish black teenager (Michael Duke) who fall for each other during the Silver Jubilee celebrations of 1977 and are confirmed in their love by the terrible price they are forced to pay for it. I also admired the energy and strutting verbal confidence of Brothas 2 by Topher Campbell which shows us two black friends in the early Noughties (played by Duke Myles Devonte) as they booze and browse through the profiles on a dating website that is visible to the audience. It's a funny and astute look at the, er, etiquette of cruising online, the discrepancies between digital identity and the flesh-and-blood reality, and the strain of keeping up appearances for a ruthless selection procedure that seems to rely on doctored images and racial and sexual stereotypes.
The Conservative Party conference provides the backdrop for 1984, Patrick Wilde's piece about the relationship between a young hotel waiter who is grappling honestly with the Aids crisis and one of Thatcher's speech writers whose struggle to remain in the closet has taken on a new and problematic urgency, given his insider-knowledge that Clause 28 is on the cards. Will he have the guts to confess his sexuality and resign? It's an intelligent play that has more to say than can be developed properly in the space. You feel frustration for the opposite reason with Matt Harris's Princess Die, an ingenious but sterile exercise in contrived coincidence. A young Princess Di impersonator (Alex Marlow), drunk, drugged-up and in disgrace after a bad social faux pas, discovers that his partner is HIV positive on the same day in 1997 that... well, look at the awful punning title. Elliot Balchin is eerily convincing as the draq queen's hallucination of a Calvin Klein model.
The master-stroke of Mary Frankin's remarkably deft and sensitive production is that a well-chosen and wonderfully versatile ensemble of six actors play all twenty of the figures who crop up in these pieces. Jack Bence is especially impressive in his ability to bring to vivid physical life characters as varied as the jealous lover whose insecurities drive him to blackmail, the reformed National Front thug and a desperate thief, rendered homeless after being diagnosed HIV positive. The good will generated by the actors is strong and cumulative and, thanks to them, a compilation that is uneven in the quality of the writing winds up feeling like more than the sum of its parts.
Join our new commenting forum
Join thought-provoking conversations, follow other Independent readers and see their replies