Rosencrantz and Guildenstern Are Dead, Old Vic, London, review: Daniel Radcliffe's introspective, scrubby-cheeked Rosencrantz isn't bang on the beat enough here
David Leveaux's brilliant 50th anniversary revival of Tom Stoppard's play, which stars Radcliffe and Joshua McGuire, has a set designed by Anna Fleischle, which suspends the play in pinkish-blue clouds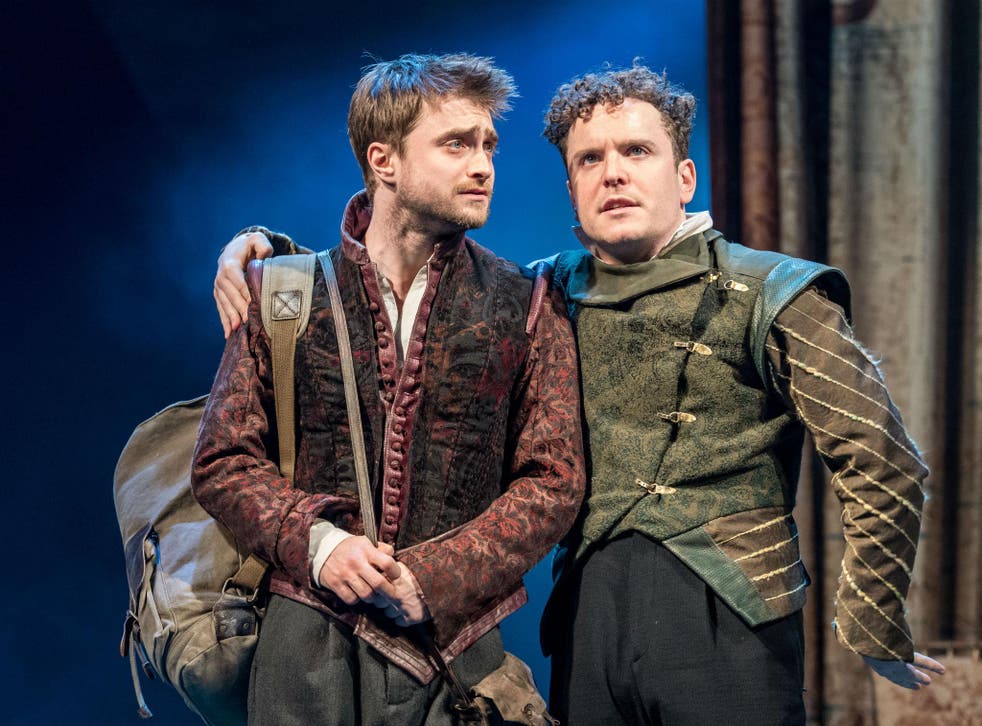 Rosencrantz and Guildenstern are, in fact, alive and well and enjoying very rude health, thank you – despite having just achieved their half century. 50 is the new twenty-five it would seem – to judge from David Leveaux's brilliant anniversary revival of the play that launched Tom Stoppard into the stratosphere when it came down from Edinburgh to this very theatre (then the home of the NT) in 1967. The piece famously swivels Hamlet round so that we see the goings-on at Elsinore from the perspective of the hero's two university friends who have been summoned from Wittenburg on an uncertain mission by Claudius who eventually wants his son escorted from the building (so to speak). Stoppard gives this peripheral pair an upgrade to centre stage. They don't feel at ease there.
There are obvious strong affinities with the predicament of Vladimir and Estragon in Waiting for Godot. But Alan Bennett crossed my mind, too, watching this production – which is terrifically well-judged in all departments. I'm not above admitting that Posner's line about his plight in The History Boys --- a multiple-whammy of disadvantage (as he sees it): "I'm a Jew... I'm small...I'm homosexual...and I live in Sheffield...I'm fucked" – suggested itself as I pondered the more Existentially unenviable situation into which Rosencrantz and Guildenstern have been plonked. Being functionaries in a story-line that's of their devising, they have no memory of where they have come from, scant comprehension of why they are here, and the dimmest notion of where they are headed. Posner, son, eat your heart out
It's admirable the way that Daniel Radcliffe is always seeking to extend his range. To my ear, though, his anxious, introspective, scrubby-cheeked Rosencrantz isn't bang on the beat enough here for a play that requires such verbal agility from the cross-talking, titular double-act – or for a production in which the stunningly funny Joshua McGuire could have been born to give frenetic high definition to Guildenstern. Here he is so often beside himself with aggressive bemusement and knockabout philosophical vertigo that you might say that there are three people in this marriage. They say that the definition of insanity is making the same mistake over and over again and expecting a different result. McGuire – like some similarly dumpy and excitable cousin of Tom Hollander, now excelling in Travesties, the other Stoppard hit in the West End – certainly bears out that proposition as the coin in the evermore frantic flipping contest invariably comes down heads. My favourite speech in the play is where Guildenstern, with misplaced optimism, assures his chum that there is a logic at work (there is: no free will) and that going with the flow is "like being given a prize, an extra slice of childhood when you least expect it". In McGuire's portrayal, the overgrown brat and the under-rehearsed brain box appear to be serving out these life-stages out as concurrent sentences.
Anna Fleischle has come up with (for my money) the design of the year – suspending the play in lovely, but slightly sinister limbo of pinkish-blue clouds on strips that never come to a definite conclusion. It's as though Tiepolo has collaborated with Magritte. Through his treatment of the troupe of tragedians, Leveaux has brought a different, almost Robert Wilson-like vibe to the piece. You feel that this company could make a Mobius loop with colleagues in a Berlin nightclub. The show is fantastically light on its feet (movement director: Lizzi Gee) and there are moments combine weird beauty and sublime silliness. While the central pair are doing a daft routine with a pair of conjoined belts we see, near them behind, Hamlet dragging away the corpse of Polonius in a sheet. His obliviousness to them is marvellously conveyed; just as he's almost stepping on them, he pulls the bundle away in a detour that's like a swishing snaky snub.
David Haig is on fantastic form as the Player – like a seedy, Vincent Crummles-like impresario, at once boomingly ridiculous and bringing also a brrrr-inducing chill at moments of knowing more about this script than anyone. Matthew Warchus's Old Vic goes from strength to strength. Here's to the next 50 for both theatre and play.
Join our new commenting forum
Join thought-provoking conversations, follow other Independent readers and see their replies