Sacrifice, Southbank Centre, London, review: Bizarre, sometimes wilfully boring, but also hypnotic and hilarious
The bonkers show 'Sacrifice' by Iceland Dance Company mixes dance, art and film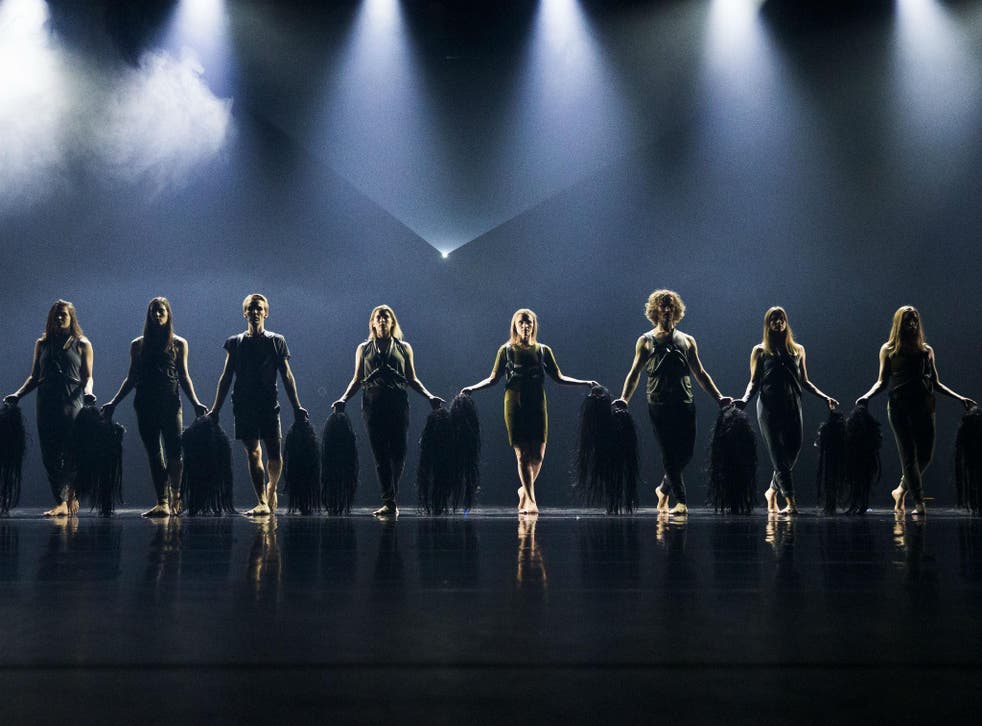 Iceland Dance Company's bonkers Sacrifice is one of the most distinctive events of the year. Billed as "a festival of common things made holy", it takes in dance, film, music and a dash of stand-up comedy. It's frequently bizarre, sometimes wilfully boring, but also hypnotic and hilarious.
Appearing as part of the Southbank Centre's Nordic Matters season, the evening is about rituals. Wearing white clown makeup, with a saucepan hanging from her belt, artistic director Erna Ómarsdóttir describes prehistoric sites as both places of pilgrimage and as a kind of Disneyland. Sacrifice is a deliberate jumble of art, commerce and belief. On the main stage of the Royal Festival Hall, there are two dance works and an interminable film. Out in the foyers, there's an art market, more film and performance, and the chance to let off steam in the "Black Yoga Screaming Chamber".
Performer Friðgeir Einarsson then calls this a marathon evening – then starts telling us about the marathon he ran last year. He wishes his time had been faster, then cheerfully adds that it was "still shorter than this evening". He then hands over to Sigtryggur Berg Sigmarsson, who has been standing sunk in gloom, but now starts to groan.
Shrine, choreographed by Ómarsdóttir with music by Sigmarsson, is full of dancers wrestling with rubber tubes. They heap piles of them onto each other, or strike athletic poses, as if performing rhythmic gymnastics. Several women rock back and forth, wailing and swinging their long hair, building up driving, chugging rhythms. Singer Sofra Jernberg, dressed in lurid pink, performs from inside a giant plastic donut.
It's a piece that is always ready to change gears. The rocking women rearrange themselves, and suddenly look like a 1960s girl group. The music switches from elemental to bossa nova. Einarsson returns to ask us not to take pictures, then explains the physical stages of death. The dancers hold wigs of long hair, then shake them like pompoms: it's both creepy and funny. It's all odd, often very effective, and even the boring bits feel as though they have a role to play, a necessary part of an unfamiliar ceremony.
No Tomorrow, created by Ragnar Kjartansson and Margrét Bjarnadóttir, is a complete contrast, lucid and minimalist. Eight women, dressed in jeans and T-shirts, play acoustic guitars. They line up and strum in canon or in unison, steps and playing gradually becoming more complex as they stroll, add little turns and jumps, still playing.
Union of the North, by Ómarsdóttir, Valdimar Jóhannsson and filmmaker Matthew Barney, shows these dancers as workers in a shopping mall without any customers. They run wild through the shops, rubbing themselves with butter in the supermarket, preparing two of their number for a form of marriage ceremony. The imagery is surreal, but it's a long, slow watch at the end of a very long evening.
Register for free to continue reading
Registration is a free and easy way to support our truly independent journalism
By registering, you will also enjoy limited access to Premium articles, exclusive newsletters, commenting, and virtual events with our leading journalists
Already have an account? sign in
Register for free to continue reading
Registration is a free and easy way to support our truly independent journalism
By registering, you will also enjoy limited access to Premium articles, exclusive newsletters, commenting, and virtual events with our leading journalists
Already have an account? sign in
Join our new commenting forum
Join thought-provoking conversations, follow other Independent readers and see their replies