Saint Joan, Donmar Warehouse, London, review: Gemma Arterton's Joan 'radiates a gentle simplicity and quiet fervour'
The play has many contemporary resonances from Brexit to Aleppo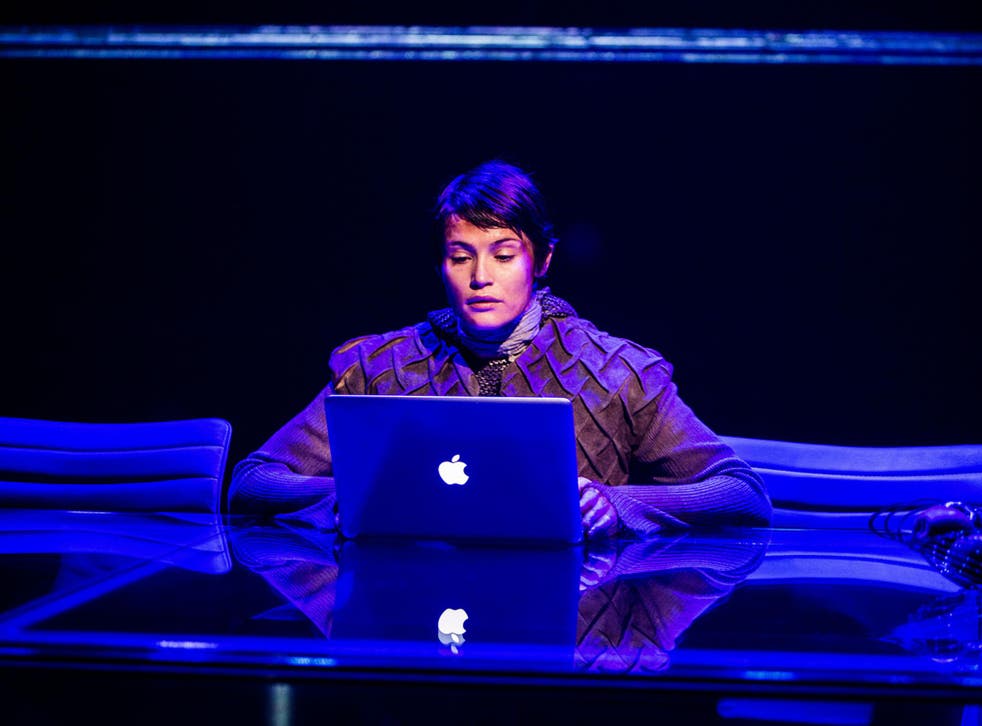 When he played Richard II at this address, Eddie Redmayne was already onstage as the audience trooped in, wrapped in the medieval mystique of majesty, and required to hold this iconic pose in perfect stillness for more than 20 minutes. Things are fractionally easier, in the sense that she's allowed to move a little, for Gemma Arterton who is radiantly persuasive as Bernard Shaw's heroine in this richly rewarding revival directed by Josie Rourke. While we take our seats, Arterton's Joan, in her breastplate and chain mail, is spotlit on a platform, mouthing prayers, offering up her sword to God, and prostrating herself before a crucifix.
We are then jolted from this contemplative prelude with the shrewd calculation that is everywhere apparent. The medievally costumed Joan seems doubly isolated here – the only woman in a world of grey suits who gather round the rotating glass boardroom table that is the central feature of Robert Jones's fine design. Bloomberg screens provide a rolling news commentary on the progress of a protagonist who raises the siege of Orleans, beats back the invading English and their Burgundian allies, and enables the coronation of Charles VII – before being captured, tried for heresy, and eventually burned in 1431. At the start, graphs show us that egg prices are soaring (as a result of a strike by hens that Joan brings to an end); we follow the fluctuating stock market fortunes of "Dauphin" holdings.
Though there's the odd flurry that feels a bit facetious, in general the updating is impressively handled. For a start, it makes you hang on to every word of a densely argued piece that, even with the judicious cuts that Rourke has made, lasts for two and three quarter hours. It is also in tune with the witty, pointed anachronisms in Shaw's text. He saw Joan's story as a timeless parable of the individual conscience against the establishment, and in one scene – relocated from a tent to a gentleman's club and played with brilliantly urbane calculation by Jo Stone-Fewings and Elliot Levey – the Earl of Warwick and Cauchon the Bishop of Beauvais predict apprehensively the dangers to which they give the names "Protestant-ism" and "nation-alism".
An illiterate village girl who believes that she has a hotline to God with "voices" that tell her to rout the occupying English? One view of Joan is that she is a fundamentalist on a personal jihad. Indeed, Cauchon explicitly likens her to "the accursed Mahomet, the anti-Christ" and shudders at the thought of a time when "every ignorant labourer or dairy-maid" may be puffed up with "the monstrous self-conceit of being directly inspired from heaven. It will be a world of blood, of fury, of devastation..." It is remarkable how many contemporary resonances (extraordinary renditions, Brexit, Aleppo et al) this play has, while plugging the perception of Joan as a proto-Protestant who also threatened the supra-national feudal order.
Arterton's Joan radiates a gentle simplicity and quiet fervour that are deeply charismatic. She's very tactile but it seems to spring from unpremeditated impulse. If you can't quite imagine her commanding an army (as you could when Anne-Marie Duff took on the role at the National almost ten years ago), you can totally understand why she compels and disconcerts men. The trial scene is superbly paced and the piece is impeccably acted throughout. Fisayo Akinade is amusing as a camp and feckless Dauphin; Rory Keenan freezes the blood as an inquisitor who sounds to be on secondment from an extreme wing of US Evangelism; and Richard Cant, playing the hysterically bigoted de Stogumber, is very moving as the broken figure to whom Joan appears (in fashionable modern attire) in the short, radically adapted and heartbreaking epilogue. Highly recommended. And for those who are unable to see it at the Donmar, where it runs to February 18, the production will be broadcast in cinemas across the country via NT Live on Thursday 16 February.
To February 18; 0844 871 7624
Join our new commenting forum
Join thought-provoking conversations, follow other Independent readers and see their replies