Strangers in Between, Trafalgar Studios, London, review: Adam Spreadbury-Maher's beautifully cast production well deserves this transfer
The Australian playwright Tommy Murphy's witty coming-of-age play explores the highs and lows of growing up gay in modern Australia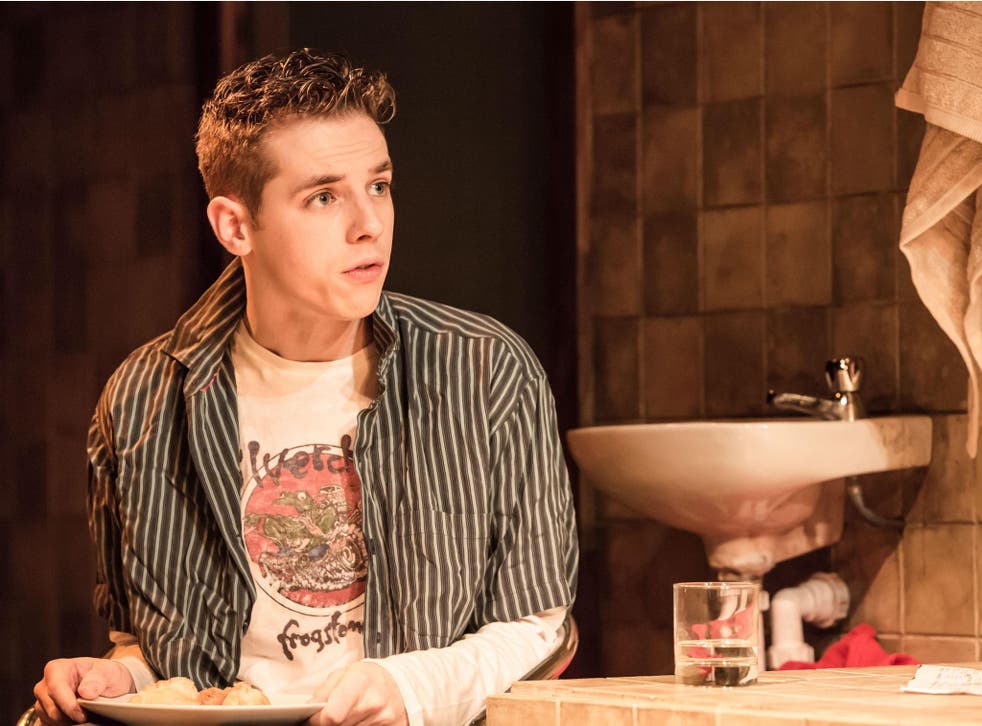 This three-hander, by the award-winning dramatist Australian playwright Tommy Murphy, arrives in the West End having had a successful run at the King's Head Theatre in Islington. Catching up with it now, I'm glad to vouch that Adam Spreadbury-Maher's beautifully cast production well deserves this transfer. The piece is set in Sydney's King's Cross area (roughly equivalent to Soho) where the 16-year-old Shane, in flight from his rural hometown of Goulburn and lying about his age, has fetched up and secured himself a job in a bottlo (off-licence). He's on-edge and hapless and his retail skills leave something to be desired ("Red or white?" he asks the man in the market for a bottle of chardonnay) but his boyish charms are not lost on the customers – primarily the hunky Will and middle-aged Peter who, despite setbacks, help him to find his bearings and, finally, to deal with the demons from home that are pursuing him.
Strangers in Between is a wise and witty coming-of-age play about facing fears, about friendships forged across across the generations, and about making your own surrogate family. The tone combines the sharp and the sweet, the charmingly funny, the slightly rose-tinted and the completely explicit. Thanks to the superb rapport between the three actors, Spreadbury-Maher's production is a beguiling blend of these qualities. Roly Botha is excellent as the jittery, bumbling Shane, pouring out naive questions (one minute about where you find coat hangers, the next about anal sex). His Shane is by turns maddening and loveable as he struggles to discover himself, And desperately moving in otherwise tender moments when he gives vent to involuntary outbursts of internalised homophobia or calculates that he has no one to bring him home after a hospital operations.
Dan Hunter doubles impressively as dreamboat Will, who can be woundingly aloof, and as Ben, the macho, violent brother who beat the living daylights out of the boy but who turns out to be more complex and explicable as the dark secrets of the story story emerge. The conceit of having these characters played by the same performer is Murphy's and it works very sell, inducing frissons of anxiety as the lover whom Shane adores shape-shifts into the brother whom he dreads. The darker undertones of the play are emphasised here by the shadowy whoosh of threat audible and visible at the scene changes, courtesy of the excellent sound and lighting designs by, respectively, Jonathan McLeod and Richard Williamson. Becky-Dee Trevenen's tiled adaptable washroom of a set that is gives the proceedings a feeling of unity, if perhaps underlining how the piece is a bit sealed-off, the diverse freaky pleasures of King's Cross not seeming to impinge much on Shane's life.
Stephen Connery-Brown is perfection as Peter, the older gay man who transcends stereotype in the depth of his quiet affection for the boy. He's a camp but a kindly tease and there's a lovely urbane, take-it-or-leave it ease to his remarks "I'd love to cook for you. I read about terrines the other day. They're back" he says. Instead of the seedy predator of legend, you get a man of unsuffocating sensitivity; Shane gives him something to care about. Murphy gives all of his characters hidden depths. A production well worth catching.
Until 3 February (trafalgarentertainment.com)
Join our new commenting forum
Join thought-provoking conversations, follow other Independent readers and see their replies