Sutra, Sadler's Wells, London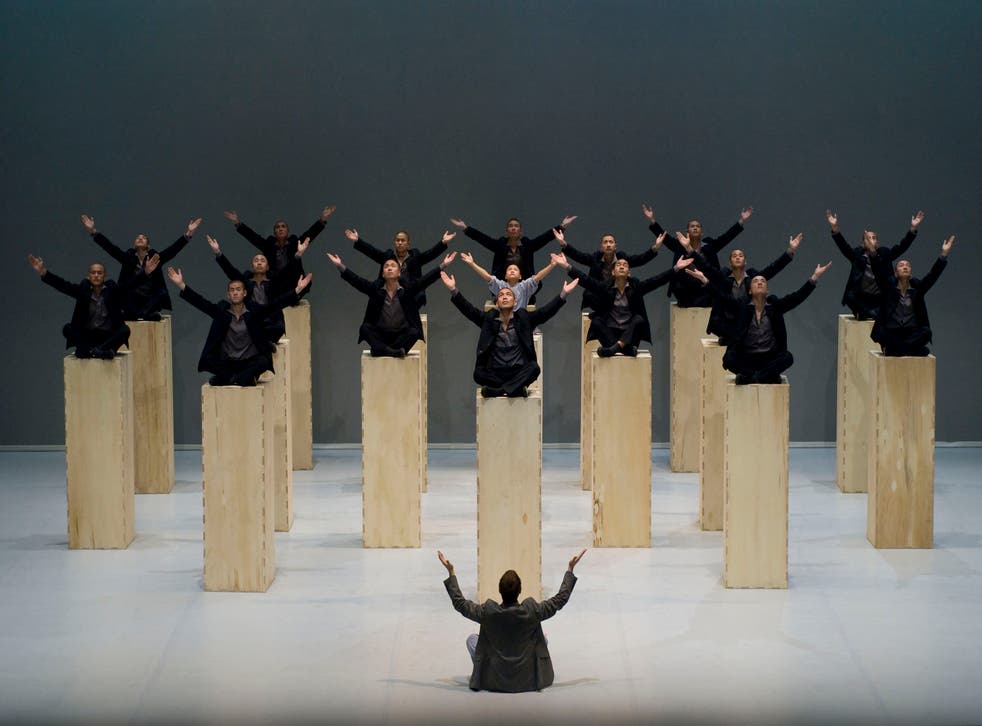 Monks from China's Shaolin Temple stand perched on tall wooden boxes. Swaying from side to side, they rock the crates until they fall, leaping free at the last moment. Famous for their warrior skills, in Sutra the monks are both movers and pieces in a puzzle, setting up patterns or standing inside the boxes as they fall like dominoes.
Created in 2008, Sutra is one of the biggest hits produced by Sadler's Wells. Since the London theatre became a producing house, it's gone in for big name collaborations between international artists. Sutra, which marks its fifth anniversary with a UK tour, brought together choreographer Sidi Larbi Cherkaoui, sculptor Antony Gormley and the monks of the Shaolin temple. It's a spare, thoughtful work, building delicate patterns out of performers and the monumental set.
Gormley is best known for sculptures based on the human body. This time, he created a series of containers for living bodies, plain rectangular boxes. They can be built into wooden mazes or forbidding walls, stacked as shelves that become bunks for the monks. In one scene, upright boxes arranged in concentric circles and tilted, like the petals of an opening flower.
The last box is made of metal. The show starts with a Western man and a child monk perched on top of it, playing with a tiny model of the set. Originally, the man was Cherkaoui himself. At this revival, his role is played by one of his co-choreographers, either Damien Fournier or, at this performance, Ali Thabet. As they move the pieces, monks shift the full-sized boxes behind them. Then both players get drawn into the action.
Like Cherkaoui, Thabet has rumpled hair and beard, with sports clothes and suit jacket, dancing in loose, wriggly moves. The monks are taut and muscular, with shaved heads and neat tunics. Sometimes he conducts them; sometimes they crowd him out, at one point edging him right off a tower of boxes. Sitting behind a plain white gauze, musicians play Szymon Brzóska's sparse, atmospheric score, with layers of strings and percussion.
Sutra can get lost in its own patterns, or too self-conscious about the image of choreographer as controller, moving people as the pieces in a game. By the time a monk knocks over Thabet's tidy model, we've got the point. It can take a while to set up those intricate patterns, though I suspect the changing mazes look better from upstairs.
At its best, Sutra mixes Zen precision with exhilarating movement. Monks dash between the walls of the mazes, scamper over the top of tilting ramparts, brace themselves inside moving boxes or dash out of the way just in time. Creating the patterns, they become part of them.
Until 6 April. Box office 0844 412 4300. Touring until 18 May. www.danceconsortium.com
Join our new commenting forum
Join thought-provoking conversations, follow other Independent readers and see their replies